Hard-boiled eggs
This post shows you how to cook, store and eat hard-boiled eggs.
Hard-boiled eggs (in this post I refer only to chicken eggs) apart from being tasty, as a type of food have a number of advantages.
Firstly, they are an excellent source of protein and nutrients and are relatively low-calorie. This makes them a common ingredient in keto diets. A single egg can pack 6-7g of protein depending on its size.
Secondly, as they are boiled and not fried they are a healthy way to eat eggs.
And thirdly, another great advantage of hard-boiled eggs is that you can easily take them with you in a packed lunch as long as you can keep them cool. This makes them a great healthy snack to bring on a road trip or picnic.
You can just peel them when you wish to eat them, as the shell acts as its own environmentally friendly packaging.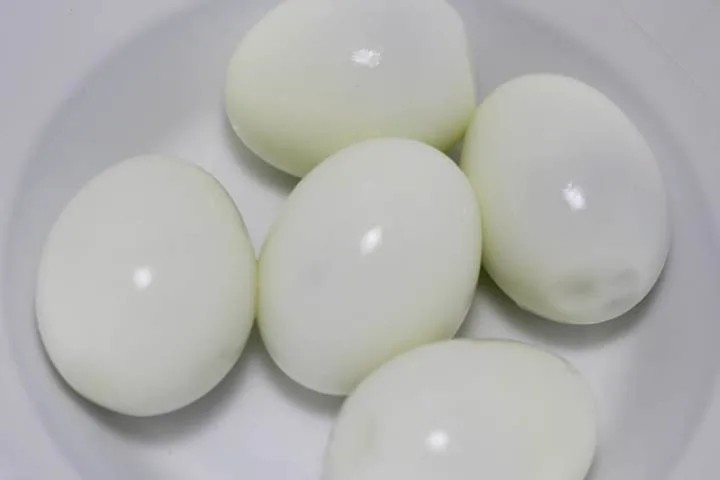 What is a hard-boiled egg?
A hard-boiled egg is an egg that has been boiled until the yolk and whites have solidified. As opposed to soft-boiled eggs where the yolk is still runny. When you are boiling the egg you can check that the egg is edible by seeing if it will sink to the bottom of the pan when you put it in the water.
If it floats, it may be too old or may have a damaged shell, in which case you do not really know if the egg is still OK to eat. It is then better to discard the egg. If it sinks it should be OK.
I used to keep free-range chickens, and when they can lay eggs all over your backyard, this is quite a useful trick to know.
How long to cook hard-boiled eggs
Just like with soft-boiled eggs the trick to get a perfect hard-boiled egg is to boil it for the right length of time.
The perfect hard-boiled egg should have a completely solid yolk and whites. Like in this photo below, where the eggs were boiled for exactly 10 minutes. The whites have a rubbery texture but will crack easily, while the yolk is still a little bit malleable, but fully cooked.
If you overcook an egg the outside of the yolk will start to turn a greenish colour. A bit like in the eggs in this photograph below (boiled for 20 minutes), where you can just see the outside of the yolk forming a greyish-green layer. This looks like a green ring when you cut it in half.
The yolk texture is too dry and you can start to smell a sulphur-like smell. It is best not to eat them if they look like this.
I first add the egg to the boiling water with a spoon when the water has actually started boiling, not before. I will then time it for 10 to 12 minutes, using Alexa to time it for me.
When the 10-12 minutes is up, I remove the eggs from the water and put them in cold water to cool them down for a few minutes.
This hard-boiled egg cooking time is based on the large eggs we buy here in the Aldi. But you may find that you need more time, depending on the size of your egg and maybe even the altitude at which you are cooking.
How does altitude affect egg boiling time?
The higher you are, the lower the boiling point of water, which will affect your cooking time. At sea level water boils at 100 degrees C. Every 500ft elevation above sea level the boiling point of water is reduced by about 0.5 degree C, so if you live at any significant altitude, this may well affect your cooking times.
If you are doing a large batch of eggs in one go, it may be wise to check one of them when the time is up, that it is fully cooked all the way through, so as not to risk ruining the entire batch.
How to store hard-boiled eggs?
Hard-boiled eggs can last up to a week in the fridge. You do not need to keep them in a container, as their shells do a good packaging job. But you will find that answers to this question will vary with different countries.
In the USA you refrigerate eggs, whereas here in Ireland we do not. In our supermarkets they are not refrigerated. We can quite happily keep them on the counter at room temperature uncooked for up to 10 days. But it all depends on the origin of the eggs and the processes used in their production. Where we live all eggs are pasteurized before the point of sale.
If you are taking hard-boiled eggs with you in a packed lunch, make sure you keep them cool as you can. According to the FDA, they will only be good for a few hours at room temperature.
How to peel a hard-boiled egg
When you are ready to eat the egg you will need to peel the shell off first. This is fairly straightforward.
What I do is carefully crack the egg on a flat surface all the way around, by softly tapping the egg on the surface.
Then it is easy to peel with your fingers and the shell will come away with ease. There is a thin membrane inside the shell that you should also peel away from the egg.
How to use a hard-boiled egg
Another advantage – you do not need any utensils. Eat them using your hands. It's great if you have a bit of salt to dip them in. Two or three bites should do it!
Hard-boiled eggs are the main ingredient in my creamy egg salad recipe. This is great for making egg salad sandwiches – also a super portable high-protein snack if you are off hiking somewhere or on a road trip.
I hope you found this article useful. Good luck with your eggs!!
How to make a perfect hard-boiled egg