The ultimate bacon lettuce and tomato sandwich
This is a recipe for the Ultimate BLT. Almost everyone has at some time had a BLT (bacon, lettuce and tomato) sandwich. They are often available pre-packed in gas stations and supermarkets in the British Isles.
But it is so very easy to make your own ultimate BLT, which you can fill to suit your own preferences. This post will show you how to make a delicious ultimate BLT sandwich.
We often make these sandwiches ourselves when we are going on a road trip, rather than buying a pre-packed one (when you are never sure whose hands have put them together).
It is always cheaper and it means you know where all the ingredients have come from and how fresh they are.
You can also tailor your sandwich to meet your own preferences – more mayo, more bacon, thick slices, thin slices, baguette, white bread, brown bread, toasted bread etc, so you know it will be perfect.
Tomato in a sandwich
One thing about tomatoes is that they are quite wet and can easily make a sandwich a bit soggy if used incorrectly.
If I am making a sandwich for a packed lunch I will normally only add the tomato just before I am about to eat it to stop this happening.
But the beauty of the BLT is that you can literally sandwich the tomato between the lettuce and the bacon to prevent the bread getting soggy.
Or you can toast the bread before you assemble it, and turn it into a triple-decker.
If you slice the tomato nice and thin this also helps the process as thick-cut tomatoes are wetter. And of course the more mayo you use, the better!
Cooking the bacon
There are many ways to cook bacon, but what you really want is to produce some lovely thin crispy bacon that will fall to pieces and crumble in the sandwich.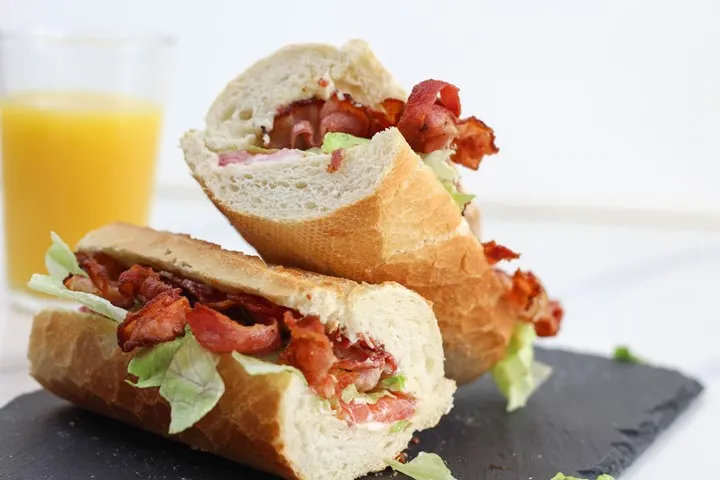 So you do not want to use thick-cut back bacon which will just have you chewing away. I like to use really thin American style bacon with a hint of Maple, if you can get it.
Some nice thin streaky bacon should do the trick, and I like to fry it in the skillet or in the air fryer as there is then less mess to clean up.
But you can grill, bake, or microwave if that works better for you.
After cooking it I put it on some kitchen paper to drain away any oil or bacon grease before assembling the sandwich.
Lately, I have been using store-bought crispy bacon from Aldi that has already been cooked. This is such a cheat but shortens the prep time to about a minute, meaning we can have a tasty lunch in no time.
Best Bread for BLT? What is your ultimate BLT favourite?
Well really there are so many types of bread out there you could use, and I would not dare to say there is any particular one that is better. They all give a different sandwich.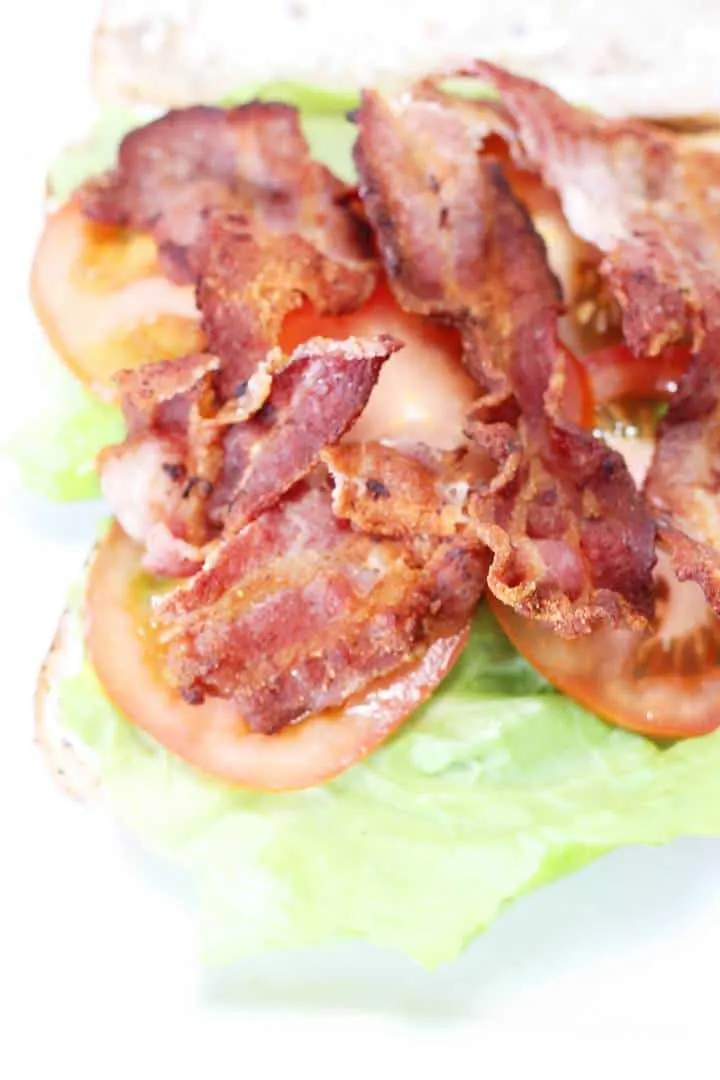 A good crusty toasted sourdough loaf also works really well, as you can see from these pictures below: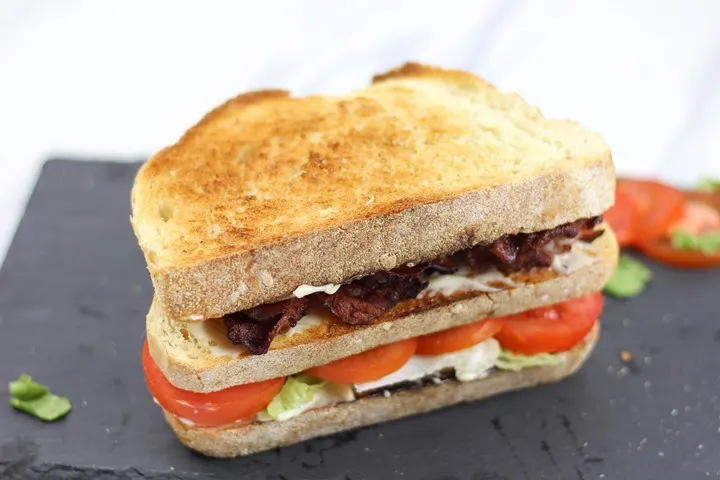 Many people toast their bread in a BLT, sometimes using the bacon fat to soak into the bread. I would not recommend the latter – it is not very healthy and will clog your arteries. This bread has just been toasted in the toaster.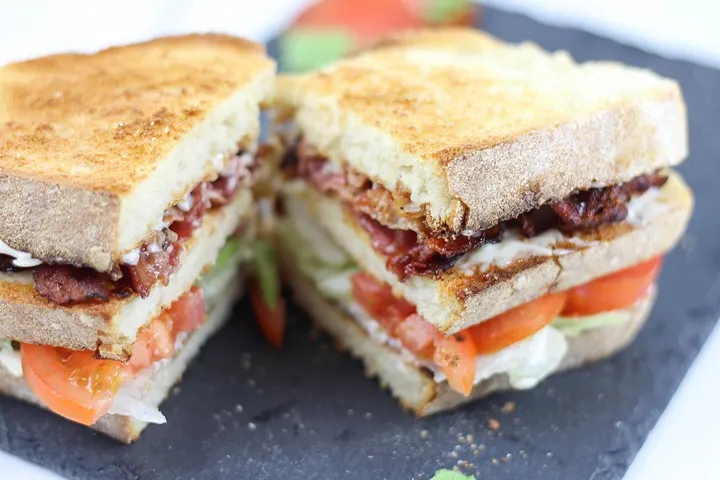 Here below I used a simple healthy multigrain loaf from Aldi which gave us a great basic BLT.
This untoasted bread lets you appreciate the softness of the bread and the crispness of the bacon and lettuce when you dig in.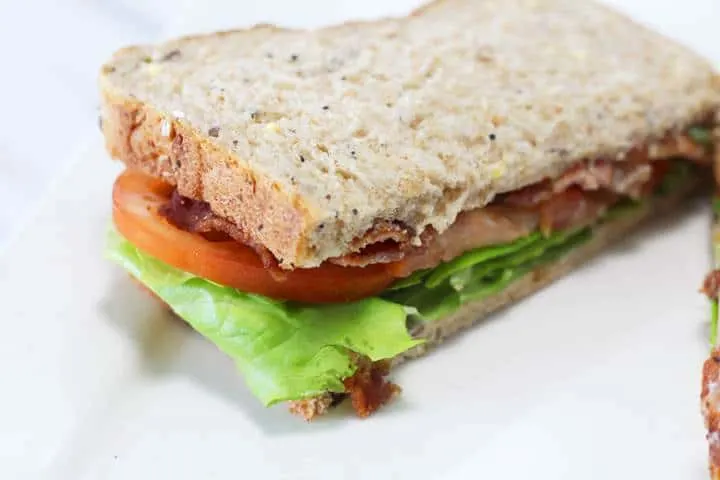 Or of course, you can make a submarine BLT using a long roll of some sort. We like to use a fresh French baguette: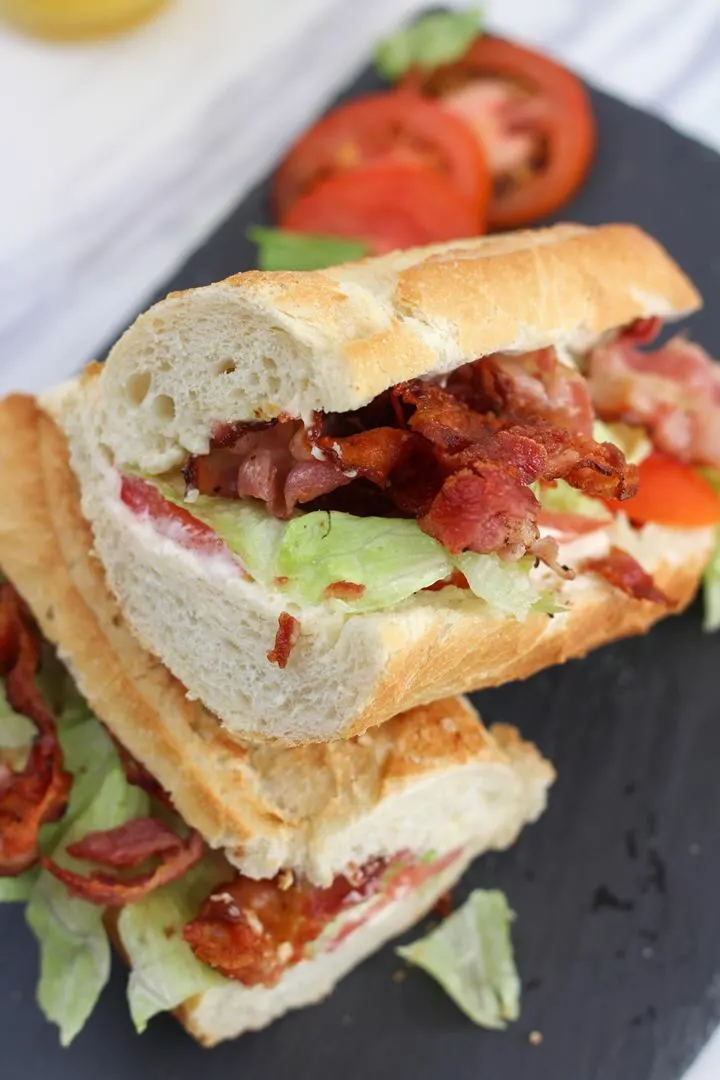 Really it is up to you. The big secret is, of course, lots of mayo!! And as you have probably guessed, we always use Hellmann's Real Mayonnaise, as it is just the best!
And as for the lettuce, well again there are so many types to choose from. I used an Irish Butterhead and an Iceberg lettuce in these photos. All worked fine. We like to wash the lettuce beforehand and keep it in the fridge in a tupperware container. This means we can make a BLT in less than a minute if we use pre-cooked store-bought crispy bacon.
If you are feeling very adventurous, you could always add a fried egg to make a BELT sandwich! (Bacon, egg, lettuce and tomato). The wife loved it! Ot try this version of a BLT sandwich with sausage, onion and cheese!
I hope you have fun inventing your own ultimate BLT. I had to stop whilst editing this post to go and make one. Believe me, it is worth it!
Let me know how you get on in the comments section below!
How to make the Ultimate BLT sandwich