Pan-fried duck breast
This duck breast with orange sauce recipe is very easy to make and is really delicious.
One of my late Dad's favourite meals was duck breast. I always think of him when I make this. We used to buy fresh duck breasts in the Dutch market on a Saturday and treat him to his favourite dish when he visited.
Orange Sauce for Duck Breast
For those of you wanting to buy some orange sauce for duck, stop here! It is much easier to make it yourself, and this is the recipe.
The orange sauce recipe for this meal is really tasty. You can also make it to accompany chicken if you wish.
Orange is a great accompaniment to duck and you will find them used together a lot.
Duck a l'orange or canard a l'orange (in French) is a well-known combination of duck and orange.
Although the dish is now thought to be French, the Italians, of course, claim it originated in Italy.
I will not go further into that, except to say that whoever came up with this combination was brilliant!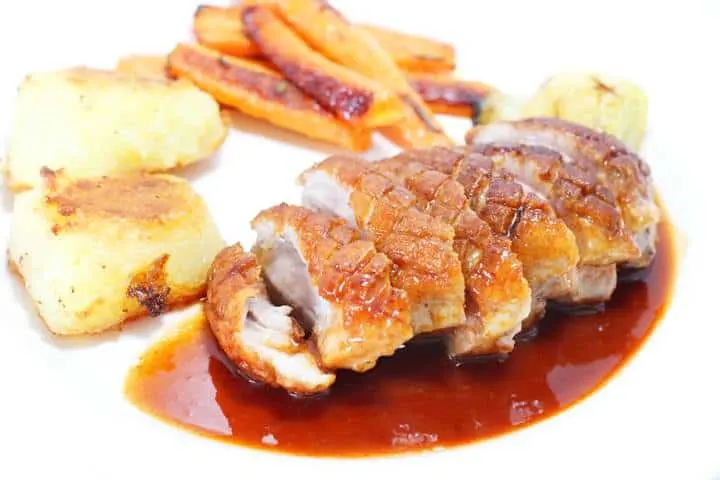 The nice thing about this orange sauce duck gravy is that it requires very little preparation and is quickly on the table.
The duck breast also does not take long to cook so you can produce this meal in less than 15 minutes.
What to serve with duck breast?
Really you can serve any vegetable that takes your fancy. Here I served up some crispy roast potatoes and baked carrots with garlic (these take a bit longer to cook, of course).
But you may also like to try it with some mashed potatoes or even some honey roast parsnips.
Have a look on my sides page for some other ideas.
You may have to coordinate the timing of the cooking of the accompanying vegetables, depending on what you choose to serve with it.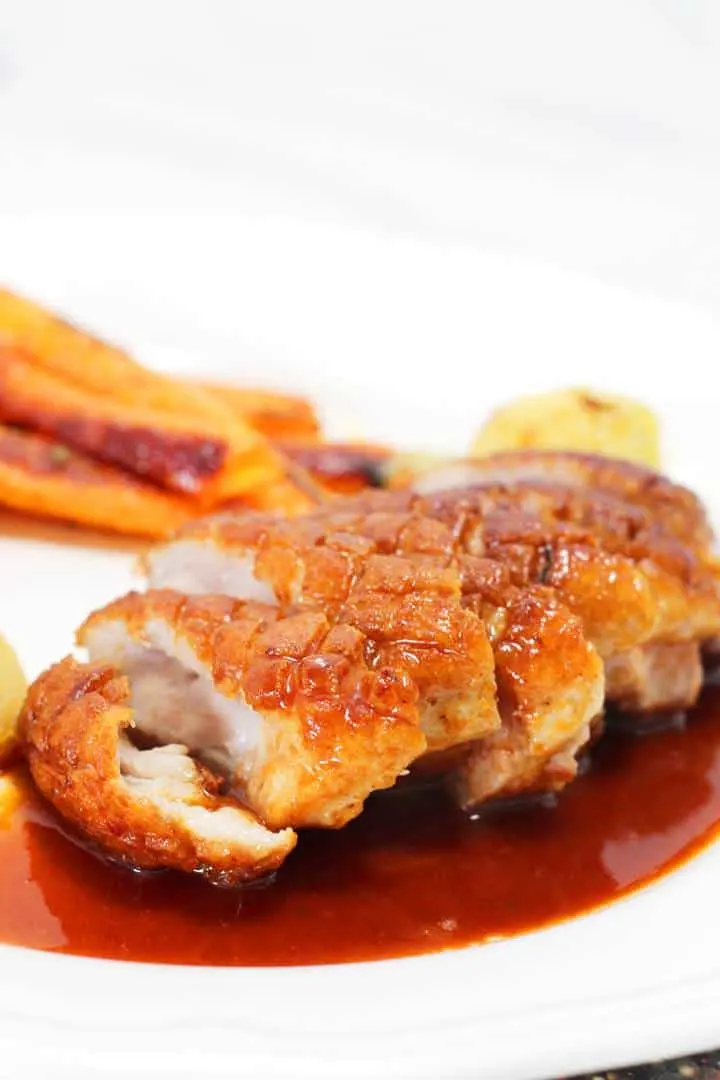 We are very lucky that we can pick up a few breasts of fresh duck here in our local Aldi for only about 3,50 Euros so we can produce this meal very cheaply.
This is really a mix between pan-fried duck breast and roast duck breast as the same skillet pan goes into the oven to finish off the meat.
I hope you enjoy trying this recipe. If you do, please let me know how you get on in the comments section below!
How to make roast duck in orange sauce
If you like the look of this recipe you may also like:
or perhaps these accompaniments? :