Air Fryer Pork Tenderloin
This easy recipe for air fryer pork tenderloin shows you how to cook tenderloin pork in your air fryer. It is very easy and quicker than cooking in the oven, as well as being a more energy-efficient way to cook.
Pork tenderloin in air fryer
Pork tenderloin, or pork fillet, is a tender cut of meat from a pig. The tenderloin should be very lean, but you may find some fat or silverskin on the tenderloin, which should be trimmed off before cooking.
In many of my tenderloin recipes (links at the end of this blog post), I cook the tenderloin in the oven. Often I do this because I may be cooking baked potatoes at the same time in the same oven, so it is just easier to use the same oven.
However, I have recently discovered that my newly acquired air fryer is a great tool for cooking tenderloin. Not only is it quicker than cooking in the oven, but it also gives it a nice crispy outside, whilst keeping the inside moist and tender.
And if you use a nice marinade mixture, like the one in this recipe, it will char nicely on the outside and give you a super tasty glaze.
I have a small 3 Qt Nuwave air fryer that, even though it is quite small, was big enough for me to cook the tenderloin without having to cut it to make it smaller. I did have to bend it into the basket though a little.
Air Fryer Pork Tenderloin Cooking time
The trick to using an air fryer is to get the cooking times right. We do not like to eat pink pork meat in our household, so we tend to cook pork a bit longer than some other people might do. The USDA now recommends that heating pork to an internal temperature of about 63C (145F) is sufficient to make it safe to eat.
However, you may find at this temperature it is still a little pink and a bit too moist. [The USDA did recently reduce this temperature from the former recommendation of 71C (160F)].
As we do not like to eat pink pork meat I cook the meat to about 68C (155F). For the 500g tenderloin I used in these photographs this took me about 35 minutes at 200C in our air fryer. But then as normal kitchen ovens vary, I imagine that air fryers will also have some variation between them.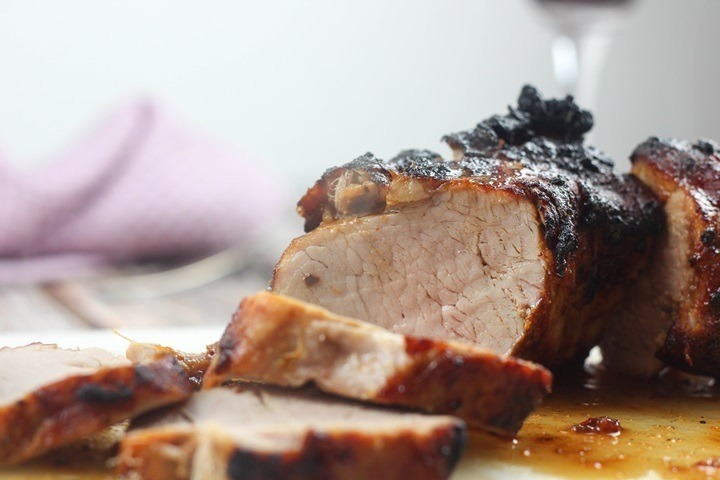 That is why I recommend cooking until you are happy with the result. You may need to practice in your own air fryer to get it right. Just make sure you check enough whilst cooking the first one you try, either with a thermometer or by cutting into the meat.
Risks of cooking pork
Be aware that if you do not cook long enough, you may be risking food poisoning in the form of Trichinosis, if the pork is undercooked. And also if you overcook the meat it may become dry or even burnt. So it is worth putting in the extra effort the first time to get it just right. It is, after all, delicious meat to eat when cooked properly.
I hope you manage to create a perfectly cooked tenderloin in your air fryer. If you do try this recipe, then please let me know how you get on in the comments section below.
How to air fry pork tenderloin
Try using the same air fryer method to cook these pork tenderloin recipes below:
Other pork air fryer recipes:
Pork in the Instant Pot:
Other pork dishes: