Pulled Pork with Coke Recipe
This is a recipe for some delicious pulled pork with coke.
Have you ever had one of those delicious pulled pork sandwiches made with some meat from a whole pig slowly roasted over a wood fire?
Well, now you can make them yourself using this easy pulled pork with coca cola recipe. This recipe will show you how to make the same tasty food in an Instant Pot in a fraction of the time. And you do not need a whole hog to make it!
Pulled Pork Meat Cut
For this recipe, I have used a delicious piece of fresh pork shoulder that I picked up from my local butcher, Kelly's.
You could also use pork butt, which is actually also from the shoulder of the pig, although higher up. Surprisingly, despite its name, it has nothing to do with the rear-end of the animal!
Both are relatively cheap cuts of meat, but taste great when slow cooked or cooked in a pressure cooker, as in this recipe, where I use my Instant Pot. You can of course use any other make of electric pressure cooker like a Ninja Foodi, or even a normal pressure cooker will do.
The piece I bought came without the skin, but if you did get it with skin you could use the skin to make some delicious crackling separately in the oven (everyone's favourite)!
I made sure I trimmed all the fat off the meat before starting to cook it so that I would get some delicious lean pulled pork after cooking.
Coca Cola Pork
This is an interesting recipe as it uses the dry rub and the smokiness of the BBQ sauce and the sweetness of the Coca-Cola to flavour the meat. The result is a sweet-tasting pork meat, with a charred external surface, that you can use in a variety of different dishes.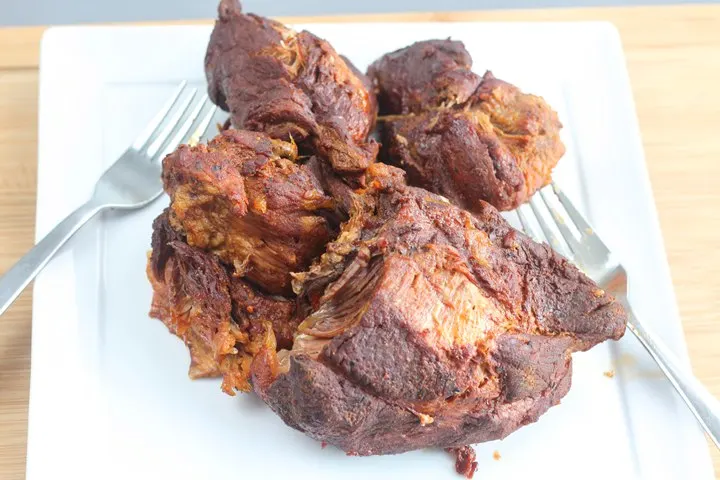 Pulled pork is great in buns or rolls with a BBQ sauce of your choice, or even some cooking sauce from the pot if you prefer that.
But also this meat is great to store for a few days in the fridge. You can just re-heat it in the microwave or in the pan, when you want to heat it again. It is also very tasty eaten cold.
This huge piece of shoulder lasted us a few days and several different meals, and we ate it in buns, pita bread and tortillas with a variety of different sauces.
This cola pulled pork recipe is so easy to make, and the Instant Pot really does all the work for you. If you wish to slow cook in the oven, or a slow cooker or crock pot, then you will probably need to cook for about 8 hours to reach the same level of tenderness in the meat.
Just this recipe is a good enough reason why, if you do not have an Instant Pot already, you need to get one soon! We love ours!
I hope you enjoy making this simple recipe and look forward to hearing how you get on in the comments section below!
How to cook pulled pork with coke