Chorizo Pasta Bake
This simple family recipe is for a chorizo pasta bake, using Gruyère cheese and spinach leaves in a rich tasty sauce.
This meal is great for making upfront and cooking in the oven when you want to eat it. It is also fantastic to reheat the next day if you do not manage to finish off the first time around!
Chorizo and Spinach Pasta Bake
Spanish chorizo sausage is a wonderful smokey cured sausage which is great to eat on its own as a snack with a beer or a glass of wine.
But it can also be used in cooking, like in this spicy chorizo pasta, where the garlic taste adds a whole new level to a pasta bake.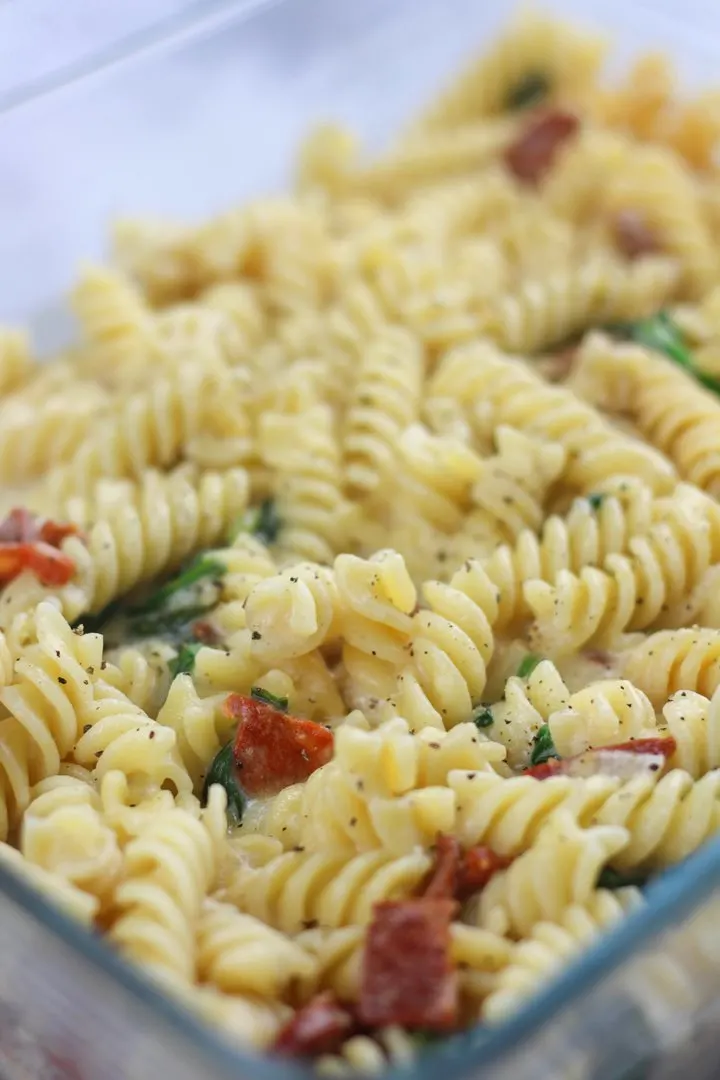 The advantages of making a pasta bake are several. We like making pasta bake because you can make it up front and keep it in the fridge until you want to cook it.
This makes a pasta bake excellent for dinner parties, so you are not stuck in the kitchen when you have guests.
Secondly, because you bake it in the oven, you can get a nice crispy layer of pasta on the top which adds a bit of crunch to the meal.
And thirdly, you can put whatever ingredients into a pasta bake that you fancy, making it very versatile. This recipe has a super tasty gruyere cheese and spinach sauce, which combines brilliantly with the smokiness and saltiness of the Spanish chorizo.
You could make a really spicy chorizo pasta by adding some chillis if you wanted to for some variation. We think it is good as it is though. It depends on what you prefer.
Using other ingredients
I used Fusilli pasta in this recipe, but of course, you could just as easily use some Penne or Rigatoni.
Swiss Le Gruyère cheese may not be that easy for you to obtain locally. A Gruyère cheese substitute could be the Swiss Emmentaler or the Norwegen Jarlsberg. But in this recipe, you may be quite happy to use Mozzarella, but the taste will be a bit different. We like the special taste that the Swiss cheese adds to this dish.
We do not have any problems finding chorizo locally. But if you cannot get your hands on any Spanish chorizo, any dry-cured pork sausage alternative should be OK like a hot Italian sausage for example.
Make your own breadcrumbs
I like to give my pasta bakes a thin layer of breadcrumbs on the top to help give that crunchy layer. When I made this meal I realised I did not have any breadcrumbs left in the pantry so I came up with a really simple way to make some that only took a few minutes.
You take a piece of sliced bread and toast it in your toaster. Then you break it up and put it into your smoothie maker (or in our case our Nutribullet). Give it a quick zap and hey presto – homemade breadcrumbs. It couldn't be easier or quicker. Perfect breadcrumbs for cooking with, whether you are making meatballs, baked cauliflower, fish cakes or a chorizo pasta bake.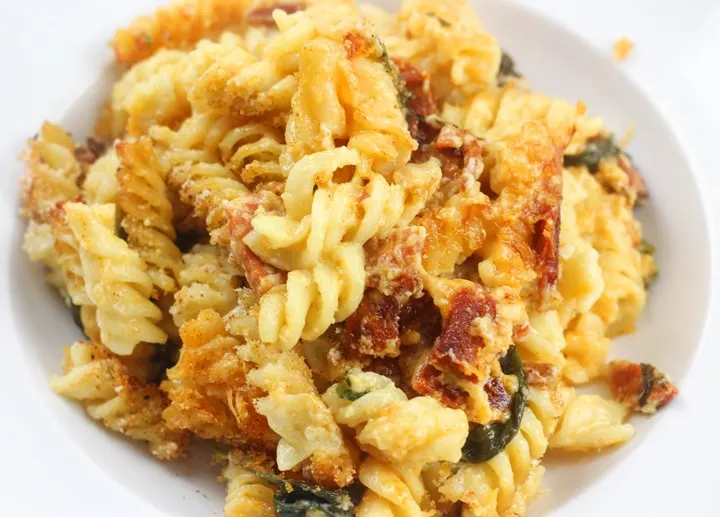 I hope you enjoy making this dish. If you do, please let me know how you get on in the comments section below!
How to make Chorizo Pasta Bake