Authentic Tzatziki Sauce Recipe
This easy authentic tzatziki recipe will give you some Greek tzatziki sauce that is great as a salad dressing, a dip or as a sauce to accompany meat. It is especially good with gyros or doner kebabs.
The recipe can easily be thrown together in less than 10 minutes and is a common accompaniment in South-East Europe and the Middle East.
This dish is similar to the raita dish found in Southern Asia, as it also contains yoghurt and cucumber.
Greek Tzatziki Sauce
Tzatziki sauce is a yoghurt and cucumber based sauce that you find a lot in Eastern Mediterranean cooking. We have come across it in restaurants in both Greece and Turkey, where we have been lucky enough to have some fantastic vacations in the past.
Unfortunately with today's lockdowns, it all seems a very long time ago.
OK, since my photos of the tzatziki I made are not that inspiring, I thought I would show you some pictures of places where we have come across tzatziki in the past to inspire some travel plans.
Turkish Holidays
We have had several Turkish holidays in the past, all of them excellent.
But back in 2013 we did a lot of travelling and were lucky enough to have an all-in week with my parents in what is now the Liberty Hotel Lykia near Oludeniz in Turkey. What a wonderful place. The best holiday ever!
Lots of pools, restaurants and a great beach all within walking distance of your apartment. If you ever get the chance, you should definitely visit. We hope to return when we are able to travel again.
What I remember distinctly of that place were the fantastic restaurants where every day there would be a wonderful varied display of food available, and tzatziki was always available to go with your meat or salad.
Greek Holidays
Another wonderful holiday we had was to Corfu in April 2017 just before the season opened. Here we found that much of the food was served with tzatziki as an accompaniment. I waded through some pictures and found this photo of some lamb souvlaki we had with some tzatziki on the side.
I remember this tzatziki being quite thicker than I was used to, so I suppose it depends on the amount of vinegar you use. My recipe gives you a thinner tzatziki sauce, but it does thicken up if you keep it in the fridge.
Just to put you in the travel mood again for when our borders are opened up, here is a picture of myself in Corfu on the pier at Agni Beach, with Albania and Greece in the background. It is very pretty there. Not a soul in sight. April is a good time to visit.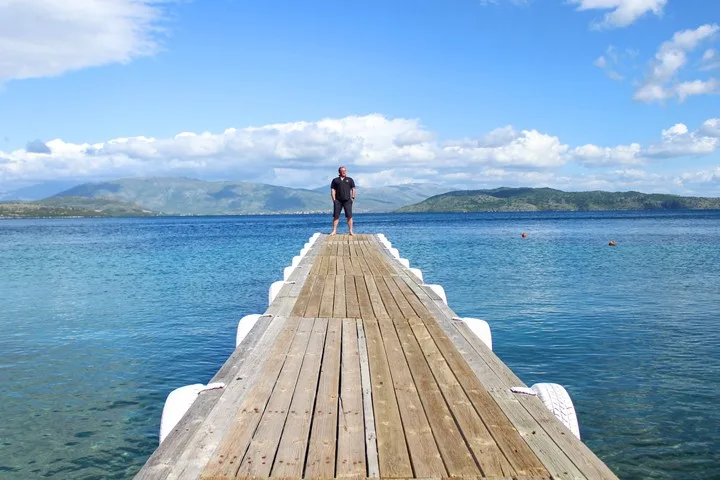 And this one was taken on the grounds of Kassiopi castle, near where we were staying.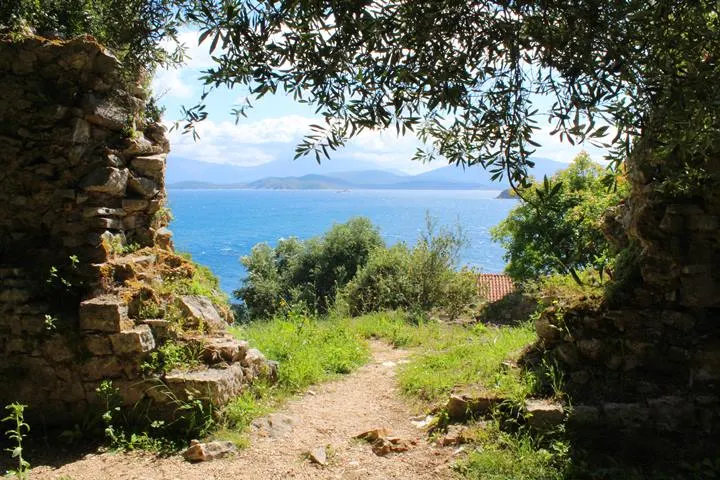 I hope these pictures inspire you to travel to Greece or Turkey and try the wonderful food. If not, then why not make your own at home, and start with this recipe!
Add to a green salad or try in a lamb wrap like we did?
I hope you enjoy making this recipe. If you do, please let me know how you get on in the comments section below.
Enjoy!
How to make tzatziki