Chicken Breast Burger
This is an easy recipe for a fried chicken burger.
Sometimes, when time is limited we just want a simple quick and tasty meal at home. Then we will make this fried chicken burger recipe.
It is very easy and quick to make on the hob, but can just as easily be made using your BBQ, if you have that heated up.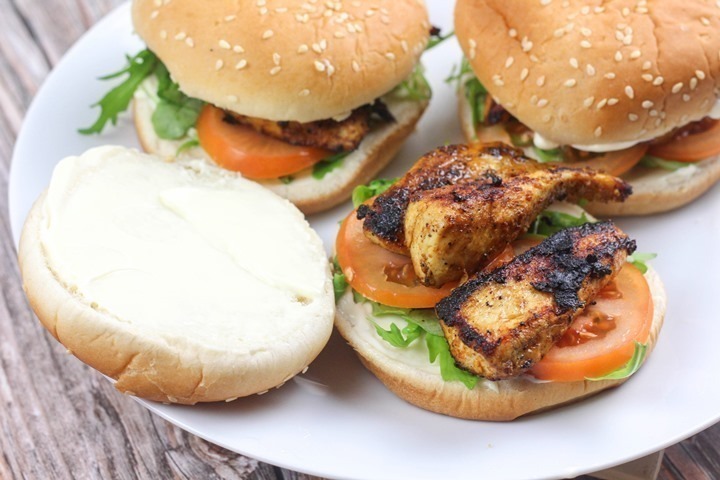 The key to this recipe is to get the right chicken spice rub to marinate your chicken. I have used a sweet and sticky chicken shaker seasoning from Cape Herb and Spice, a South African company that produces some wonderful BBQ spices and rubs.
We have tried a few of their products over the years and this one really is good. It brings real life to your chicken breast and you do not have to marinate for very long for it to flavour the meat (although, of course, the longer, the better!).
You can always use your own preferred seasoning. If you were wanting to make a spicy chicken burger for example, then maybe you would prefer to use a peri-peri sauce instead. Or maybe you can try making your own seasoning with some cayenne pepper, garlic powder, turmeric and chilli? It's up to you. We like our sweet and sticky chicken shaker.
Or maybe you want to make a crispy chicken burger? Then you could use my pan-fried chicken breast recipe to make some crispy breaded pan-fried chicken to go in the burger.
This could be a better and cheaper alternative than going to your local McDonald's for a McCrispy or crispy McFillet.
Which salad to use in these fried chicken burgers?
Any burger is never complete without some salad ingredients of course. In this chicken burger recipe, I have kept it extremely simple. Just some rocket and sliced tomato.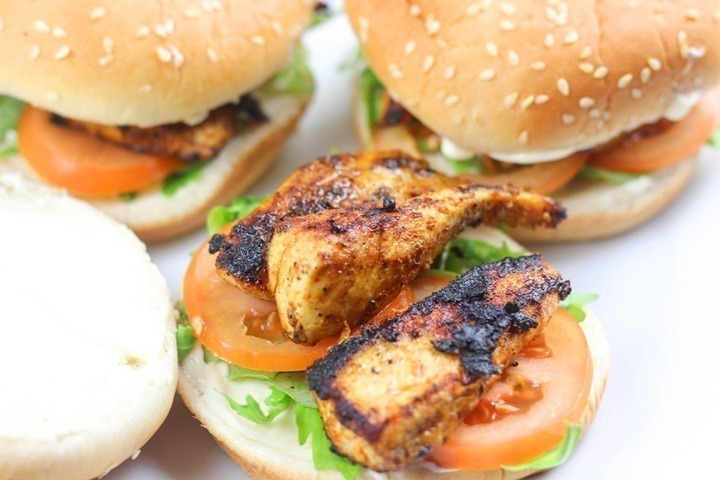 But do not let me stop you from including some sliced gherkins, cucumber, mashed avocado, roasted pine nuts or in fact anything else you might fancy. You may even want to try a different sauce rather than the Hellmann's. Like a honey mustard and dill sauce, for example, perhaps?
It's up to you.
But remember this burger is all about the chicken. Quick, easy and tasty. As long as you have the right seasoning it's always good.
If this does inspire you to make something similar, let me know what you used to improve this simple recipe in the comments section below!
How to make a fried chicken burger