Instant Pot Chilli Con Carne
This recipe shows you how to make Instant Pot Chili Con Carne. Chili con carne (or chilli con carne) is a Tex-Mex inspired dish that, as the name describes, contains meat and chilli. Traditionally it would be made with beef chuck, but this recipe calls for ground beef mince.
Is Chili Con Carne a Mexican Dish?
This appears to be a hot discussion point. This recipe uses beans, which for some reason you will probably not find in a Texan chili con carne.
I personally consider this a bit strange when you think that beans are pretty much a staple part of Mexican food, much like they are in Brazilian cooking.
So for those who claim that chili con carne is a Texan dish, you must remember that, even though Texas was not Mexican for very long, Texas WAS Mexican before it became part of the USA in 1845.
They may not have had the Instant Pot back then, but I am pretty sure they did eat beans in Mexico back then too.
Not wanting to start a riot, but I'll just leave that thought there 😉
How to make Chili con Carne
There are of course many different ways to make chilli. Chilli con carne is eaten in different forms all over the world using different ingredients. This recipe I think is one of the simplest and I think one of the best.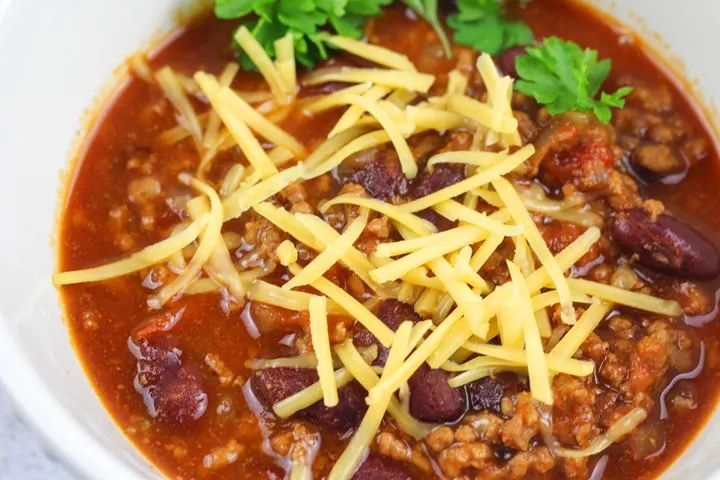 I have a different recipe for chili con carne which I make on the hob. I make this when we have a lot of visitors (not lately in these pandemic times, alas).
It includes sweet corn and sweet peppers, and even though perhaps not so traditional, it is great as a party meal as you can just make a huge amount in a large pot, very easily.
This makes it perfect as a meal that people can self-serve with some garlic bread, white rice or nachos.
This Instant Pot recipe, however, is limited by the size of your Instant Pot, and has more of a traditional taste. I have eaten a pot of chili that tasted a lot like this on the road from Cancun to Tulum on the Yucatan peninsula, many years ago.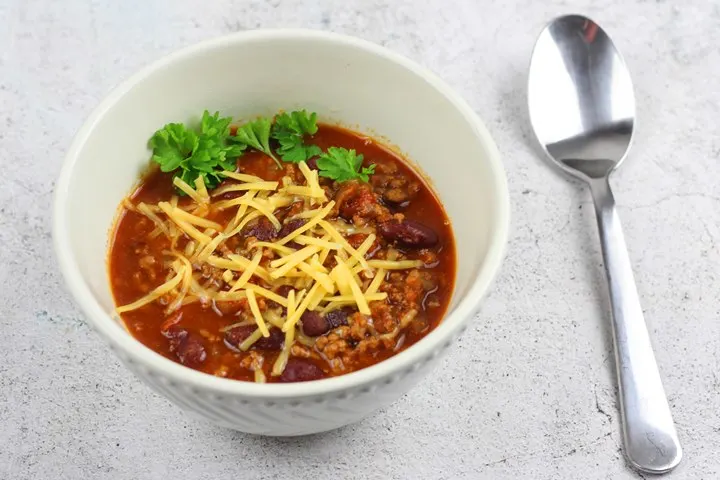 The advantage of this recipe below, using the Instant Pot, is that once you have browned your meat and sauteed your onions and garlic, there is no more work involved. You can set the Instant Pot to work and relax, as with many Instant Pot recipes.
No stirring is needed, which is not the case when you are cooking on the hob.
What to serve with Chilli con Carne
Well, really that is up to you and depends on the situation. When I made this meal, the first day we ate it together with just some boiled white rice.
We kept the calories down by not making it that spicy. This makes a fairly healthy chilli con carne, as you do not need any crème fraîche or sour cream to cool it down.
On day two we ate together with some tortilla chips, like Doritos. On day three I heated some nachos with some grated cheese (never mind the calories then!) and we ate with that. Wonderful – three separate ways of eating the same meal, and all just as tasty.
It is also a gluten-free chilli con carne as long as you eat it with corn tortillas.
I just kept the chili con carne covered in the fridge in the Instant Pot bowl and reheated the amounts I needed in the microwave. Easy peasy.
You can also just serve it up on its own, or with some garlic bread, or even some guacamole and a green salad. It is a very versatile recipe with plenty of options.
How to make my chilli spicy
And you can of course make your chilli as spicy as you wish. To change the hotness of the dish, experiment using different types of chilli pepper or adding more chilli powder.
I only used a relatively feeble Jalapeno pepper and a bird's eye chilli in this dish, so it was not too hot. But try it with a habanero or scorpion pepper and you will definitely need some crème fraîche and a bottle of Corona beer to wash it down when you eat it!
I hope you enjoy making this recipe. If you do, please let me know how you get on in the comments section below.
How to make the best Instant Pot Chili Con Carne