Cinnamon Bread French Toast Recipe
This quick and easy cinnamon bread French toast recipe is so simple yet so very tasty and a delicious way to start the day.
Whereas my easy eggy bread recipe is a savoury snack, this recipe is a sweet alternative using similar methods and just with a little tweak in the preparation.
Serve the bread with some maple syrup and fresh fruit or berries to make it really special. This is a nice alternative to pancakes for breakfast.
Why French Toast?
Well, the basis of this snack is a sort of French Toast, which is bread soaked in egg and milk and cooked in the pan. This is just a sweet version where we add some cinnamon to the egg mix and sprinkle with cinnamon and caster sugar when ready.
Sweet or savoury?
This is the question. I must say in the morning if eating something warm I prefer a savoury start like bacon and eggs, so I prefer my eggy bread recipe.
However, I must say that my kids do prefer a sweeter start to the day and certainly this one gets a double thumbs up! So if you have a sweet tooth you will definitely like this one!
What is the best bread to use for French Toast?
Well, this is a difficult one to answer. The French would probably recommend using brioche bread, to make a cinnamon brioche French toast. But you can also make French baguette French toast!
Personally, I do not think it matters too much, as long as the bread will absorb the eggy mixture.
Here I show some pictures of some I made with homemade sourdough bread and others with just a normal pre-cut white bread from Aldi.
As with eggy bread, it is also a good way to use up stale bread without having to waste it.
How long to soak the bread?
Some people like to soak the bread for a longer period of time, but I find a quick soak is just as effective as long as your bread absorbs the egg mixture. After all, you do not want a soggy bit of bread to toast.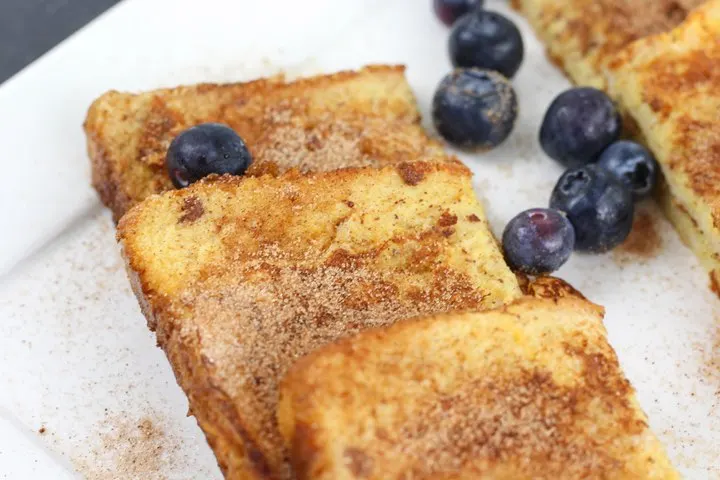 The soak time does depend a little bit on the bread though I think. I did let the sourdough bread soak a little longer.
I hope you enjoy this recipe. Please let me know how you made it better!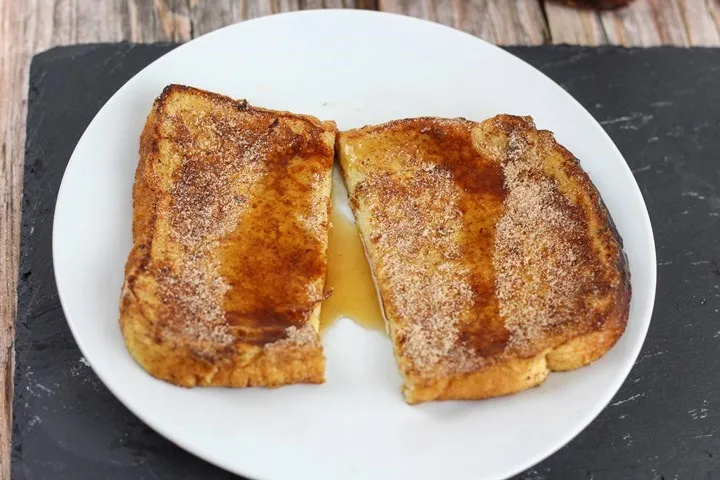 How to make Cinnamon Bread French Toast