Kitchen Essentials
So when you start off learning to cook, you will need to have some basic kitchen tools and equipment. Most people start off with a knife, a spoon and a pan and build things up from there. This list of essential kitchen appliances and tools should help give you some ideas of what you may need now or at some time in the future.
I have put together in this post a list of basic kitchen appliances that you can find mainly on Amazon for quick and reliable delivery. Some of the links may be to affiliate partners I work with directly.
At this link, you can find a basic starter kitchen needs list.
Obviously, in time, if you are wishing to spend a lot of time in the kitchen, you will need to have all the essential kitchen items: potato mashers, sharp knives, paring knives, peelers, tin openers, colanders, chopping boards, frying pans, saucepans, serving spoons, chopsticks etc etc .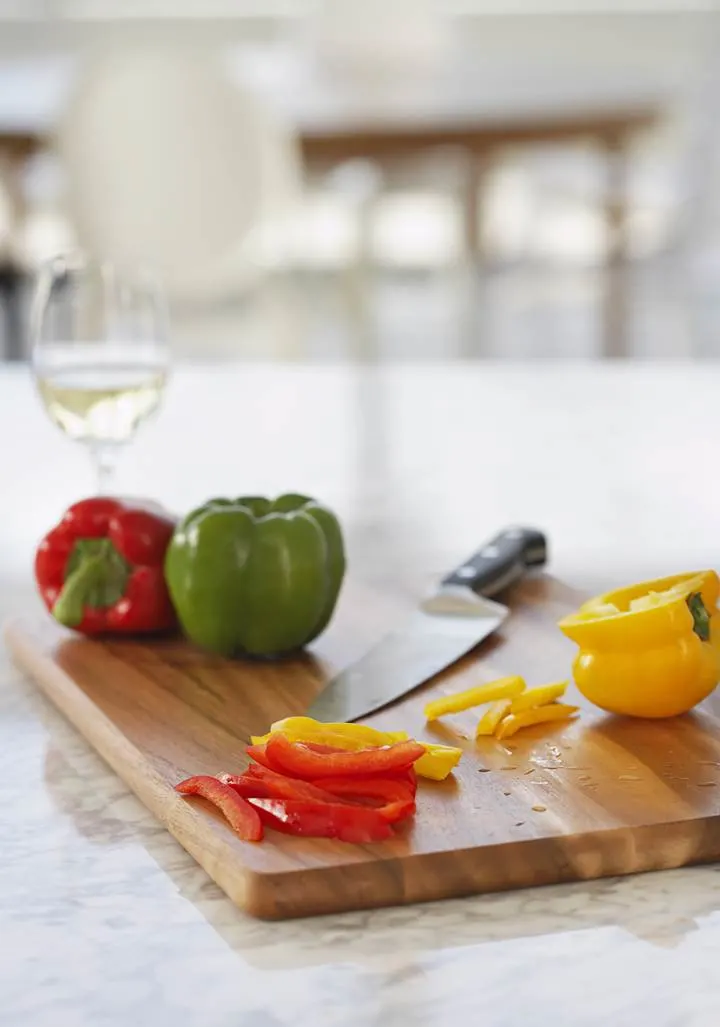 These do take time to accumulate, but sometimes parents or family, or your friends may donate stuff. Never say no to kitchen gifts, you never know when they may come in handy, even if it was from the last century!
A good tip is to put stuff you are missing on your wishlist for when you get married (if you get married)………that's how I was lucky enough to get so much good quality equipment in my kitchen!
Best Kitchen appliances to have
This blog post is really to describe some of the really helpful tools I have been gifted or have bought over the years that really make my life easy when I am cooking. And some things, without which, some of the meals listed here would just not be possible……..
It is not intended to push any particular kitchen appliances brands, although there are certainly a few that I prefer. I may have affiliations with some of the brands mentioned and may receive commissions for purchases made through links in this post.
The best kitchen appliances brand is the one that works for you.
In Europe we may have different brands of equipment to the USA and Asia, so the ones I show may or may not be available on Amazon where you are located.
The cooking equipment and other items below are not listed in any order of importance.
I have selected this list of kitchen items below, as they are close to what I would choose if I was replacing my existing kitchen equipment, or buying something new for the kitchen, looking at the reviews and functionality.
Many I would consider kitchen essentials we rely on, but this depends on your kitchen habits of course.
Really you could consider this as a potential list of gifts for foodies, or gifts for cooks – if you know people who like being in the kitchen but do not have all the essential kitchen equipment yet.
Essential Kitchen Appliances List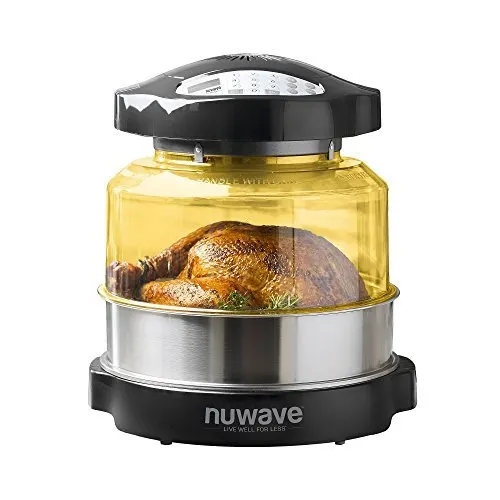 'Now what on earth is that ?!' I hear you asking. Well, this fantastic contraption is a portable oven that you can take anywhere with you – your RV, your boat or even on a camping trip. But because it uses up to 75% less energy and cooks 70% faster we have found it is a very useful addition to our kitchen.
We use it for cooking all sorts of things, like sausages, bacon, garlic bread, burgers, roast chicken, fruit crumbles etc etc. It has the added advantage that all the oil runs off during cooking so it is healthier, and also the cooking smell stays in the oven during cooking, which is a big plus point. Also, it doesn't heat up your kitchen as the main oven does.
We have even done a full chicken roast in it a few times with roast vegetables, which I must say was a lot easier, and involved much less cleaning up than using our normal oven.
All in all, a very handy item, and now one of the essential cooking appliances in Gav's Kitchen.
2. Rice Cooker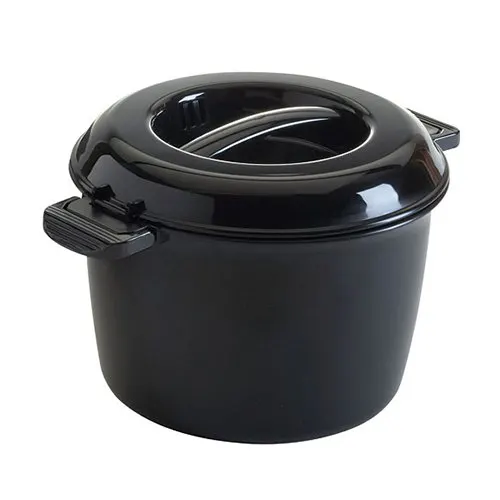 If you eat a lot of rice, this thing will revolutionize your life. I always had trouble cooking rice and getting good results.
This thing guarantees consistency. You put it in the microwave and in 10-12 minutes you have perfect rice.
Not sticky, just perfect consistency. I actually have another make, which I have had for about 25 years. It has broken handles and cracks, but it works the same way.
I like Pampered Chef stuff as it is good quality. Make sure whatever you choose is BPA-free and microwave safe.
You will never cook rice on the hob again (well until you try my Chinese Fried Rice Recipe).
3. Food Chopper
This Pampered Chef chopper I received as a gift from one of my sisters many years ago. Again an absolutely brilliant piece of kit.
Unfortunately, mine has broken and cracked in several places after all the hard use and droppings it has had, but I have glued it faithfully back together with epoxy several times and, though it looks knackered, it still does the trick.
Basically, if your knife skills are not fantastic it will do the job for you. Bang on the top a few times and it finely chops your garlic, onions, ginger etc to perfection. I would not be without it.
4. Hand Mixer.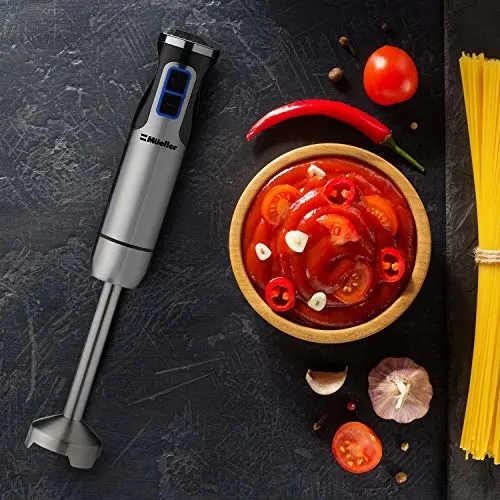 These are obviously essential for day to day mixing jobs. Especially for things like soups, pancake batter, whisking cream etc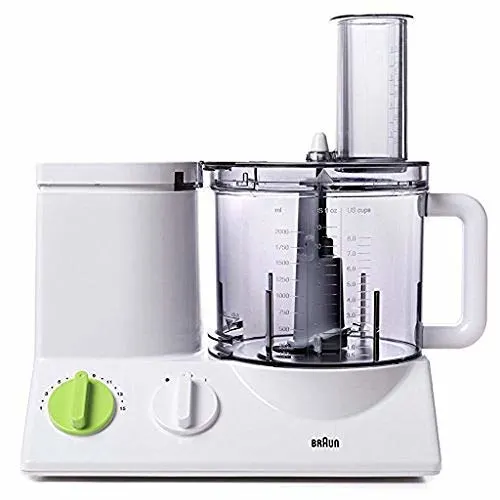 A good food processor is what you need for the larger jobs of chopping, slicing, juicing etc. We have several.
Get one which is simple to use and has a system for storing the attachments so you can find the one you want when you need it.
6. Le Creuset Blue Enameled Cast Iron 24 Piece Cookware Set
I am lucky enough to possess a full set of Le Creuset pots and dishes. These are not only the most used items in my kitchen, but they are the most fantastic items of cookware to be invented, I believe.
The cast iron pieces will last you a lifetime and are easy to use and maintain.
They are relatively heavy, but also pretty indestructible. I cannot recommend them enough.
Especially the Dutch oven item, which gets the most use in our home, which keeps all the flavour in the food from the well sealing lid. We have a blue set.
7. Bread Machine. Programmable Bread Machine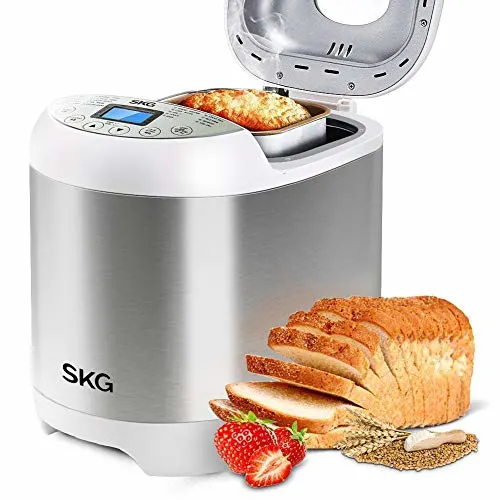 There are all sorts of bread making machines out, there so you have a wide choice depending on what you want to make.
At present I only use mine for making dough for my Indian naan bread, but in the past, I have made lots of different types of bread and I am contemplating doing a comeback and trying some new stuff.
So watch out for baking additions to the blog! I unfortunately lost my bread baking book when we moved so I will have to start experimenting!
8. Wok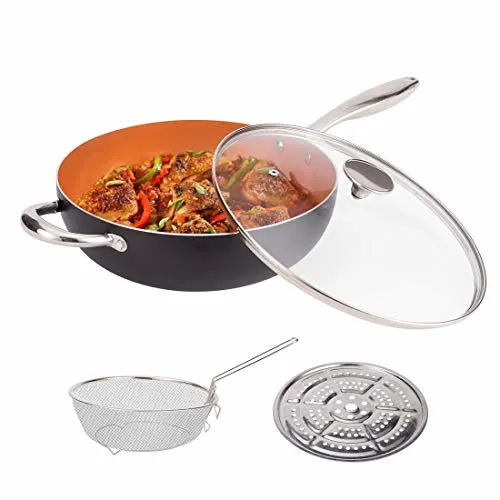 The type of Wok you choose will depend on your hob. You obviously need to choose one that suits your heat source.
We use gas to cook (which I much prefer although people tell me induction is better, but the jury is out on that one), so I have a wok that fits on my hob without toppling over – well sort of.
It has a roundish bottom so you do have to sort of balance it.
I love my wok and use it for most frying activities except frying bacon and eggs.
An essential piece of kit – in fact if you are camping it's all you need, because you can do my chicken curry in it!
Get one with non-stick surface, a glass lid and a long handle – I find it easier to use than two handles on the side.
I was once gifted a Robert Welch cooking knife. This is a thing of beauty and is still great ten years later – I literally use it every day and it remains super sharp. It is made with Good German steel. I could not find it on Amazon.com however.
These knives above from Regalia knives are comparable and are made with best quality high carbon Damascus steel at an affordable price. They even include a lifetime free re-sharpening service. Each knife is a work of art. What a great gift to give, as well!
Alternatively, you may wish to add some colour to your kitchen and these lovely patterned knife sets from Chef's Vision are a great starter set, and also make a great gift, with a choice of themes: Cosmos, Wildlife or Landscape.
Free Shipping Worldwide! Get 10% off orders $75+ with code VISION10
10. Stock Pot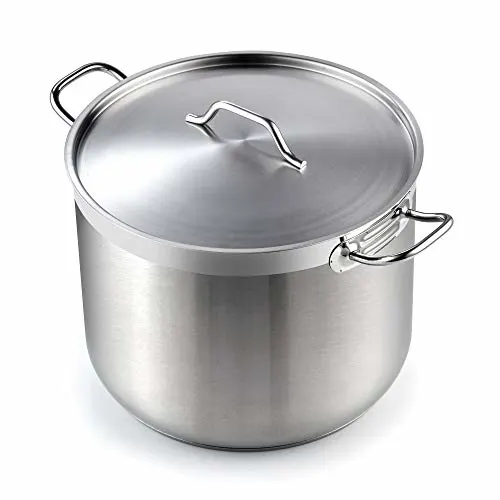 This piece of kit you may need if you are going to be cooking for large numbers. We use it at birthday parties, when we need to produce a large amount of chilli con carne for our guests.
But it does have all sorts of other uses, such as making stock (as you would imagine), boiling hams at Xmas (yes, they really will not fit in a normal pot), making marmalade and jam.
Quite a useful thing to have around.
11. BBQ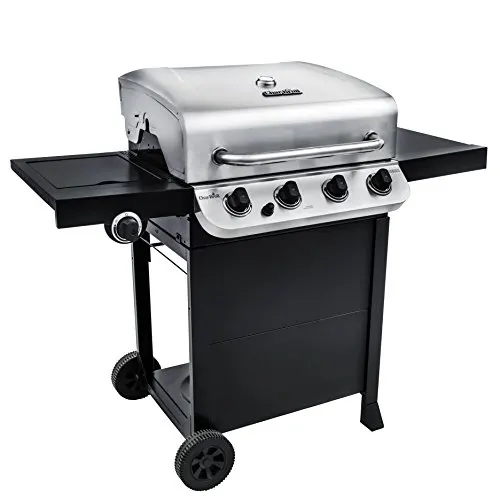 These days there are so many BBQ's around it is difficult to make a choice. Green eggs, red eggs, gas BBQ's etc etc.
We still use our faithful Weber Original (that I still burn everything on), as I am determined to get it right one day.
What you choose will depend on how many you are entertaining and your preferred fuel source (charcoal, gas etc).
12. Brazilian BBQ
My wife and daughter are both Brazilian and one of the best things about Brazil, apart from their women, are their 'churrascos' – BBQ's. My problem with BBQ's is that I always get distracted talking to people and end up burning everything.
Not cool, when it's meant to be the only time the guy gets to cook! In our house it's just the way it goes.
However there are solutions – buy one of these things and you are guaranteed perfect meat.
We just have the skewers that we bought specially, but it means I can leave the stuff on the BBQ, go change a barrel and come back without everything being on fire.
It may be burnt, but only on the outside. Inside it will be great.
Make sure you get good cuts of meat!
I have a special microwave safe Tupperware dish that I use for storing and reheating food from the day before, which I find invaluable. It retains all the moisture from the food and is great.
But now the material technology is so cool they have stuff that can go in the microwave, oven, fridge AND freezer like these casserole dishes from Tupperware.
Tupperware is a great brand for kitchen stuff and they used to provide a lifetime guarantee……now I am not so sure.
If you buy anything make sure they fit in your microwave! Or you can even host a Tupperware party and get some freebies!
14. Pressure cooker.

Another useful item in the kitchen is a pressure cooker, for speeding up some of those dishes that take so long. My wife swears by these things for producing her Brazilian food.
This one pictured works in the microwave and has some good reviews. Make sure it will fit in your microwave for starters and that you follow the instructions, as anything under pressure can be very dangerous if not used properly.
So if you want to go one better than a simple pressure cooker like the one above, then the Instant Pot is fantastic.
15. Instant Pot Duo Electric Pressure Cooker

It can operate as a pressure cooker, a slow cooker, a steamer, rice cooker, yoghurt maker, a heater and you can use it to saute as well. We have recently bought one of these and it is a great bit of kit.
Although it does take a little bit of time to get used to, it does the job well and without using anywhere near as much energy as you would in a conventional oven.
It is great for soups and stews and many other things – I even cooked a chicken biryani in it yesterday in less than 15 minutes! Another of those essential appliances for your kitchen. Especially good if you are in an RV or camping and have electrical power. We would definitely recommend getting one.
If you do, it is advisable to purchase the glass lid and some spare sealing rings separately. The glass lid is useful when slow cooking and the rings have a limited lifetime and can take on the smell of the food, so it is handy to have one for desserts and one for main courses.
And again, be careful where cooking under pressure and make sure you follow the instructions carefully!
16. NutriBullet 1000 Watt PRIME Edition, 12-Piece High-Speed Blender

A good blender is essential for producing quality and healthy smoothies. This type pulverises the ingredients using a cyclonic action which supposedly extracts the nutrients from the ingredients.
This one looks great as it has a powerful motor. We have just bought a cheaper version, which suits the smoothies we make. Again another of the most essential kitchen appliances we have.
We have smoothies pretty much every day for breakfast.
17. Microwave oven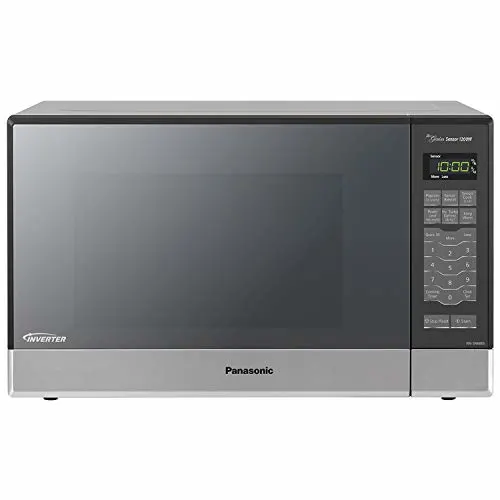 A microwave oven is also an essential piece of equipment in the kitchen these days. We used to have one that was a 3x combi – a microwave as well as an oven and a grill.
In practice, though we found we did not use that capability much, and now we just have a simple microwave (the grill and oven we have in our oven).
We use it for defrosting, making popcorn, heating up milk, re-heating meals etc
It does get quite a lot of use so make sure you get one that has the power you require, and is big enough to fit anything you may want to put in it.
18. Stainless Steel Electric Sandwich Maker
A sandwich maker is also a useful piece of kit in the kitchen. This one is especially good as it is a 3 in 1 with interchangeable grill plates, so you can grill waffles, panini, sandwiches or even steaks. Another of those essential home appliances that when you have one, you wonder how you ever managed without!
We use ours regularly for making toasties, when no one is in the mood to cook.
A good skillet is also very useful to have around the kitchen. They can be used on the hob, in the oven or even on the BBQ.
Make sure it is properly 'seasoned' before first use. It is nice to have one with a lid.
20. Mixer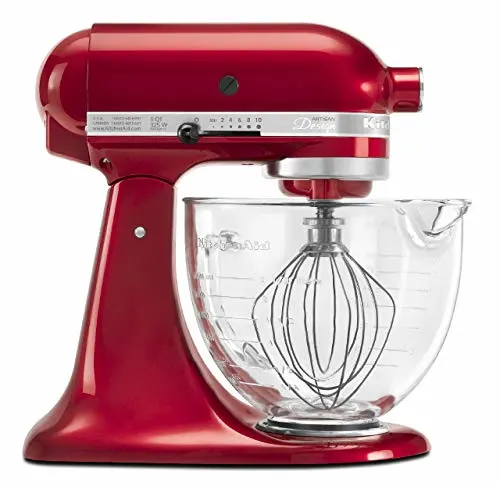 Obviously, especially if you are into baking, a mixer is an essential utensil in any kitchen. When it is to whip up some egg whites, cream or mix ingredients for your cake it is a lot easier than doing it by hand.
It is good to have one with a glass bowl so you can actually see what is going on more easily.
These devices are perfect for slow sous vide cooking at lower temperatures. This one is accurate to +/- 0. 05˚C up to 90˚C !! It means you can cook with fantastic precision.

We started with Nuwave and we finish with Nuwave. This alternative to a deep fryer is a lot more healthy, and has one-touch, preheat and reheat technology to air fry whatever you want.
We now have one of these air fryers and use it regularly to heat up food from the freezer, whether it be french fries or onion rings. It gives a very pleasing result without using any oil.
We will be producing some Nuwave air fryer recipes on this blog soon.
I hope some of the suggestions given here inspire you to improve your gadgets in the kitchen, and go and try new things!
Other posts of interest