Healthy Salmon Recipe for weight loss
This is a healthy salmon recipe for weight loss that is quick and easy to make and requires minimum preparation.
It is especially good as part of a balanced diet when served up with some steamed vegetables, as shown in these photos.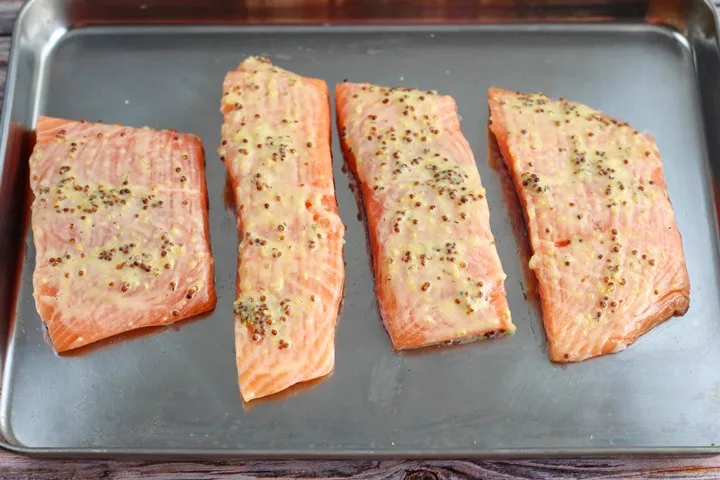 Trying to lose weight
As I write this post I am presently on a mission to lose some excess weight that I have gained over the last few years whilst writing this blog 😄.
This is not because my all recipes are necessarily unhealthy, but more due to the fact that I have not been consciously watching what I was eating or drinking.
Obviously, some of my recipes are less healthy than others because they may have too many calories, or because they are just SOOO tasty that you end up eating too much!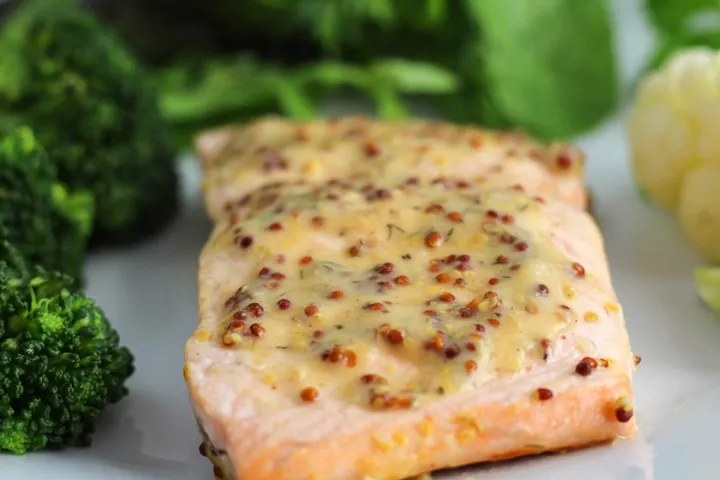 So I have started to think about producing some simple recipes that can be part of a balanced weight loss plan. This inspiration for this recipe was in fact partly borrowed from one of these well-known weight loss plans (though it is by no means the same recipe).
Salmon as an ingredient
Delicious salmon is a commonly used ingredient in many weight reduction plans as it contains plenty of lean low-calorie protein and is low in saturated fat. It also contains healthy omega-3 fatty acids, which have been shown to promote weight loss.
It has also been recommended by the American Heart Association to eat two helpings of salmon a week.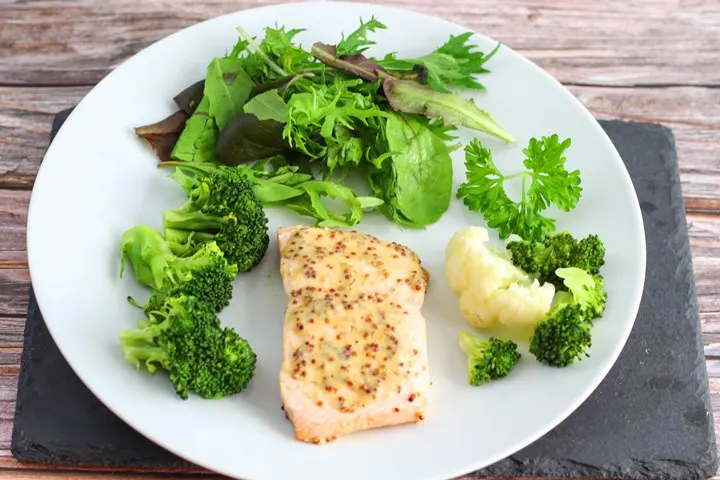 Though there may be a discussion about the differences between farmed salmon and wild salmon in some parts of the world, my advice would be to find out the source of the salmon you purchase. It should of course also be a sustainable source.
I bought this Atlantic salmon from our local market fish seller who told me it was Scottish farmed salmon. It was delicious!
Grilled salmon
In this recipe, I decided to grill the salmon under a heat source (called broiling in the USA, or grilling in the UK). You can also bake the salmon in the oven but I decided that it was time to try my grill again, as it does not get that much action. Healthy eating made easy!
And this, despite the fact that grilling can be a much healthier way to prepare food, compared to frying for example, as it cuts out all the oil. I just used a zero-calorie cooking spray to grease up my baking tin so it did not stick.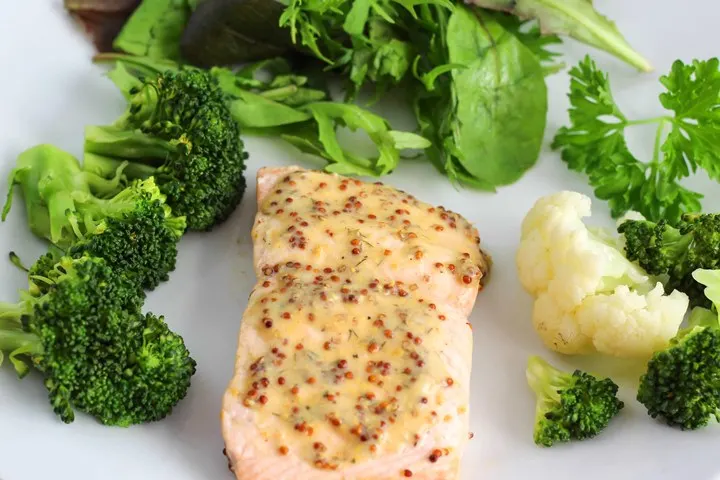 The calories shown in the recipe card below refer only to the salmon pieces that I grilled and include the nutrition from the glaze. If you were to add a cup of steamed cauliflower and a cup of steamed broccoli that would only add another 50-60 calories to the meal.
That would certainly fill you up and for just over 300 calories you have a delicious healthy hot meal with plenty of nutrients.
I removed the skin before I grilled the salmon so that I would be able to cook and baste both sides. Also, my wife does not like the skin, so I had no choice 😃. You can leave it on if you prefer, but it is quite fatty.
I steamed the vegetables in my microwave using my Sistema vegetable steamer (shown below), which only takes about 3-4 minutes and does a perfect job.
A Well Balanced Diet
Remember, if you are trying to lose weight, you should ensure you have a well-balanced diet so that you do receive all the nutrients you need.
This recipe is just one of the recipes I will be using in my weight loss program. But I would not recommend eating it every day!
I have lost 6 kg already in the last couple of weeks, just by carefully logging and controlling my food intake and watching my calories. It really does work.
I find that Myfitnesspal has been very helpful in this regard. And having a wife who is a qualified nutritionist is also an added advantage!
I hope you enjoy this recipe. Let me know how you get on in the comments section below.
How to Grill Healthy Salmon Fillets