Cheddar Cheese Fondue
This post gives you a cheddar cheese fondue recipe. Sometimes when you are craving cheese this is the best way to eat it!
This cheddar cheese fondue recipe is designed for people who want to make their own cheese fondue, but who may have trouble finding real Swiss Gruyère cheese locally.
In this recipe, I use a combination of Emmentaler and cheddar cheese to make a cheese fondue that will rival any traditional Swiss fondue.
No fondue kit available
This cheddar cheese fondue recipe has been born out of necessity.
When we lived in the Netherlands we could buy ready-made Swiss fondue packages in our supermarket which you just had to heat up when you wanted to eat.
Something like this Mifroma cheese fondue, which is great:
Original Swiss Fondue by MiFroma
However where we now live these products are not available, so I had to come up with an alternative.
And this is probably the closest recipe I can get with the cheese I could find when I made this recipe.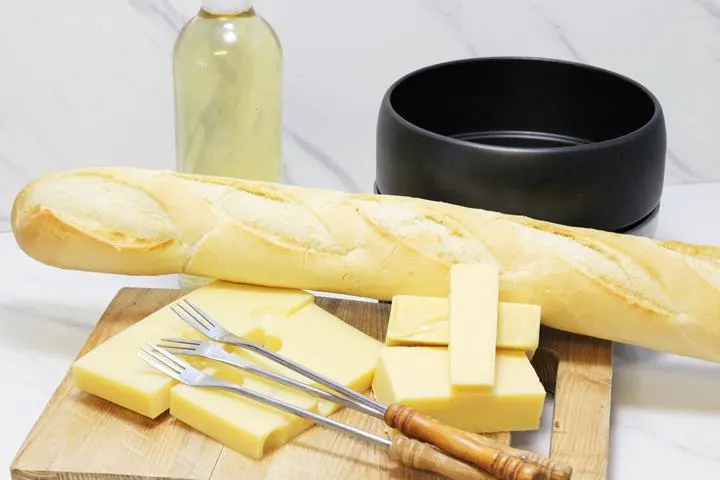 Emmentaler and Gruyère
Normally an authentic Swiss cheese fondue would contain Emmentaler and Gruyère cheese.
Gruyère and Emmentaler Gruyere cheese are both Swiss cheeses that share many similarities, but there are some differences between the two. Emmentaler cheese is typically firmer and has a milder flavour than Gruyere, which has a nutty, earthy taste.
Emmentaler cheese is also known for its distinctive holes, which are created by the bacteria used in the cheesemaking process, while Gruyere typically has a more uniform texture. Both cheeses are delicious and versatile in cooking, but the choice between the two often comes down to personal preference and the specific recipe being used.
Fondu with cheddar
I had some problems finding Gruyère in the town where we live when I made this, so I decided to try using cheddar cheese instead of Gruyère, which accidentally worked out perfectly.
I do think though that a fondue should at least contain some Swiss cheese, which is why this recipe also contains Emmentaler.
My wife even thought this recipe tastes better than the products we used to buy in the Netherlands.
In the meantime, I have discovered a local source for Gruyère. However, it is a lot more expensive than cheddar, so we now stick with cheddar when we make this meal.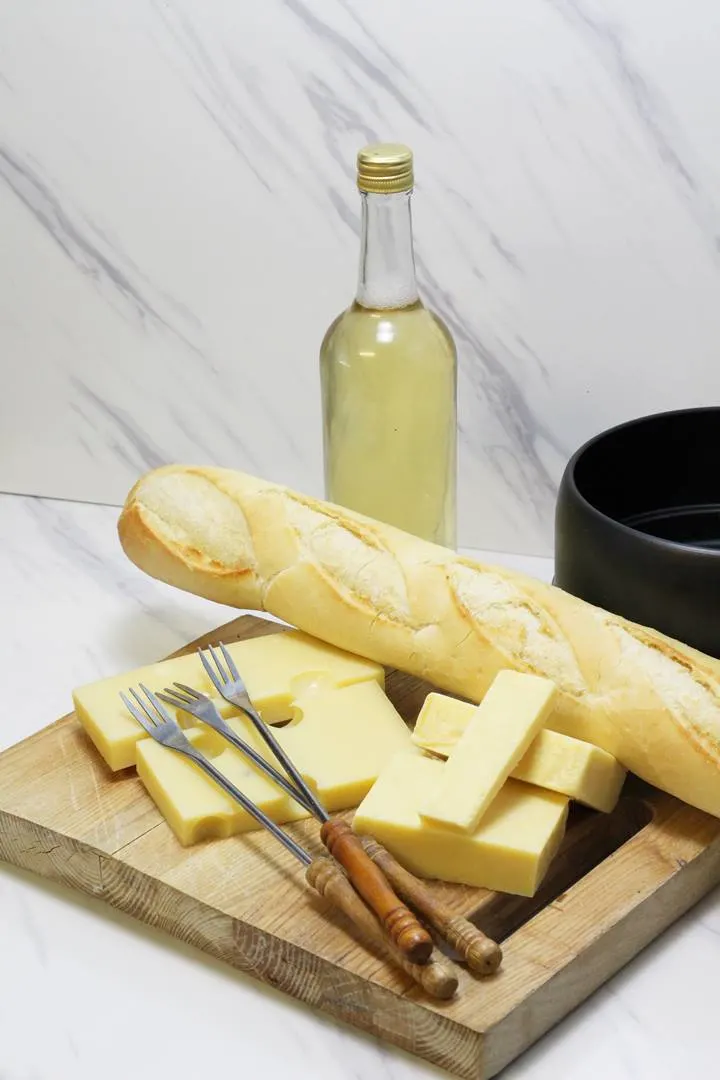 Best White Wine for Fondue
I do not think it is helpful to state what the best wine for cheese fondue is. There are so many possibilities.
For the wine used in this recipe, I used a Pinot Grigio that I make myself at home. But you can use any dry white wine with high acidity, like a Sauvignon Blanc or Pinot Blanc.
I would not be tempted to use a sweet wine as I think this would affect the taste adversely. And no, you cannot use red wine or beer in this recipe (after some of the questions I have had)!
Certainly, the meal should be accompanied by a dry white wine.
Cheese fondue for kids
For people who worry about letting their kids eat cheese fondue when it contains wine, I would not worry too much. By the time it reaches their mouths the majority of the alcohol will have evaporated.
The wine does however impart a particular taste though to the cheese fondue which is part of the beauty of this dish and why it is used. Kids may or may not like that. I know all my kids loved it from about the age of 8 onwards.
Personally, I think a cheese fondue recipe without wine is not really a cheese fondue – it's just melted cheese! But feel free to leave out the wine if you wish to serve this up to kids of a younger age.
You will also want to supervise kids of any age when eating this. Teach them to let it cool on a plate before putting in their mouths, as the cheese is hot coming out of the pot. And also be careful where you put the electric cables if you use an electric melting pot.
And you may need to prevent fork fights as well, depending on how well your kids are behaving 😃 (I speak from experience!)!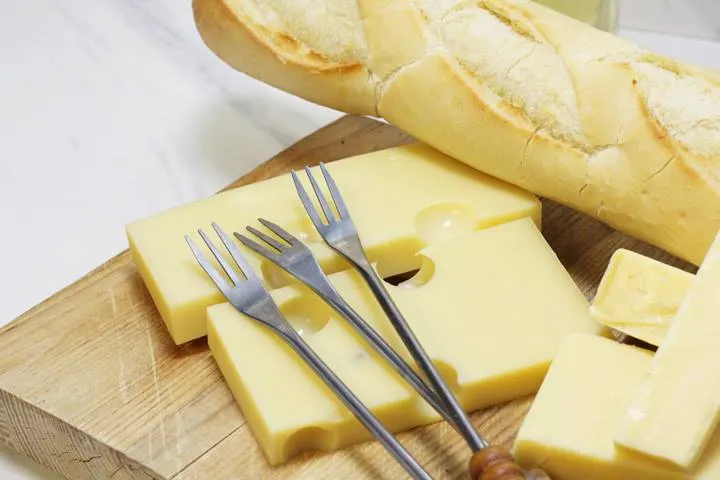 What to dip in cheese fondue
I have eaten cheese fondue in restaurants in France, Switzerland, Lichtenstein and Italy. And I still think the best cheese fondue dipping items consist of nice crusty bread with plenty of holes in the dough to fill with cheese.
Really there is nothing quite like a crusty piece of French or Italian bread.
You can, of course, also use some vegetables to dip if you were wanting to have a little bit more healthy approach to this meal.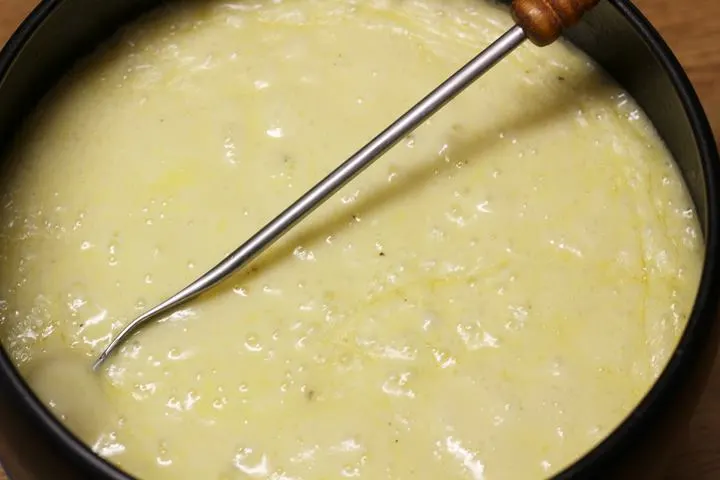 Introduction to Fondue
I was introduced to cheese fondue in Liechtenstein when I was a child. We were lucky to go a number of times for a two-week family skiing holidays (for £100!) to the wonderful Gorfion Hotel in the tiny town of Malbun.
The evening meals would sometimes be cheese or meat fondues, both of which we loved as kids.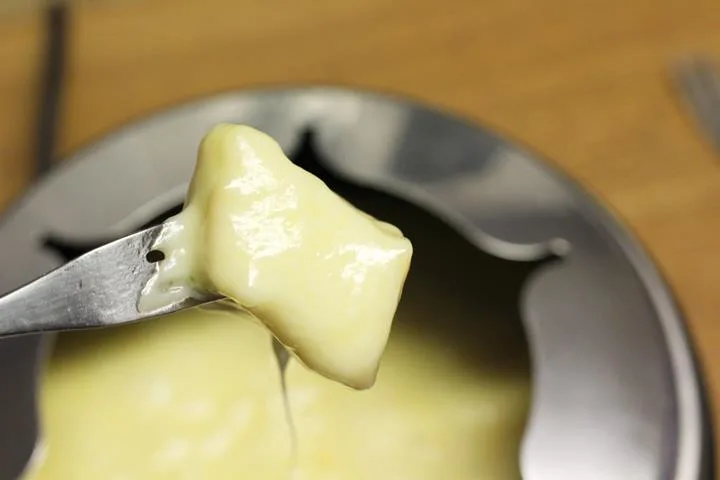 Back then we would have a cheese fondue melting pot at the table with a small paraffin burner to keep it hot. We have found though, having used these for years at home as well, that an electric melting pot is actually easier as well as safer.
It also has the added advantage of having no paraffin fumes. Just be careful of the cord if you have to use an extension lead to connect it.
The biggest advantage of an electric fondue pot is that you can adjust the heat to suit the state of your fondue.
Cheese Electric 64oz Fondue Melting Pot

Cheese fondue recipes
If you try this recipe I think you will find it very close to the original. But if you can find some Gruyère then please feel free to use that instead!
Just use the same weight of Emmentaler and Gruyère (or cheddar) to suit the number of people you have.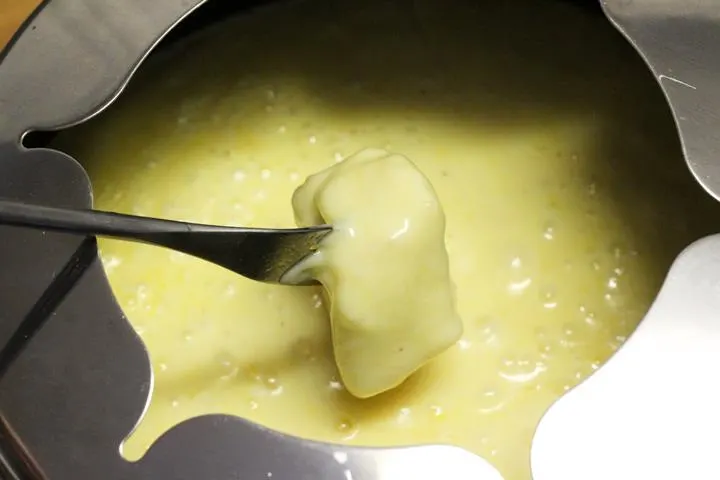 Eating fondue is a communal activity and should be fun. But remember, anyone dropping their bread in the cheese has to buy the next round of drinks!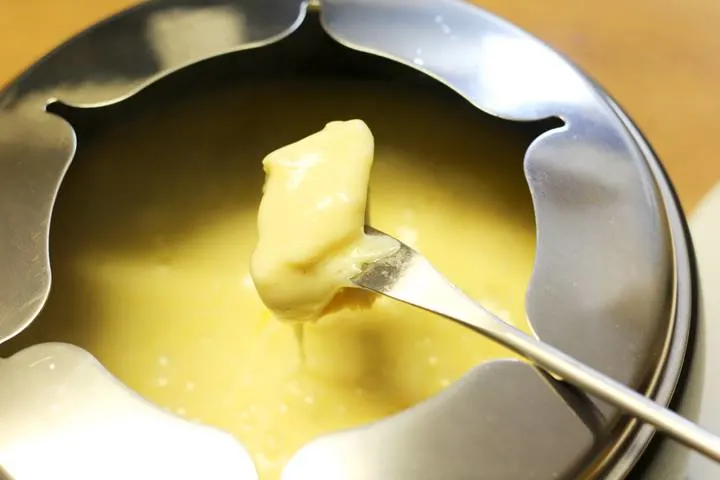 This is a great meal for getting the family around the table together to eat from the same pot and converse. It is a really sociable way to eat, as you would expect from the French and the Swiss. It is perfect for New Year's Eve, Birthday parties and/or other celebrations, or even just a family meal.
Give it a try. It is so easy to make and very satisfying.
If you do try it, please let me know how you get on in the comments section below!
How to make cheddar cheese fondue