Steamed Cauliflower in the Microwave
This is a very simple recipe showing how to make steamed cauliflower in the microwave.
Using the microwave is easy, quick and has minimum fuss compared to steaming on the hob.
Cauliflower is a vegetable with many healthy benefits, and can be served in many different ways.
Cauliflower cheese, for example, is now one of my favourites as a side dish, which I actually used to hate when I was a kid.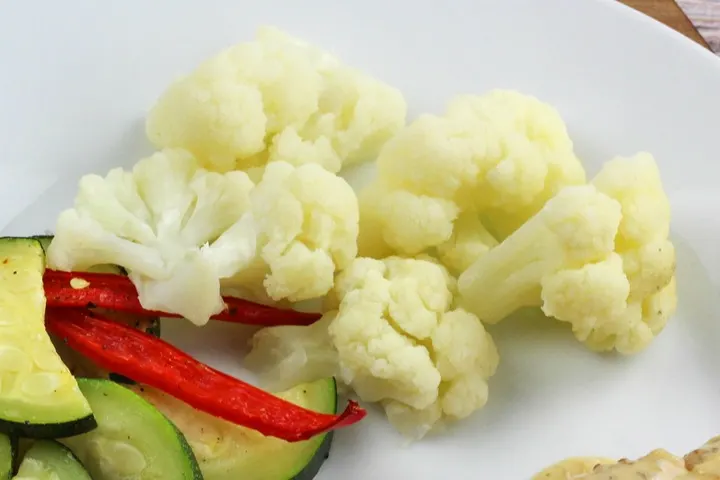 But this recipe gives you just some plain steamed vegetables. I prefer steaming to boiling vegetables, as the process removes less of the nutrients and is generally healthier.
It also means you can make crunchier vegetables and prevent them from going soggy.
What type of microwave steamer to use?
You can of course also steam cauliflower on the hob over boiling water, but I find it easier to use the microwave.
I have one of these things below. They are brilliant.
Sistema Microwave Food Steamer with Removable Steamer Basket | Large 3.2 L | Red/Clear

It is BPA-free (microwave safe) and with an internal basket that you can easily remove. You can use them for steaming pretty much any vegetable. I use it regularly now to steam broccoli and carrots for example.
It has a valve on the top you can open to let out steam and is also easy to clean and very affordable. It also fits well into my microwave which is not that large.
I would recommend getting one if you do not have one. I am very pleased with mine.
There are other makes out there that are perfectly fine, but make sure you use one that is BPA-free and completely microwave-safe.
How do you clean cauliflower before cooking
I think the key to making cauliflower look its best is to make sure it is cut into manageable florets that will fit nicely into your steamer. The advantage is that they are then immediately ready to serve and you do not have to try and cut up a hot cauliflower!
I also use the basket of the steamer to actually clean the florets under the cold water tap, where I can rinse them off before cooking.
Sometimes you may have dirt on the outside that you will want to remove. If it does not wash off you can always cut it off.
It is good general practice anyway to rinse all vegetables before cooking. You never know what insecticides or other chemicals may have come into contact with them during harvesting and transport.
Good luck steaming your own cauliflower. I am sure you will realise how easy it is and add it to your list of simple healthy vegan side dishes.
If you do try this then please let me know how you get on in the comments section below!
How to steam cauliflower in microwave
Some other cauliflower recipes:
Other healthy side recipes (illustrated):