Sausage and Mash with Onion Gravy
Bangers and mash with onion gravy is a very typical British or Irish meal that you will find traditionally served up in many pubs across the British Isles. It is one of the many British comfort food recipes I have on this site.
I have listed a few more at the end of the post.
What is bangers and mash you may ask?
'Bangers' are of course 'sausages' and 'mash' is 'mashed potato'. I understand the word 'banger' comes from when there were meat shortages during the war and the high water content led to the sausages popping away during cooking!
Contrary to popular belief, you should NOT prick your sausages before cooking. It will just release the fat and reduce the taste. If you are worried about fat content, then buy lean sausages.
This is obviously a very simple dish, which needs the onion gravy to keep it moist, as it could be too dry without. The trick is, of course, to find a fantastic sausage to make this a classic.
International Sausages
Nearly every country has its own types of sausage. Germans have their bratwurst and Knackwurst.
Italians have their salami and other dried sausage. The Dutch have their Braadworst and Rookworst.
The Americans have their pepperoni and hot dogs. The list goes on. Probably most would be good served up with mash.
It is just one of those combinations of foods that are meant to be together.
British sausages
This recipe works when you can get a good juicy British or Irish sausage to go with the mash. When you get a tasty one, really it cannot be beaten. Super British comfort food.
There are many different types of sausages in Britain. When I lived in the Netherlands I used to import sausages in a coolbox in the car when we travelled back to the UK.
We would always try and bring back as much as possible and freeze them, as the good old English Bangers just were not available in Holland.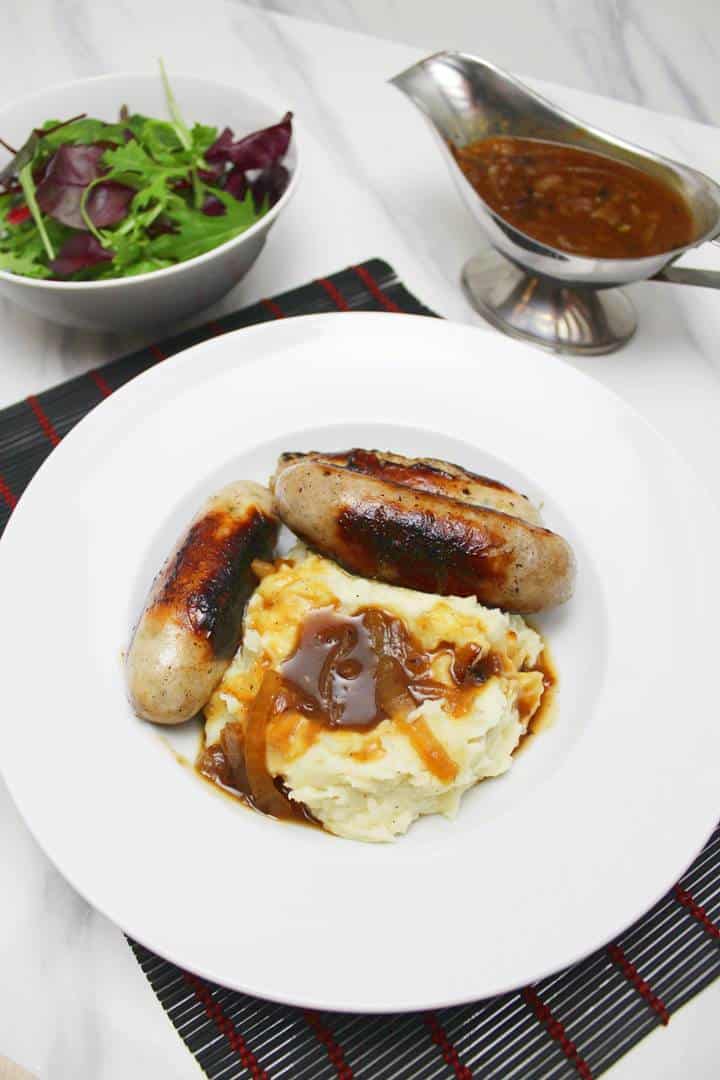 Kennedy's
We used to get our sausages from one of the most famous sausage shops in the South of England: Kennedy's.
Sadly Kennedy's went bust a bit more than 10 years ago under competition from the supermarkets and rising costs. Their sausages were just fantastic and difficult to match.
These days however you can still get some tasty sausages in the good supermarkets if you shop around, or perhaps your local butcher does his own?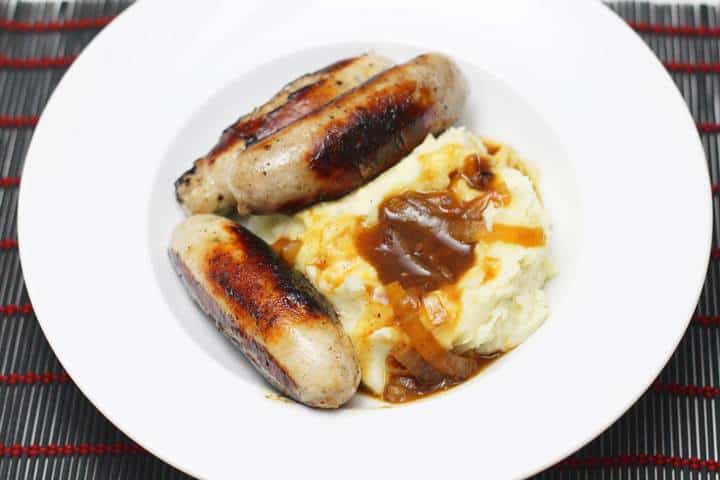 Here in Ireland, we are lucky to get a very good lean Irish Pork sausage. In England you will find a wide variety of flavoured English sausages: pork and leek, pork and spring onion, pork and apple, Cumberland sausage, honey and mustard, pork and thyme, garlic and basil, to name but a few.
And then there is venison sausage, beef sausage, chicken sausage. The combinations are endless for a variety of sausage dishes.
I recommend finding a flavour you like which will greatly enhance your eating pleasure. In these photos, we had a mix of pork and spring onion and Cumberland sausages, from Tescos which were very tasty.
The mashed potato recipe you can find in the link. The recipe below is really just for cooking the sausage and making the bangers and mash gravy.
I hope you enjoy it!
How to make Bangers and mash with Onion Gravy
Some other British comfort food recipes:
or these: