Vegan Tortilla Wraps
This easy and healthy vegan wraps recipe is loosely based on some of my non-vegan fajita recipes on the site, but without the meat.
I am not a vegan by any means, but I think sometimes it is good to have a break from meat and eat the occasional vegetarian meal.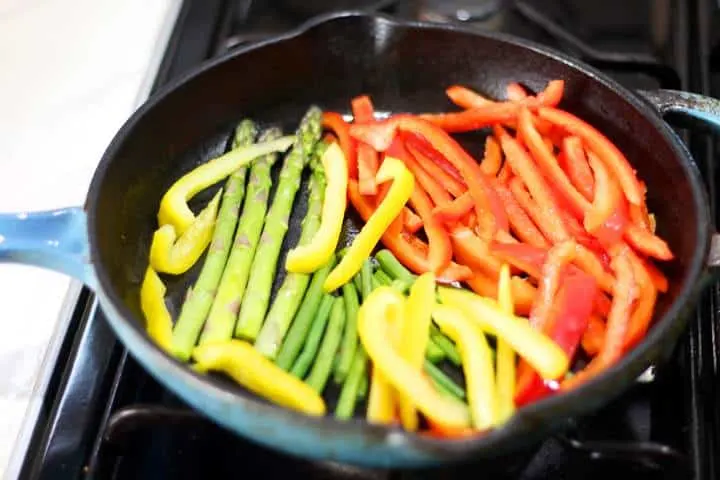 This veggie tortilla recipe is actually not only vegetarian but also vegan. It is also really healthy, easy and quick to prepare and tastes fantastic.
Vegan Fajita sauce
I use the same fajita sauce in this as my other recipes as it has a great smoky BBQ flavour and frankly makes almost anything taste good.
I used the spicy Bulls-eye Smoky chipotle sauce which we bought at Tesco's.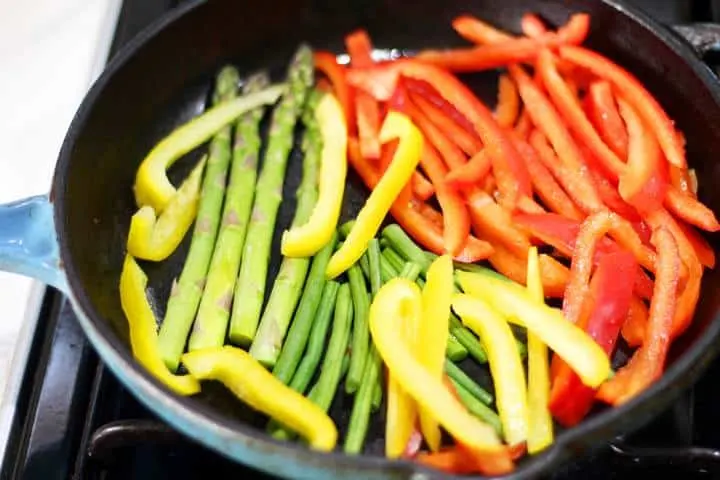 Check ingredients
If you cannot find this sauce I am sure you can find something similar in your local store. Just check the ingredients before to make sure it is vegan, if that is what you are after.
For a true vegan fajita, you will also have to check the ingredients of the flour tortilla wraps you use. But otherwise all the other the ingredients are purely plant-based. You can also make your own flatbread. My flatbread recipe only has 3 ingredients and is all vegan.
And for more plant-based ideas you should check my friend's site Wow, It's Veggie! with great vegan and vegetarian recipes.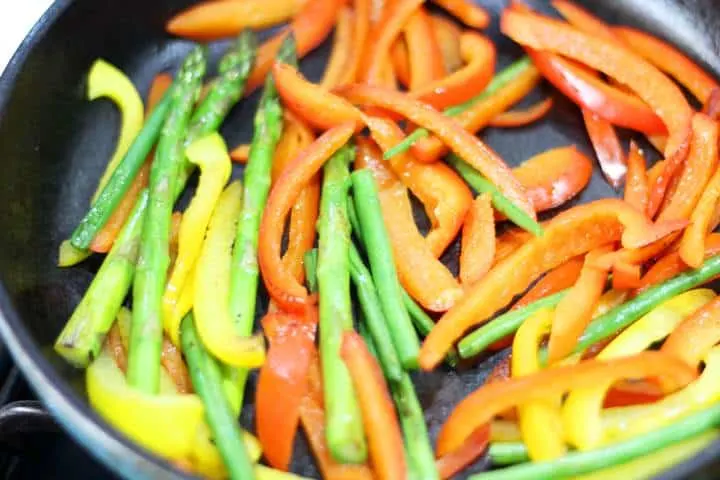 I do not cook the onions in this recipe, as I like them raw sometimes. I used a red onion this time in these photos.
You could also cook them with your peppers and vegetables if you prefer, as I know some people do not like raw onions.
I like to sauté the vegetables all together in my new cast iron skillet as it gives a nice charring to the peppers as they cook.
These vegetarian fajitas are really quick and easy to make and can be on the table in less than 15 minutes.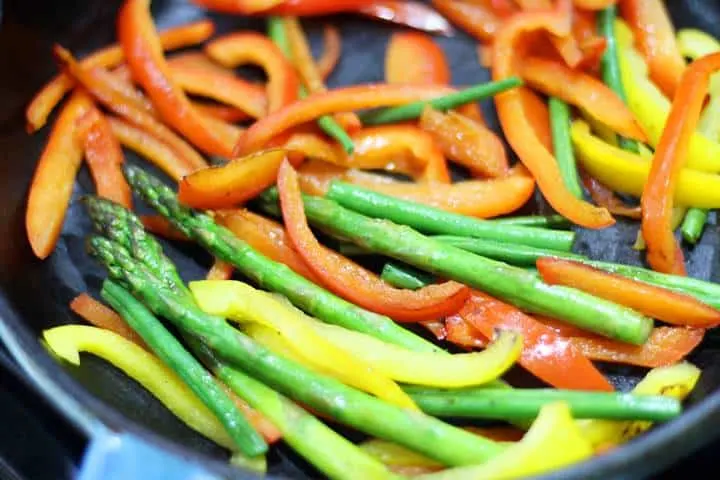 You can, of course, add all sorts of vegetables to a vegetarian fajita recipe. Some avocado and tomato could also be a good addition to this recipe for example.
Some people make raw vegan wraps without cooking the vegetables. But this sounds a bit too crunchy for us – we like a grilled veggie wrap – we like our veggies cooked (well, maybe not the onions!!) You will love this asparagus wrap.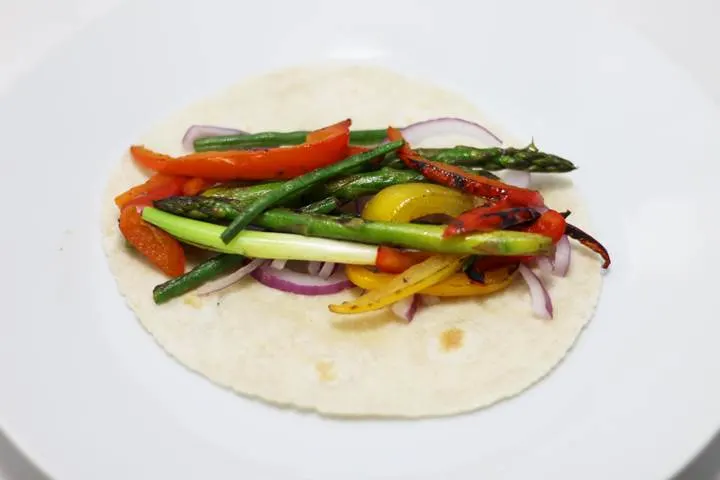 You can also let them cool in the fridge in some tin foil and eat them cold later in a picnic or as a packed lunch. Maybe we will try this next time.
Make your own Flatbread
If you prefer you may wish to try this recipe using homemade flatbread. My 3-ingredient flatbread recipe is super easy and ready in 15 minutes. A great and tastier alternative to store-bought tortillas.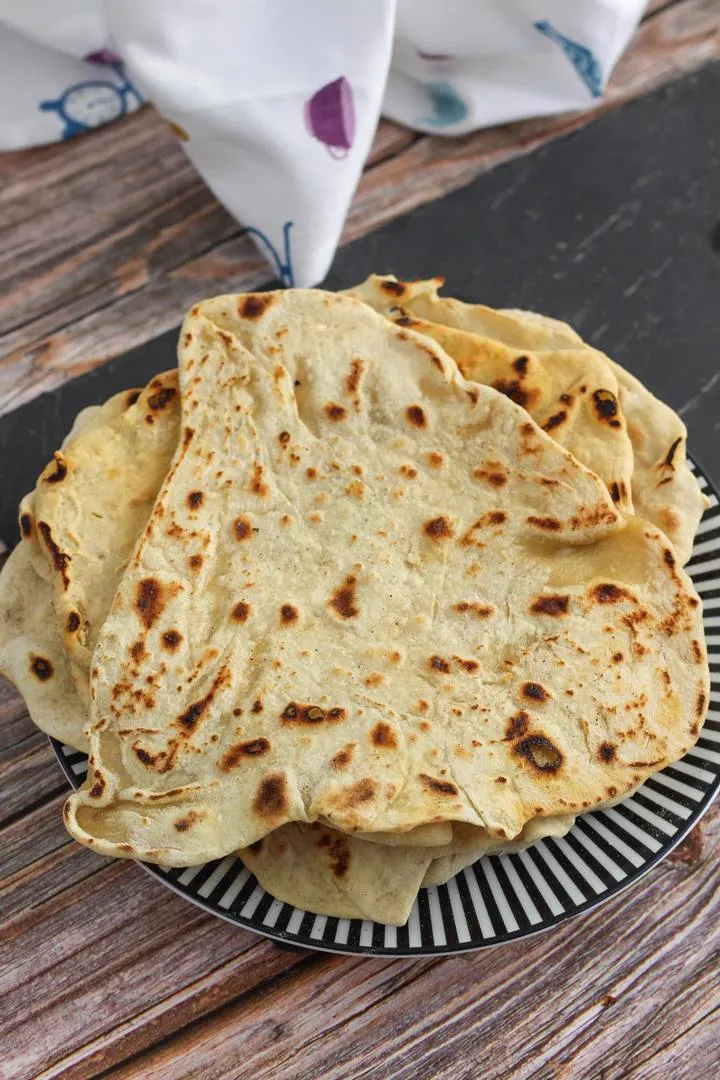 How to make vegan wraps
You may like these other vegan recipes:
or these non-vegan ones…..