Guacamole in the food processor
This post shows you how to make delicious food processor guacamole in your own kitchen. This is a super easy recipe that can be made in any food processor that can chop and mix all the ingredients together.
Guacamole is a popular Mexican dip made from mashed avocados, tomatoes, onions, and lime juice.
Of course, store-bought guacamole is never quite as good as the stuff you get in restaurants. This is because storebought guacamole often contains preservatives and other things that you may not particularly want in your diet. Also they never quite taste the same.
So this is another reason to make your own guacamole – it only takes a few minutes and you can adapt the ingredients to suit your own taste, which is nearly always a better option, as tastes always differ. And also, you know where the ingredients have come from and how fresh they all are.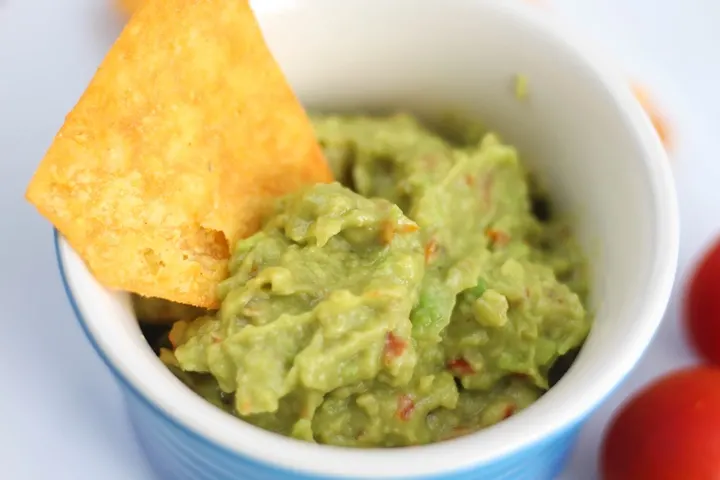 What is Guacamole?
Guacamole is a Mexican avocado dip made with a few other ingredients, which is often eaten together with tortilla chips or with other types of Mexican food, like tacos, nachos or burritos.
In addition to its delicious taste, guacamole is also a healthy snack, as avocados are a great source of healthy fats and nutrients.
The type of food processor you use is not so important as long as it can mush all the ingredients together with no problem.
I actually use my Nutribullet to do this as it is quick and easy to clean. You sometimes need to shake the cup around between zaps, but that is easy enough and it is effective. It also means you can control how chunky you want your guacamole to be.

The advantage of using a food processor is that the larger lumps become more finely chopped and you get less chunky guacamole. If you prefer it chunky you can always mash by hand with your potato masher!
How to find ready-to-eat avocado?
So to make nice creamy guacamole you need to use avocado that is ready to eat. We are lucky to be able to buy 'ready to eat' avocados in our local Aldi store.
But if you are buying in a market or choosing yourself, it can be more difficult as the colour does not always tell you if the fruit is ready. Darker skin may indicate that fruit is riper than lighter-skinned fruit, but not necessarily. You may actually need to feel the avocado to be able to test.
The way I do it is to softly squeeze the avocado at the stem end. If it yields slightly to the squeeze it is ready to eat.
What to eat with guacamole?
Well, first of all, a guacamole dip with tortilla chips like Doritos is, of course, a classic, as a snack or starter. But we also sometimes make it when we are making taco's or sometimes fajitas. It adds that delicious smooth creamy taste of avocado which is always such a treat.
You can make your spicy avocado dip as spicy as you want by adding a chilli pepper or jalapeños peppers to taste. But do not overdo it as you may lose the taste of the avocados if you do.
If you are a little bit adventurous you can always experiment with other spices to put in guacamole, like cumin, cilantro, salt and pepper, or chilli pepper. If you do not have lime juice, use lemon juice instead. It's up to you and the available contents of your pantry.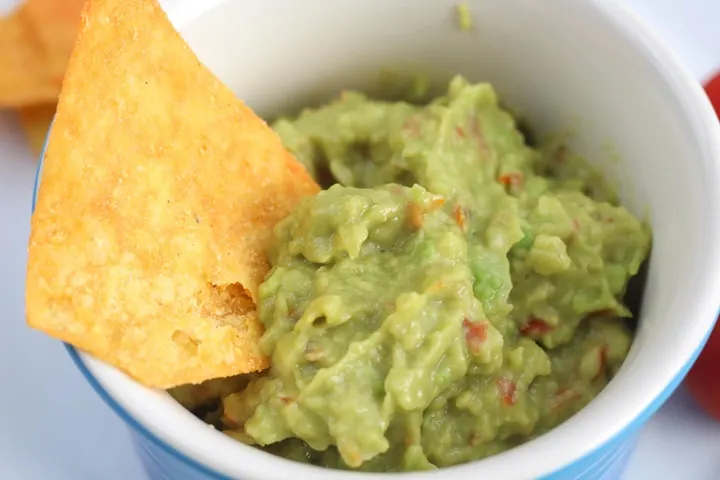 I hope you enjoy this simple recipe and look forward to hearing how you get on.
How to make guacamole in the food processor