Healthy Chicken Salad Wrap
This simple recipe shows you how to make your own delicious chicken salad wraps at home.
It is super easy and a wonderful combination of tastes that will want you to make more.
Really it is as simple as taking a simple healthy chicken salad and putting it into a tortilla wrap with some Hellmann's. What could be easier or more delicious!? Well, I suppose you could try using some tzatziki instead of Hellmann's if you prefer.
What type of chicken to use?
This recipe can be made using chicken cooked in any way that suits you best. You can use leftover cold chicken from the Sunday roast, or fried chicken, baked chicken or grilled chicken.
So you can eat it hot or cold, whatever you prefer.
I prefer to use the white meat from the chicken breast, but you can of course also use any lean chicken meat you have. Rotisserie chicken is also great to make these wraps if you do not want to cook the chicken yourself and you can buy it ready-cooked in your local store.
Feel free to interchange chicken with turkey, if you have Thanksgiving or Christmas dinner leftovers to finish off.
How best to cook the chicken?
Using chicken leftovers is obviously the quickest way to make this dish. Just cut it into strips. Streaky bacon cools off quickly when fried to crispy, so you can eat it cold. Or buy some ready-cooked crispy bacon from the store.
Or fry your bacon in your air-fryer to make things easier if you prefer.
If you are frying, grilling or cooking the chicken in the oven it will take longer, and the times will depend on how thin you cut the chicken strips. Frying the chicken in the pan is probably the quickest way to make a hot version of this chicken salad wrap.
How to pack your wrap
The main trick is to make sure you get a taste of everything in every bite. So make sure you cut long strips of chicken, and take care when arranging your tomatoes and avocado.
Try and pack the wrap quite tightly, so you do not lose anything! (I did not do that for these photos, as you would not be able to see anything 😊).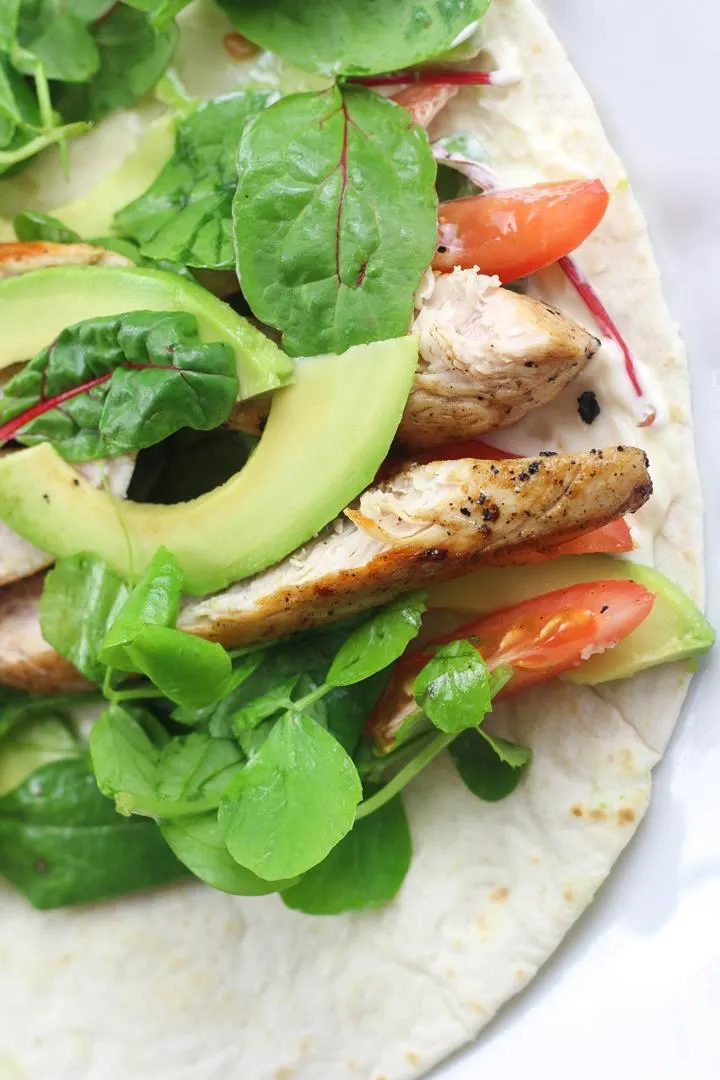 When you fold the wrap, fold the tortilla over the ingredients at the bottom, then roll the wrap closed so that nothing can fall out of the bottom. I used some wheat tortillas from Aldi for these wraps, but use whatever you think is easy and healthy to eat.
You may prefer to make your own flatbread to make these, but they may be more difficult to roll closed.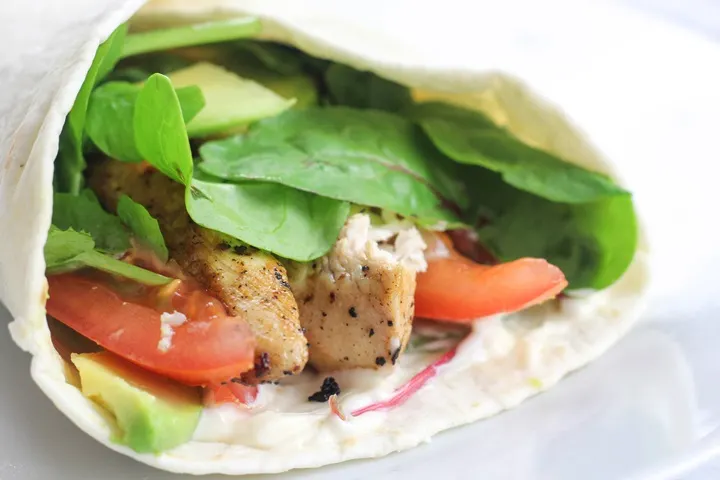 You can make these wraps ahead for a road trip or packed lunch. If you do, just hold them together and protect them with some clingfilm and keep them cool in the cooler until you are ready to eat them.
I hope you enjoy trying to make these wraps. If you do, please let me know how you get on in the comments section below!
How to make chicken salad wraps