Honey Mustard Chicken Wrap
This simple recipe shows you how to make your own delicious chicken honey mustard chicken wraps at home.
These wraps are super easy to make and a wonderful taste combination that you will make over and over again. (We ourselves are in fact doing these days, trying different combinations).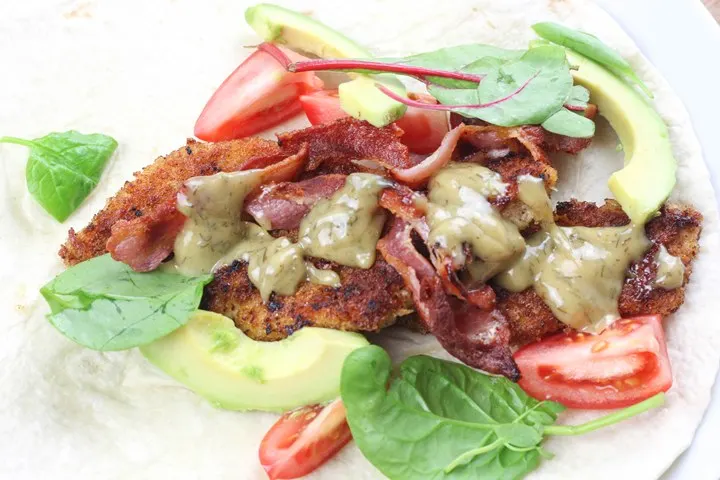 Honey Mustard Chicken wrap using leftover chicken
The great thing about this simple honey mustard and dill chicken wrap recipe, is that it is a great way to use up leftover chicken. Whether it is from your Sunday dinner, or your Turkey from Thanksgiving or Christmas.
Using chicken or turkey leftovers is obviously the quickest way to make this dish. Just cut the cold roasted chicken or turkey into chicken strips or chicken tenders.
Streaky bacon cools off quickly if you fry it to a crispy state, so you can still eat the wrap cold, or just leave the bacon out completely if you prefer.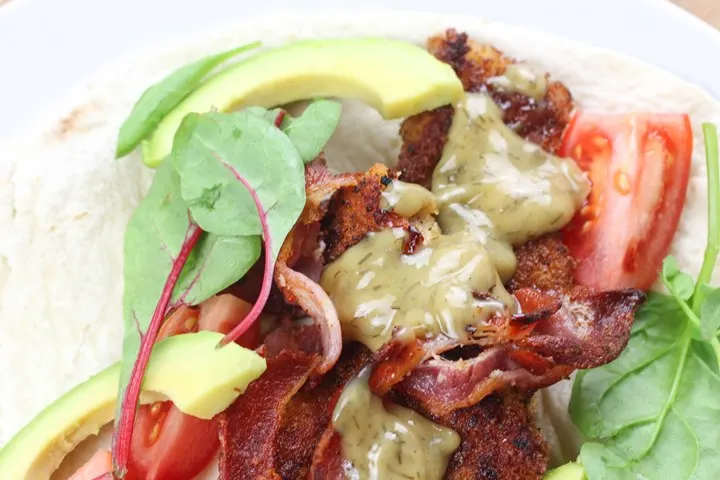 You can also cook boneless skinless chicken breasts in different ways to produce this recipe. You can cook the chicken in the oven, under the grill or fry it, and then enjoy a hot wrap, as opposed to a cold one.
If you want to have a tasty crispy chicken wrap, then just use my pan-fried chicken breast recipe to cook some delicious crispy breaded chicken as I have done in these photos. It takes a bit longer, but it is worth it. It beats a McWrap or a McDonald's Snack Wrap anytime!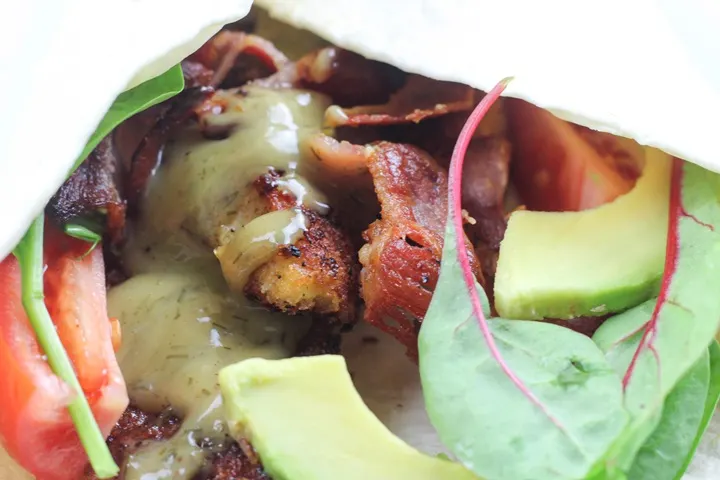 Honey mustard dill dressing
The key to the taste of this particular wrap is the honey mustard dill dressing. You can use the Ikea dressing shown below to dress this wrap or you can make a similar dressing yourself using my dill honey mustard dressing recipe. It is quick to make and you can keep it in the fridge for a few days if you need to.
This mustard honey dressing adds a different taste to this wrap compared to just using mayo, which I use in my chicken salad wrap recipe. Both are good, just different.
These wraps are also great to make ahead for a road trip or packed lunch. Make sure you allow the meat to cool before assembling the wrap though. If you do make them, just wrap them with some clingfilm and keep them cool in the cooler until you are ready to eat them.
Many people were upset when McDonald's stopped selling Snack Wraps and McWraps in some parts of the world. If you were one of these people, then you can now make your own honey mustard version by following this recipe (and I bet they taste a lot better)!!
I hope you enjoy trying to make these delicious honey mustard chicken wraps. If you do try them, please let me know how you get on in the comments section below!
How to make honey mustard chicken wraps