Traditional Ukrainian Borscht Recipe Beet Soup
This is a recipe for Ukrainian Borscht. This recipe is from one of the Ukrainian refugees presently living in our home.
Yulia made this recently and it was sooooo good we decided to add this to the list of international recipes on my site. We have made it again since I took the first photographs as it was so tasty!
Ukrainians take great pride in their national dish and continue to pass down family recipes from generation to generation. So we have to thank Yulia's mother for this!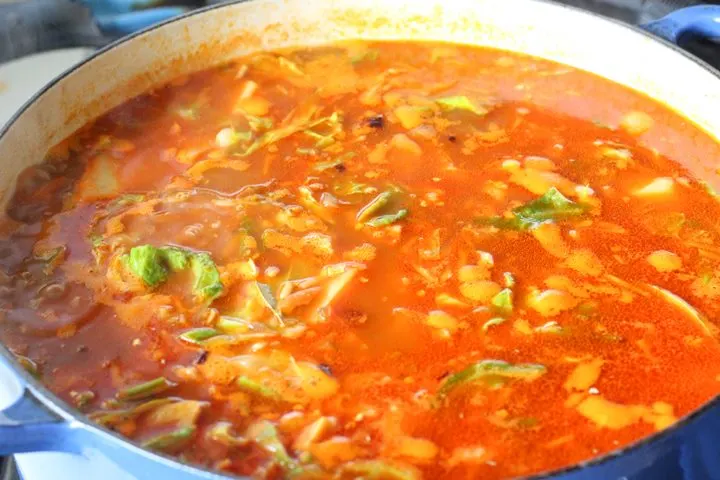 What is Borscht?
Borscht, which is also known as borsch, is a hearty soup that originated in Eastern Europe. People now enjoy borscht all over the world.
This dish is typically made with beets (beetroot) which give the soup its characteristic deep red colour. It also has other vegetables such as carrots, onions, and potatoes.
This version of the recipe does not actually use that much beetroot compared to other recipes, so the result is maybe not as red as you may expect. But we found the combination of flavours was excellent and the taste and texture were perfect. It is a hearty and tasteful meal. Real comfort food.
The soup is seasoned with a combination of herbs and spices, such as garlic and bay leaves, and is often served with a dollop of sour cream or yoghurt. Sometimes people use dill, but we did not in this recipe.
Some people even add other ingredients, such as beans or mushrooms, to make the soup heartier. This recipe does include kidney beans and cabbage, for example.
There are many variations of borscht and this one includes some pork meat. Other recipes may include beef. Use whatever you prefer. The meat is slow-cooked so that it is tender and falls off the bone.
Vegetarian Borscht
Vegetarians and vegans can enjoy a vegetarian Ukrainian borscht by omitting the meat and avoiding the yoghurt if they wish.
In addition to its delicious taste, borscht is also a nutritious meal. Beets are a good source of fibre and are high in antioxidants, whilst the other vegetables and herbs provide a variety of vitamins and minerals.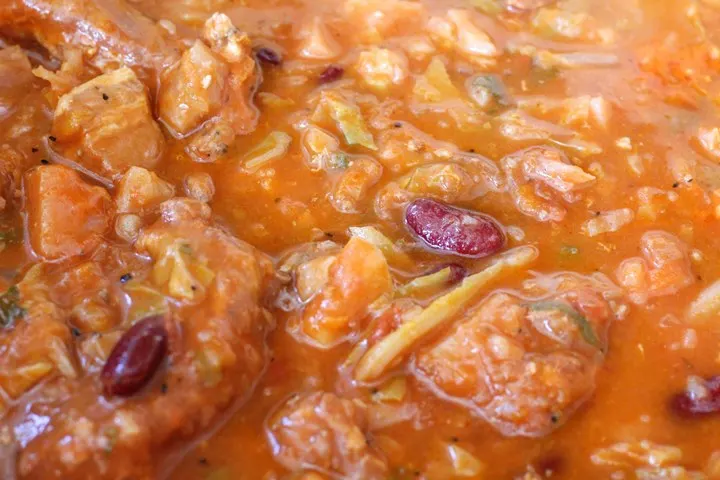 Borscht origins
People have enjoyed borscht for centuries in countries such as Russia, Ukraine, and Poland. Hence, the history of Borscht is long and it is considered to be a staple of Eastern European cuisine. Recently the culture of cooking Ukrainian Borscht has been inscribed on the List of Intangible Cultural Heritage in Need of Urgent Safeguarding by Unesco.
Serve it up warm on a cold winter day to warm the body and soul.
The soup has also become popular in other parts of the world, and is now a beloved dish in many countries.
One of the great things about Borscht is its versatility. The basic recipe can be easily adapted to suit different tastes and preferences. Apparently, every Ukrainian mum has their own version that are all different.
And of course, you will find that Borscht always tastes better the days after it is made. The sauce thickens up overnight in the fridge.
Regional Variations
Just like any traditional recipe, there are different versions of borscht depending on where you are in Ukraine.
In Western Ukraine, it's common to add mushrooms or sour cherries to the soup. In Eastern Ukraine, they prefer their borscht without beets but with plenty of meat instead.
Spicy Borscht
Some of us who prefer a spicier soup can add a pinch of cayenne pepper or chilli. The Borscht in the photos was slightly spicy which I thought made it perfect.
You can serve up with sour cream or yoghurt which adds a healthy dose of probiotics, which can help support digestion.
Overall, I think you will find that borscht is a delicious and nutritious soup.
Its versatility and adaptability make it a great dish to experiment with and customize to your own tastes.
Finally, Borscht is a great choice whether you are looking for a hearty meal on a cold day or a nutritious and flavourful soup any time of year.
How to make Traditional Ukrainian Borscht