Stir Fry Duck Hoisin
This recipe for stir fry duck hoisin is easy and quick to make at home and is a real treat for all the family. And you can make it in a single pan or Wok.
Duck breast normally has a lot of fat attached, but in this recipe, we only use the lean meat of the breast so as to keep it healthier.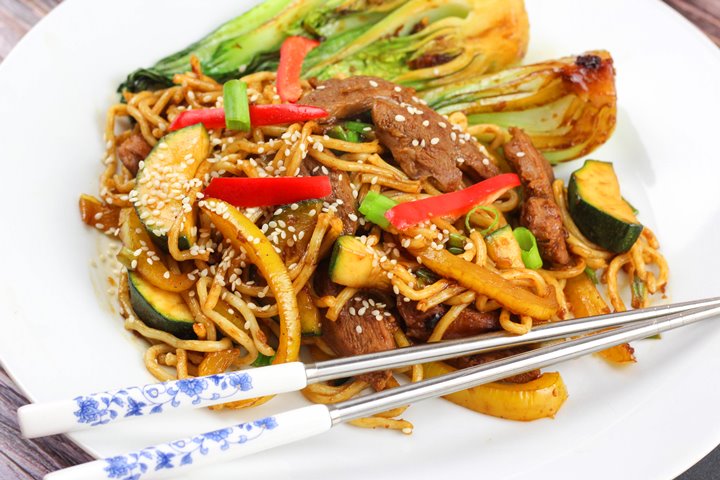 This duck stir fry with hoisin sauce is a meal that uses some very Chinese ingredients such as hoisin sauce, duck breast, vegetables and Asian noodles.
The inspiration for this recipe came from some of the meals, like crispy Mongolian beef, that I enjoyed in the manager's canteen on the Chinese shipyard, where I worked for a while in China.
You can of course adapt it to suit your own preferences, and use any other vegetables or noodle types that you prefer. If I had found some bean sprouts in the supermarket, I would have used them, for example.
And some carrots, beans, or broccoli would also fit perfectly well into this recipe. Use what suitable vegetables you have available in the fridge and need to use up, or just what you fancy.
How to separate the duck breast from the fat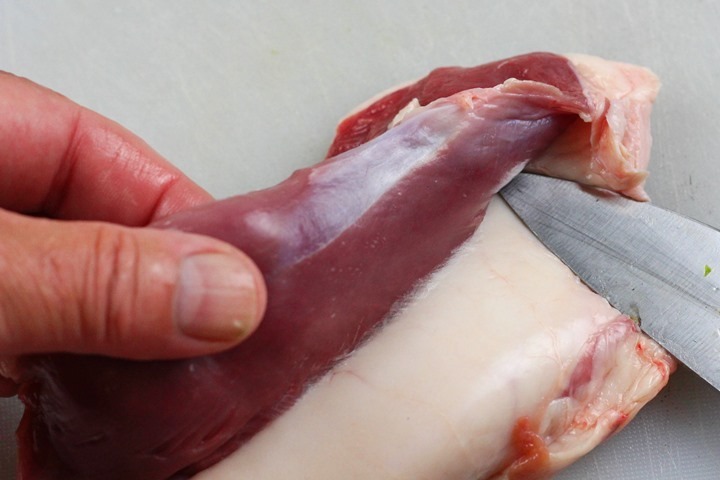 You can see in these photos that the lean duck meat comes away very easily from the skin and the fat. You just use a sharp knife to ease and coax it away and it will pull away quite cleanly.
'Don't waste the duck fat' I hear you shout (well another reader of mine did when I suggested to 'discard the fat' in one of my recipes, whilst on a health trip)!!
Of course, you can use the fat to roast your potatoes for your next Sunday Roast, or deep fry the skin in the duck fat to make some crispy duck skin to use as a tasty addition to salads or even duck hoisin pancakes.
But beware, eating animal fat is not a very healthy thing to do. Although it may taste fantastic, saturated fats can increase your cholesterol, which can cause blockages in arteries and lead to heart disease.
So eating duck fat is definitely NOT something you want to be doing every week!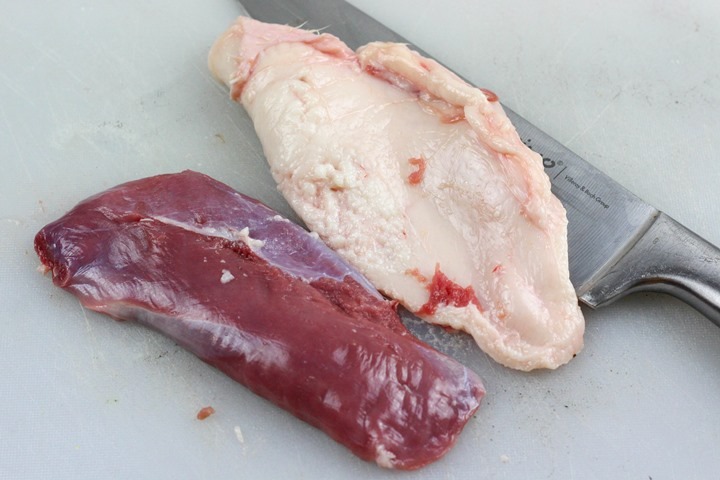 But in this recipe, we did not use the duck fat, in order to keep it as healthy as possible. I did in fact discard the fat and skin, as I am watching my fat intake under instruction from my nutritionist wife.
We used duck breast fillets in this stir fry as it tastes so good and we can buy it really cheaply at our local Aldi. But you could also make this recipe with chicken, pork or beef if you want.
Stir fry duck breast with noodles
In this recipe, I used some very easy wok-ready wheat-based noodles which only need a minute in the pan to be cooked.
But you can use your own preferred Asian noodles, whether they be egg, rice, Udon or Ramen noodles, whatever you are used to.
Just follow the manufacturer's recommendations to cook the noodles and add them to the wok at the end of the cooking.
Cooking tip: I have found it easy to stir fry the noodles if they are shorter to prevent them from forming a clump.
But please note, they should be Asian-style noodles, rather than Italian pasta (I know some people call spaghetti 'noodles'). But there is a difference in how they are made. And this is not an Italian dish.
How to garnish Duck Hoisin
I garnished this dish with some sesame seeds, some chopped spring onions and sliced red chili pepper. But you could also use some chopped coriander (cilantro) if you like.
It was served up with a side dish of stir-fried pak choi which was delicious, also cooked in the wok.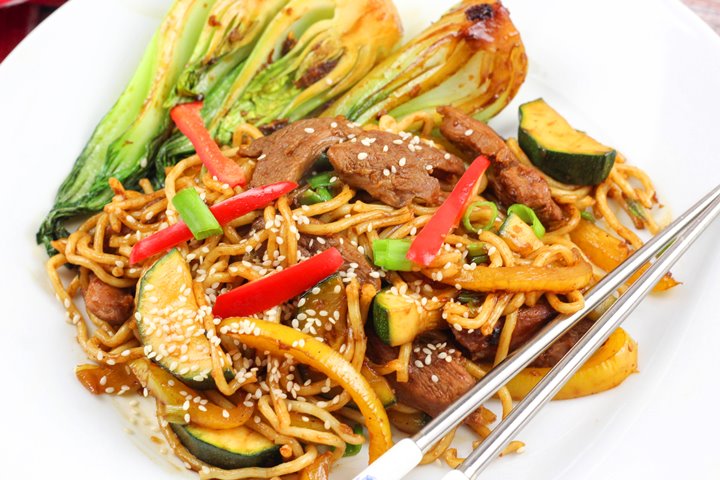 I hope you enjoy making this dish. Please let me know how you get on in the comments section below!
How to make stir-fried Hoisin Duck