Roasted Peppers and Zucchini
This simple recipe for roasted peppers and zucchini is a great way to make an easy and tasty side dish. This can accompany any meat or fish dish.
Serve as a vegetarian side dish or simply eat on its own as a tasty vegan meal.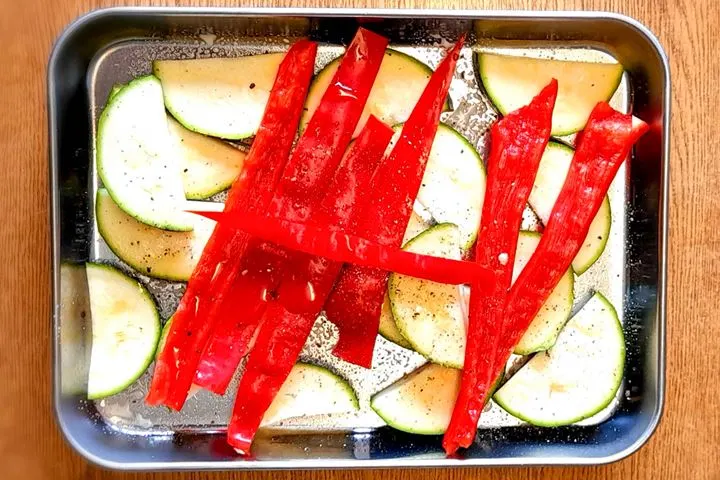 Zucchini (also known as courgette) is I think an underrated vegetable. It is often used as an ingredient in dishes like Ratatouille. But eaten on its own it is also very tasty and it is so easy to cook by just roasting it in the oven.
Zucchini is the Italian word for the vegetable. Courgette is the French word for the same thing.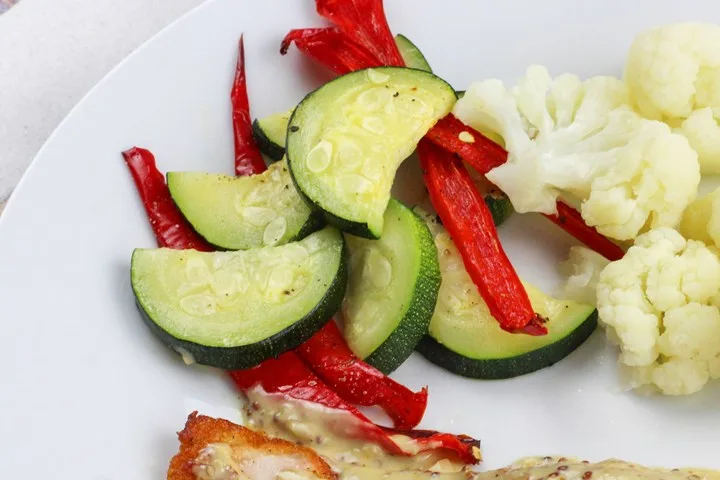 'Zucchini' is mainly used to describe the vegetable in North America and Australasia, whilst 'courgette' is used in Britain, France and some other countries.
It is also known as a baby marrow in some places. Let's face it, it does look very much like a marrow. It is in fact a type of squash.
This versatile summer squash boasts a mild flavor and a tender texture. This makes it a popular ingredient in various savoury dishes and also a delightful addition to salads and stir-fries.
Roasted courgettes and peppers
There are several ways to cook courgettes. You can steam, boil, grill, fry, BBQ or roast them. I like to roast them in the oven because it is just so easy and all you have to do is set the timer.
In fact, I actually made these in our portable New Wave oven which has the advantage of using less energy than our main oven, and is a little bit quicker.
It is important to have a good oven tray as well – I have these fantastic stainless steel ones in various sizes. They never seem to stick and are easy to clean.
In these pictures, I used some sweet pointed peppers together with the courgette. But you could use bell peppers if you prefer – they also bake well in the oven and will take about the same amount of time to cook.
Obviously, this is a simple side dish to make, but you can use it with so many dishes, like with a steak or here with some fried salmon in a creamy mustard sauce.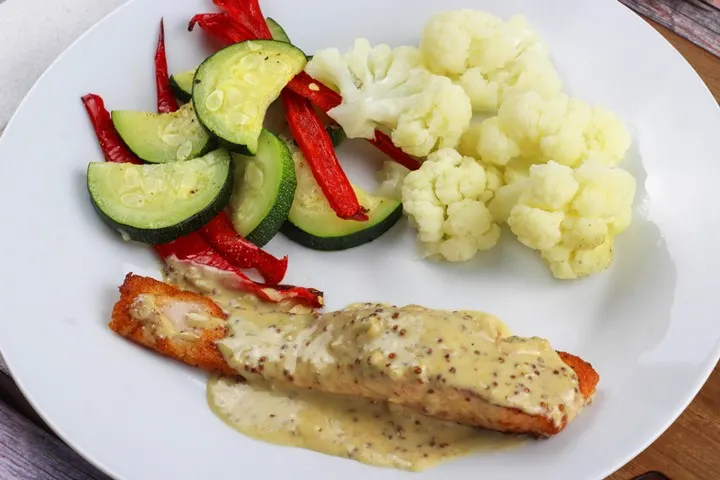 I hope you enjoy using this recipe. If you do, let me know how you found it in the comments section below.
How to roast zucchini and peppers
How about some of these other side dish ideas?