Smoked Salmon Cream Cheese Appetizers
This recipe gives you some delicious smoked salmon crackers, the perfect canapé with drinks for your dinner event.
Smoked salmon is fortunately still an affordable luxury. We are very lucky here in Ireland to have access to both Scottish and Irish smoked salmon in our local supermarkets.
This is obviously one of the most important ingredients in this simple smoked salmon crackers appetizer recipe. In these pictures, I used some Irish Whiskey marinated Scottish smoked salmon. Absolutely wonderful.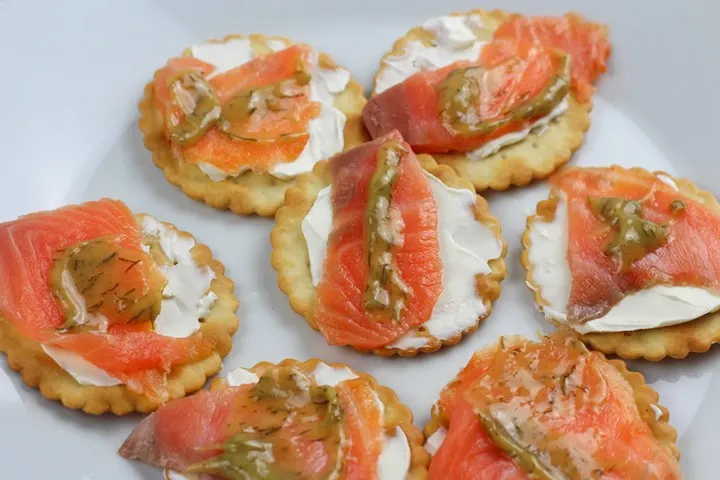 The best classic appetizer
These smoked salmon crackers have got to be the easiest and tastiest appetizers ever to make. They are so easy to assemble and ready in no time. And they are always a hit at any gathering and great as a snack, finger food or appetizer.
In fact, we even ate them as a main meal this Christmas Eve as we did not want to be cooking before the big day. We just wanted something to snack on in front of the TV with a glass of vinho. Perfect.
For the cream cheese, you can always choose a light version if you are worried about calories. We don't though really, too much……😃
As for the dill, mustard and honey sauce – you can either buy one ready-made from Ikea or Amazon, for example, or make your own.
I still had some fresh dill sauce from Ikea in my fridge, so I used that for these photos, but I think my recipe works just as well.
As for the crackers, well that is really up to you. Any crackers designed for cheese should do the trick. These sea salt ones from the Aldi are our favourites, but any crispy salty cracker should be fine.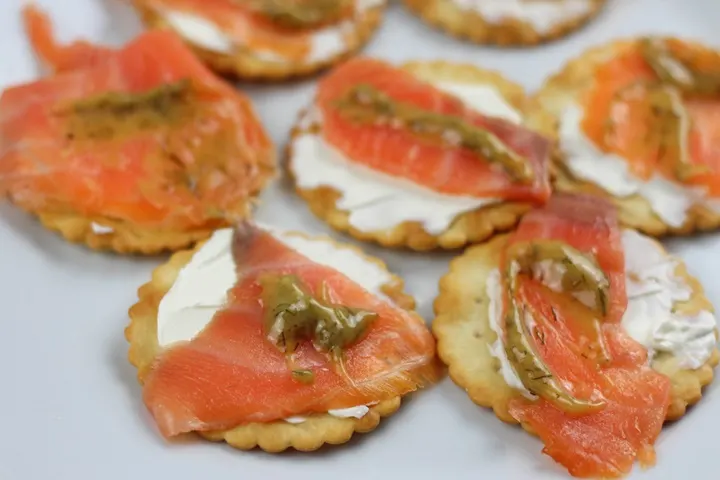 If you can find one-bite crackers, then even better. Less chance of crumbs on the floor!
How to serve Smoked Salmon with Crackers
There are of course many different things you can do with smoked salmon on crackers if you have some imagination. Capers, caviar, avocado and asparagus, for example, all go well in some combination or another. You can also use sour cream instead of cream cheese.
Or perhaps you may just want to drizzle some lemon juice on the salmon instead of the dill mustard and honey sauce? All sorts of hors d'oeuvres alternatives are possible.
Be as creative as you can, but if you want it to be easy, then keep it simple. With a good piece of salmon, you cannot really go wrong. And simple is often best.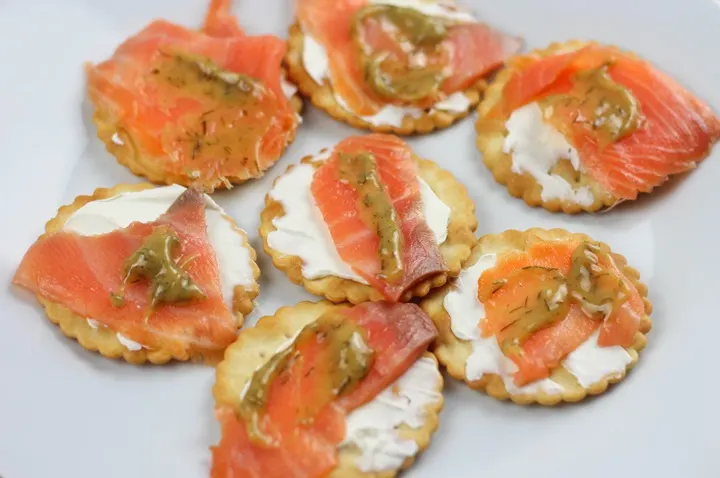 I hope you enjoy serving these at your next dinner party. If you do make them, please let me know how you got on in the comments section below!
Enjoy!!
How to make smoked salmon cream cheese appetizers