Prawn and Mushroom Risotto
This easy recipe for prawn and mushroom risotto is super tasty and easy to make. If you make more than you need, you can easily keep it in the fridge for a few days and reheat it in the microwave.
This makes it a perfect recipe for eating during the week in the evenings if you are short of time, or even for taking to work in some Tupperware and warming up for your lunch.
Shrimp and Mushroom Risotto
When I refer to prawns in this blog post you can also read 'shrimp'. For me these two crustaceans are interchangeable and what you use will depend on what you can buy locally.
I used some small frozen North Atlantic prawns in this recipe that had been cooked and peeled, from Aldi. These only really need to be de-frosted before eating.
But because this is a warm dish, I still sauté them to bring them up to heat. If I was making a cold dish like an avocado prawn stack I do not cook them again.
Similarly, if you are going to use fresh shrimp or prawn, you will need to cook and peel them accordingly. Prawns and shrimp do not take long to cook, but the cooking time will depend on their size. And you need to know that they are really fresh.
Best Mushrooms to use?
In this recipe, I used some large Irish flat mushrooms, that are like Portobello mushrooms. They are quite meaty and have a lot of flesh on them, and I bought some that were 75% discounted, so this was a very cheap meal.
But you can, of course, use anything you fancy. Shiitake, porcini, button, oyster, cremini, whatever takes you fancy.
Frying mushrooms in butter I think is the best way to cook them as the smooth buttery taste gets absorbed into the mushrooms and the juice that flows from the mushrooms during cooking can also be added to the rice to add to the taste and creaminess.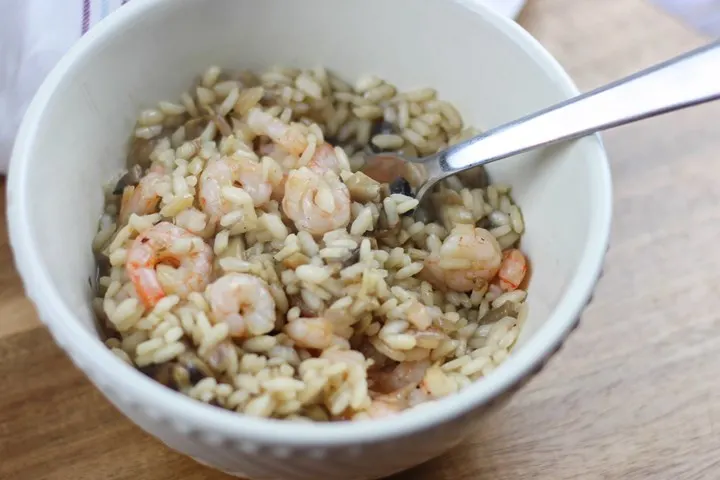 Making risotto
Some people swear that you need to add very hot stock when you are cooking risotto. But I just make it upfront by pouring boiling water onto the stock cubes and dissolving them. I do not think it is necessary to keep this hot.
Just add to the pan if and when it is needed, as the liquid level evaporates, stirring frequently. The stock will reheat itself in the pan.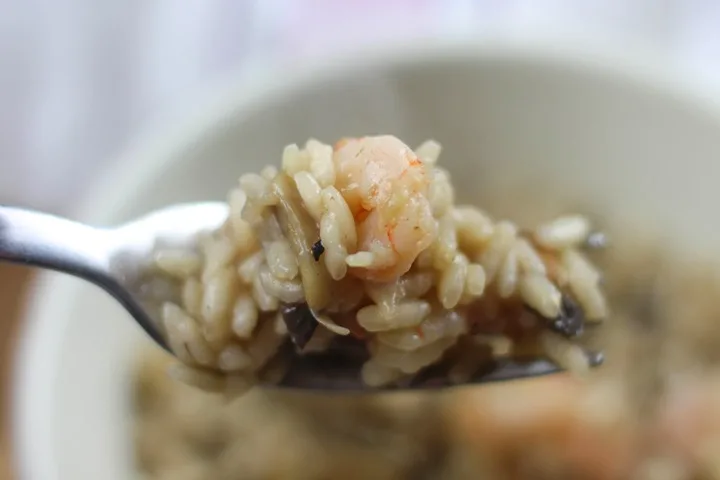 Arborio rice is for me the perfect risotto rice. It absorbs the stock really well and does not go too stodgy. But make sure you do not overcook it. Frying the rice in a little olive oil before adding the wine and stock is an important part of the process, do not leave it out!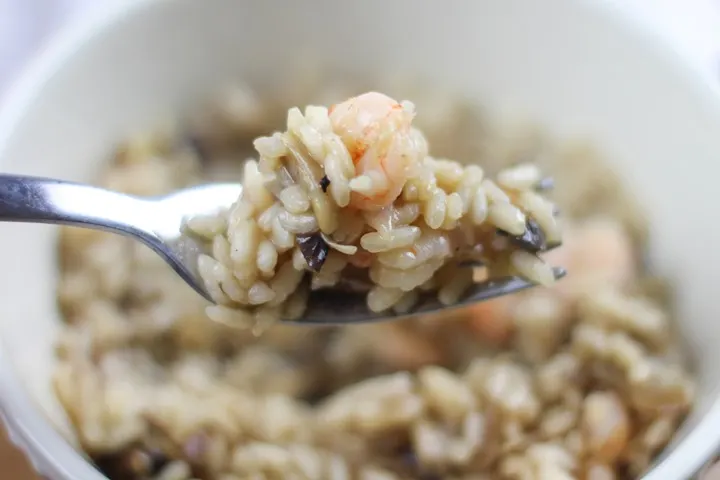 If you do not like shellfish, just leave out the prawns and make yourself a mushroom risotto. Use can use arborio rice or even pearl barley if you prefer.
I hope you enjoy making and trying this recipe. If you do, please let me know how you get on in the comments section below!
How to make Prawn and Mushroom risotto