Brazilian Hot Dogs
This is a quick and easy recipe for Brazilian hot dogs that we eat quite regularly at home. They are so easy to make and this is my wife's very simple version.
Though sometimes this can be a very varied dish in Brazil. In Brazil they call these 'cachorro quente' which literally means 'dog hot'!
Hot dogs all over the World
Hot dogs are a popular snack food that is enjoyed all around the world. They vary greatly in different countries. While the basic ingredients remain the same – a sausage served in a bread roll – the toppings, condiments, and even the type of sausage used can differ depending on where you are.
Mexican Hotdog
In Mexico, there is a hot dog known as "hot dogs estilo Sonora". These come typically with bacon, grilled onions, beans, jalapenos and a variety of sauces such as mayo, ketchup, mustard, and hot sauce. The sausage used in Mexico is often made from beef and may be wrapped in bacon before being grilled.
Japanese Hotdog
In Japan, hot dogs are popular street food. They are often served with unique toppings such as nori (dried seaweed), teriyaki sauce, and even mayonnaise. The sausage used in Japan is typically made from pork and is smaller in size than the sausages used in the US and Mexico.
German Hotdog
In Germany, the real home of the sausage, sausages are called "würstchen" and are often served with sauerkraut and mustard. The sausage used in Germany is typically made from pork and may be smoked or boiled.
Some of the well-known names of hot dogs actually originated in Germany or Austria. The 'frank' comes from the Frankfurter Würstchen, or frankfurter. And the 'wiener' derives from the Wiener Würstchen, or Vienna sausage.
American Hotdog
In the USA, hot dogs are often served with ketchup, mustard, and relish, and the sausage itself is usually made from beef or pork. However, some cities like Chicago, have their own variations which may include additional toppings such as onions, tomato slices, pickles, and peppers.
Overall, while hot dogs may share a similar base, the different toppings and sausages used in different countries give each variation its own unique flavour and identity.
The Brazilian Hot Dog
And now, the Brazilian hotdog!
In Brazil, they have wonderful fast food places where you can order bespoke beefburgers and hotdogs to suit your wishes. They literally make your hot dog to order.
This recipe is a very simple one, with only a few ingredients. In practice, in Brazil, you will have many alternatives available to you, depending on where you are.
For example, in São Paulo (SP) you may have the option of mashed potatoes. And in Vitoria (ES), you may have quail eggs as an optional extra. But this all depends on where you are.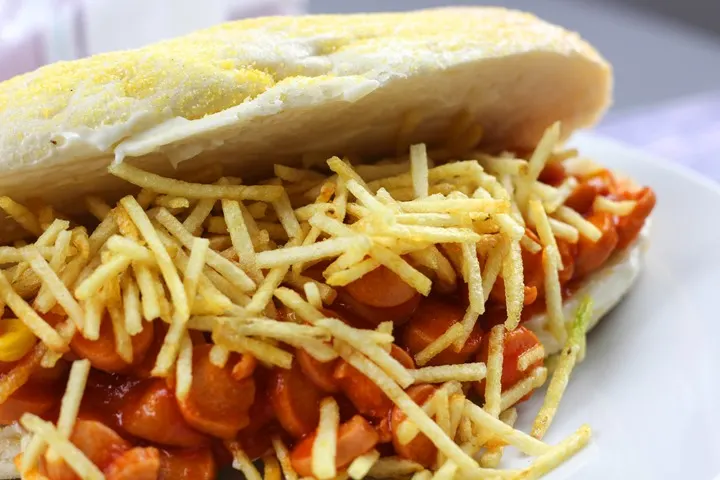 Other places may have onions, mustard, parmesan cheese, bacon, ketchup, green bell peppers, peas or even pimenta as hot dog ingredients. You can of course add what you fancy.
But what is ubiquitous to all Brazilian hot dogs are the shoestring potato sticks (or 'batata palha' in Portuguese), which belong in this meal, wherever you are. These are slightly thinner than the ones we are used to in Europe, so whenever we are near a Brazilian store, we tend to stock up and buy whatever we can!
If you are buying from a fast-food restaurant or stall in Brazil you will generally get the sausage as a single sausage in the bun. But this recipe calls for it to be chopped into pieces, which is how it would be served if you were to eat at someone's house or at a party.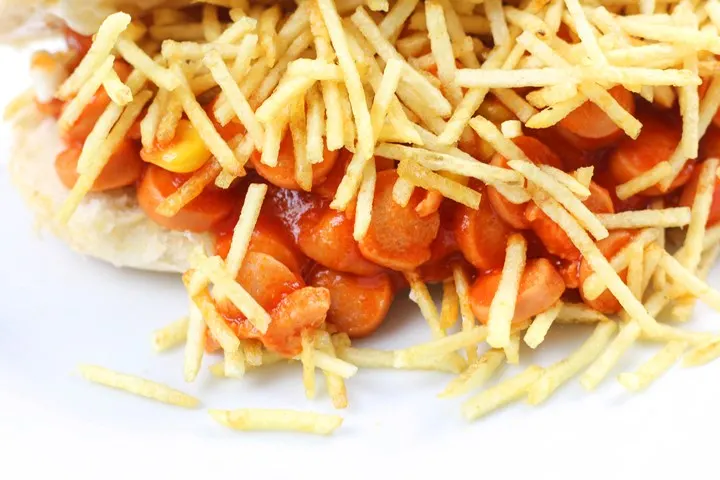 It also means you can fit more than one sausage into your hot dog bun, if you are not worried about the mess and the calories!
For the tomato sauce, we used a smooth tomato sauce from Tesco, which is simple but good.
Which Sausage to use?
The Frankfurters we use in this recipe are very much like the German frankfurters used in an American hot dog. We also bought these in Tesco and they are simply cheap, cooked and smoked pork frankfurters. They are quite thin.
In Portuguese, frankfurter-type sausages are known as a 'salsicha', as opposed to 'a linguiça' which is used to describe the more meaty sausage. These are also excellent in Brazil, by the way. But these tend not to be used in Brazilian hot dogs.
Linguiça is more likely to be found served together with Brazilian rice and beans (the staple dish in Brazil) or maybe as an ingredient in feijoada, a sort of bean stew.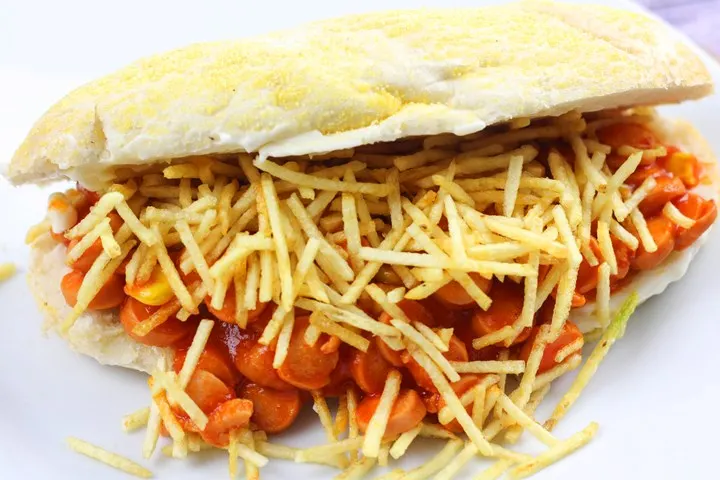 We used some simple maize buns from Tesco for these hot dogs. But you can use any suitable buns you can get your hands on.
How to eat a Brazilian hot dog
These Brazilian hot dogs are really a challenge to eat, as they are a full meal. If you buy them on the street you will eat them out of a specific plastic bag. This plastic bag partly holds them together. But you are bound to drop some. It is a bit like eating a kebab on a British street on a Friday night!!
At home, we serve up on a plate. But though we always start with our hands we always end up using a knife and fork!!
If you try to make this dish, please let me know how you got on and which ingredients you used in your Brazilian hot dog!!
How to make a Brazilian Hot Dog
Or some other Brazilian treats: