French Mushrooms Recipe
This French Mushrooms Recipe (champignons français in French) is a simple recipe that uses some lightly extravagant ingredients of wine, garlic, cream and French herbs. This provides some exquisite deliciousness to your mushrooms.
You can serve this as a side dish or snack, or even use it as a creamy pasta sauce if you mix it into some lovely fresh or dried pasta.
I have used some simply sliced button mushrooms in this recipe. But you could use any edible mushrooms you have available.
I am rather keen on mushrooms and have quite a few different mushroom recipes on my site. I have listed some of these at the end of this blog post.
French Cuisine and local produce
This simple recipe was also inspired by a meal I ate in France in 2022. I was near the beautiful city of Annecy and we spent a day exploring the city and some of the local Boulangeries and Cheese manufacturers.
In the evening we ate some couscous with vegetables, and some delicious roast lamb procured from one of the local shops. These mushrooms were served as a side dish that added a rich taste to the meal.
I love French food. Yet I am still utterly astounded at the incredible choice of ingredients that the French have in their local shops and supermarkets. It was always good, but it seems to have become even better over the years. Good food is such an important part of French life and culture. The French know how to eat well.
The local Carrefour was one of the most amazing supermarkets I have ever seen. A huge selection of delicious fresh produce with seafood, fish, meat and even freshly prepared sushi.
And of course, the local shops that pride themselves on the quality of their produce mean you do not need to leave your village to eat well.
Recipe for French Mushrooms
This French Mushrooms recipe is so simple but gives you a deliciously rich treat. This dish is perfect as a side dish or a snack. The wine and cream sauce, together with the French herbs, gives a really opulent feel to the dish. It is quite rich.
This dish goes very well with couscous, but is also great as a snack on some toasted sourdough bread, for example.
It would also make a great pasta sauce or accompaniment to a steak.
.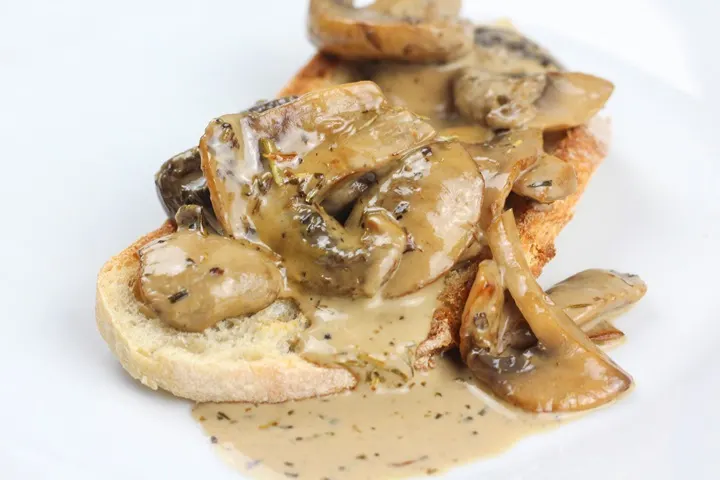 I hope you enjoy trying this dish. If you do, please let me know how you get on in the comments section below!
How to make this French Mushrooms Recipe