Traditional Neopolitan Pizza
This blog post will give you some tips on how to make a real authentic Italian Pizza at home. This includes preparing the pizza dough and cooking your pizza.
We love eating pizza in our household. And the great thing is you can make an almost perfect authentic Italian pizza in your own home if you have an oven.
It may not be quite the same as one that comes out of a real Italian wood-fired pizza oven, but you can get quite close.
This pizza dough recipe will show you how to make a Neopolitan pizza dough, so you can make pizza just like the ones you get in Italy.
I have another recipe for making your own pizzas, which is a bit quicker than this recipe (but it is not quite as good 😃).
In the recipe on this page, you allow the dough to rest and proof which does actually make the crust a lot better and crisper.
Real Italian Pizza
I have eaten pizza in many countries and had some delicious meals in most of them.
But nothing, nothing quite beats the taste and texture of a real Italian Neopolitan style pizza. The modern pizza dish was, after all, invented in Naples in Italy.
[Neopolitan means 'from Naples', where Naples in English is derived from Napoli (Italian) which in turn comes from Neapolis (new city in Greek).]
I have eaten pizza in Milan, Florence, Rome, on lake Como, Tuscany, Foppolo, Macugnaga and Courmayeur in Italy. Nothing compares. Believe me. Forget your deep pan and square pizzas. Proper Italian pizza is by far the best pizza in the world.
Fact, not opinion.
Italian Thin Crust Pizza Dough Recipe
The secret is getting the crust right, as it should be thin in the middle and thicker at the edges (the cornicione), crispy but not too hard, and light not stodgy inside.
This simple recipe will give you a perfect Neopolitan pizza dough that will be the best possible pizza base for a pizza with a thin crust. Crispy yet flexible to support the pizza topping when you eat the slices by hand.
I do not know who invented the deep-pan pizza, but I suspect he was not an Italian. It was probably the same guy that put pineapple on pizza?
I have never seen a deep-pan pizza during my travels through Italy. They have always been thin-crusted pizzas.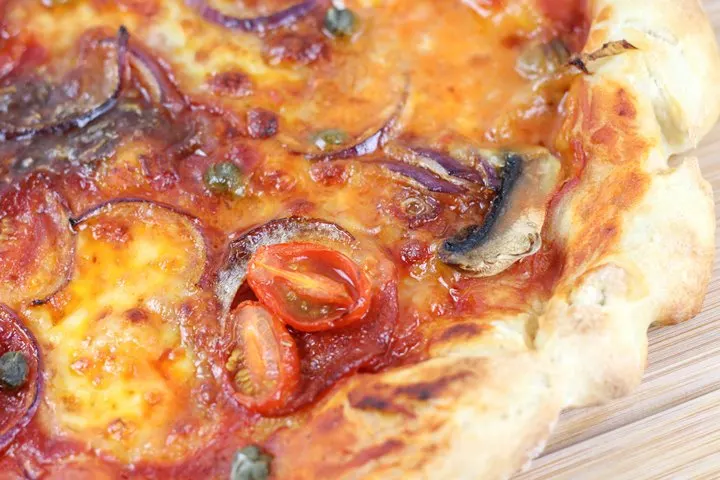 Try and use a nice strong flour (12% protein or more) for making the dough. I have used special Cotswold Pizza Flour to make these pizza bases.
Buy yourself a pizza oven for Christmas
One of the most important tricks to making a perfect Italian pizza is to cook it in a wood-fired oven.
We do not have a wood-fired pizza oven, but we have recently invested in a gas-fired Ooni pizza oven which is the next best alternative. After heating up, it will cook your pizza in about one minute at 500°C!!!
I really recommend these Ooni's. They are fantastic!
Before we purchased this great bit of kit, we just used our normal fan-assisted oven on its maximum temperature. It is not perfect, as it takes longer, but it does the job.
In both methods, you have to keep an eye on your pizza though to check it is not burning.
A scorching oven like the Ooni will cook the pizza much quicker and chars the dough better giving it a wonderful crispy texture and slightly charred taste on the outside crust.
Treat yourself to a real portable pizza oven
So maybe you should just get yourself a real Ooni pizza oven. They really are great, and they can be wood, charcoal or gas-fired, and will cook your pizza at 500°C. They only take 15 minutes to warm up and they will also cook your perfect pizza in just 60 seconds!!
Perfect for a pizza party at home!
If you eat a lot of pizza this could be a great investment or Christmas gift. They will do 13″ or 16″ pizzas!
If you are interested in buying one please click on the appropriate affiliate link below 😃
IN THE UK 👇 IN THE EU 👇
IN THE USA 👇
Authentic Italian Pizza Toppings
There are many different types of real Italian pizza toppings. Here are a few of the better-known Italian pizza toppings, that you may see in an Italian pizzeria, below:
Margherita Pizza toppings
The basic Margherita has tomato sauce, mozzarella cheese and basil, giving the colours of the Italian flag: red, white and green.
Neapolitan Pizza toppings
An authentic basic Neapolitan pizza is typically made with San Marzano tomatoes from the plains of Mount Vesuvius (the volcano situated near Naples that erupted in 79 AD and buried Pompeii) and buffalo mozzarella cheese from local Italian water buffalo. Other toppings are usually kept simple, with classic options like basil, garlic, and anchovies. Neapolitan pizza is known for its authenticity and is even recognized as a UNESCO intangible cultural heritage.
Romana Pizza Toppings
The Romana pizza (from Rome) is crispier than a Neopolitan pizza with a smaller cornicione. Typical toppings may contain tomato sauce, mozzarella and anchovies.
Capricciosa Pizza Toppings
This pizza contains tomato sauce, mozzarella, ham, mushrooms, artichokes and olives. It has the same ingredients as a Quattro Stagioni (Four Seasons), but on the Quattro Stagioni they are placed in four separate quadrants to represent the four seasons.
Quattro Formaggi Toppings
This pizza contains 4 different types of cheese, often mozzarella, gorgonzola, Parmigiano and Fontina. But you may find that other Italian or non-Italian cheeses are used. Normally it will include one blue, soft, creamy and hard cheese.
Siciliana Toppings
Typical Siciliana toppings contain tomato sauce, mozzarella, capers, anchovies and olives.
Prosciutto e Funghi (Ham and mushrooms) Toppings
This pizza contains tomato sauce, mozzarella, Prosciutto (dried Italian ham) and mushrooms.
Any pizza topping you want!
But of course, you can add any type of topping to your pizza, in any combination (well almost) to make whatever you prefer.
We layout the dough and the fillings and let everyone construct their own pizza. Here are some typical pizzas you would find in our household, before cooking.
This pizza shown below, after cooking in the oven, had onions, mushrooms, tomatoes, capers, anchovies and pepperoni, in addition to mozzarella and tomato passata. A bit of a mix of a Siciliana and a Proscuitto e funghi! But not quite!!
All of these were really tasty! Use any ingredients you like on your pizza! Make it your own!
I hope you enjoy trying this recipe. It is great fun to do with kids – they all love making up their own pizzas!
And if you do not have an Ooni yet I suggest you get one!!
Victoria making dough
Here is a video that my daughter made last time we made our own pizzas. We are still learning how to make videos as you can see! I hope you enjoy it!
How to make a real Italian Pizza
This recipe below produces a quicker pizza dough without the waiting time:
And here are some other Italian recipes:
Authentic Italian Pizza