Secret fudge recipe
My family has handed down quite a few recipes through the generations. And this is another of our old family secret recipes – an old fashioned fudge recipe made with condensed milk.
This homemade fudge recipe has been kept a family secret for years and is now open to everyone!
All my siblings learned how to make this from my late Dad, just as I have taught my own kids. Because it is made with condensed milk, we loved making it as kids.
We would fight to clean out the condensed milk tin with our fingers (and we still do)!
And when it was finished, we licked the wooden spoon until it was clean.
You lucky people get free access to this secret recipe right HERE !!.
Hybrid Recipe
This is, in fact, a hybrid recipe. You can make the most delicious moreish fudge you can imagine. (Beware, as this will rot your teeth in time if you do not clean them properly)!
Or you can make the hardest and tastiest TOFFEE (that will break your teeth in real time)!
BE WARNED!! Make it (and eat it) at your own risk!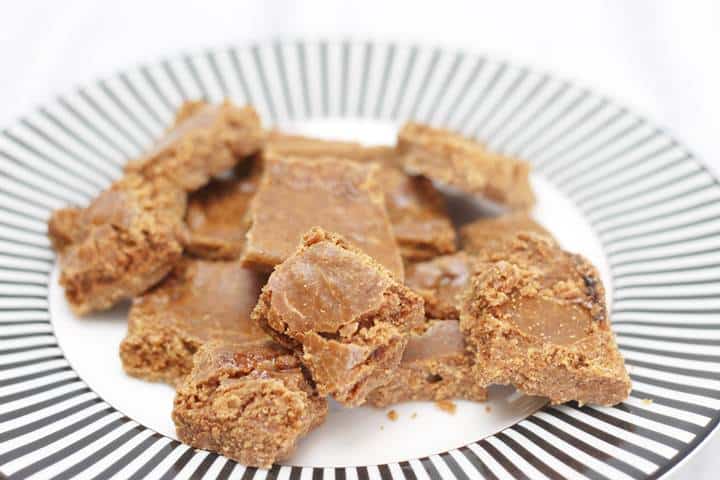 The only difference in the recipe is the moment you take it off the heat.
Healthy ? – Probably not very……. ☺️
Needless to say, this sweetened condensed milk fudge recipe has plenty of sugar in it. So it may not be the healthiest of treats, but hey, show me any healthy fudge recipe!
It has plenty of calories and it is SOOO tasty! Hide the box!
This photo below shows what happens in our house if you do not remove the fudge from the tin fairly quickly and hide it away somewhere: 👇👇👇👇
Although this looks like an easy fudge recipe, as there are only 3 ingredients, it is actually not as easy as you may imagine, to get it right.
There is a very fine line between making a batch of fudge or a batch of toffee. Leave it too long in the pan and you will have toffee instead (and a much bigger job of cleaning the pan and licking the wooden spoons clean)!
In this link, you can read a bit about different types of fudges and the chemistry of cooking fudge.
This all comes down to experience, and when you have made it once you will see what I mean. So if it turns out as toffee, then it needs to come out of the pan earlier!
In any case, make sure you clean your teeth well after you have tried this, as the sugar content is very high!
If you make this, please let me know how you get on in the comments section below!
How to make fudge
Here you can find some other recipes you may enjoy: