Pan fried chicken livers
This is a recipe for pan-fried chicken livers with onion and bacon served with rice and some tomato ketchup. What could be more delicious?!! This simple liver recipe is easy and quick to dish up.
Chicken livers are a good source of iron and B12 and vitamin A, making them good for anaemia and eye health.
But be aware, you should always make sure they are properly cooked.
One of my favourite recipes as a kid
This is a meal I remember from being a child, which was one of my own favourites. My mum would make this on school nights and I would devour it (as I still do).
My problem, here in Ireland, has been where to buy chicken livers. Locally they have been quite difficult to source fresh, as they are not available in the local supermarkets.
I have now discovered I can buy them in my local butcher, but only in frozen form. This works great, as I only have to defrost them before cooking.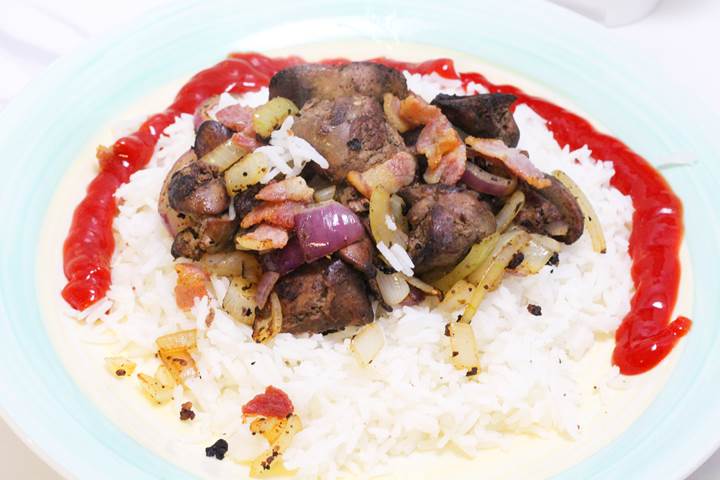 When I made this dish we had just travelled to Cork and picked up some chicken livers in the English Market. Wow, what a place! They had everything there.
I whipped up this dish in about 20 minutes when we got home. Cheap, quick and easy.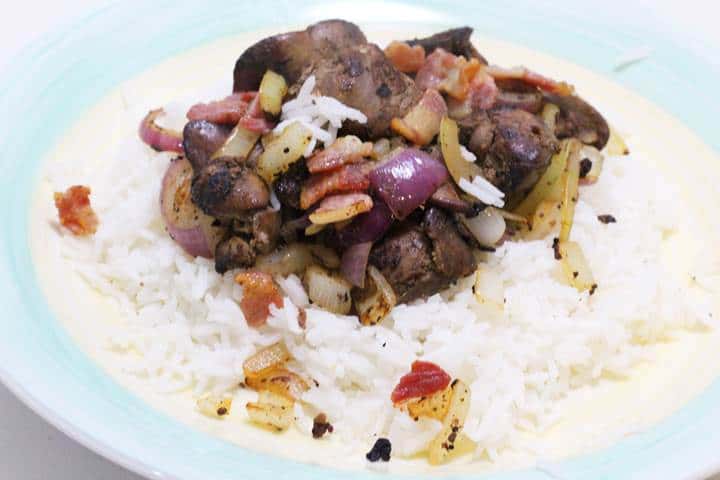 Chicken livers are also great for homemade pâté. When I get my hands on some more I will make a batch.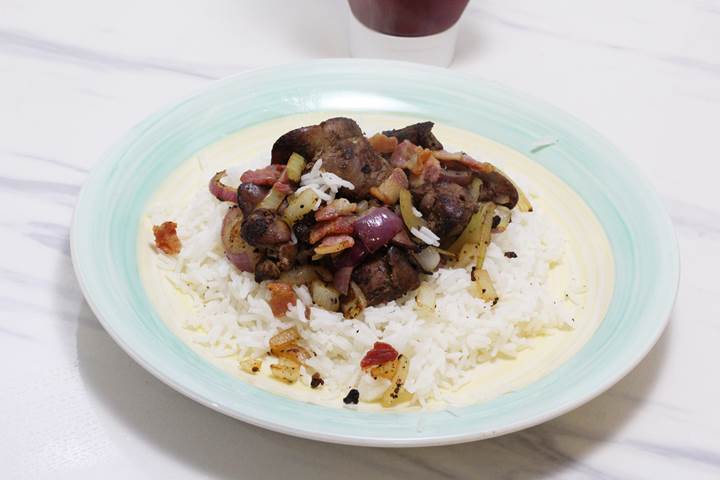 The combination of the strong taste of the liver, the saltiness of the bacon and the delicious onions is just perfection. But I must admit, it is one of those meals that really is vastly improved with some Heinz tomato ketchup.
We, of course, go out of our way to buy Heinz, as we love it, so that is what we use (we have no affiliation, though I wish we did!).

This meal is great for kids (well, I loved it as a kid) but perhaps that's because the ketchup is there?!
I used to love it anyway, I hope you do too. If your kids are fussy (like mine) and do not like onions, just leave the onions out.
It is all about the fried liver anyway.
I hope you enjoy trying this recipe. If you do, please let me know how you get on in the comments section below!
How do you cook pan-fried chicken livers?
If you liked this chicken liver and onions recipe maybe you will also like this one:
and these are also great ones for the kids: