Chorizo and Chicken Pasta Bake
This easy recipe shows you how to make a chorizo and chicken pasta bake in a creamy cheese sauce.
This chicken and chorizo bake is a great meal to make upfront that you can just heat up in the oven when you want to eat. Any leftovers can also be kept in the fridge and heated up in the microwave the next day.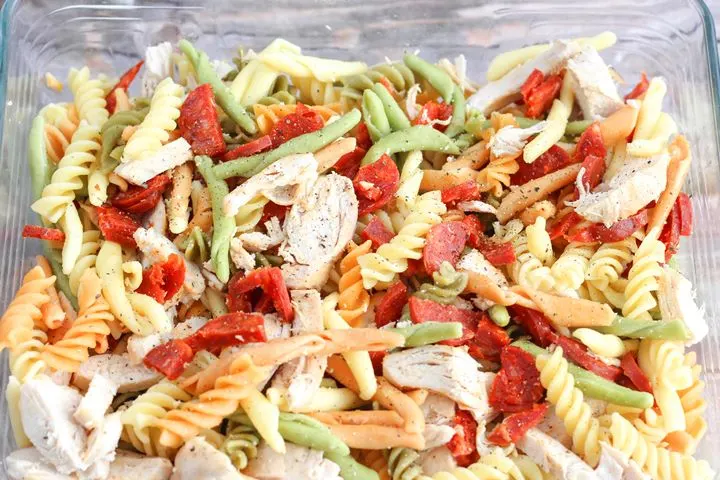 Chorizo is a type of sausage that originated in Spain and is now popular in many parts of the world. It is made from ground pork, seasoned with smoked paprika and other spices. It typically has a deep red colour and a slightly spicy flavour.
Chicken and pasta bake ingredients
This easy recipe uses some spicy chorizo from Aldi, some chicken breasts and a creamy cheese sauce made with some strong cheddar cheese. It is covered with a thin layer of breadcrumbs and some grated parmesan cheese to give it a nice crispy top layer.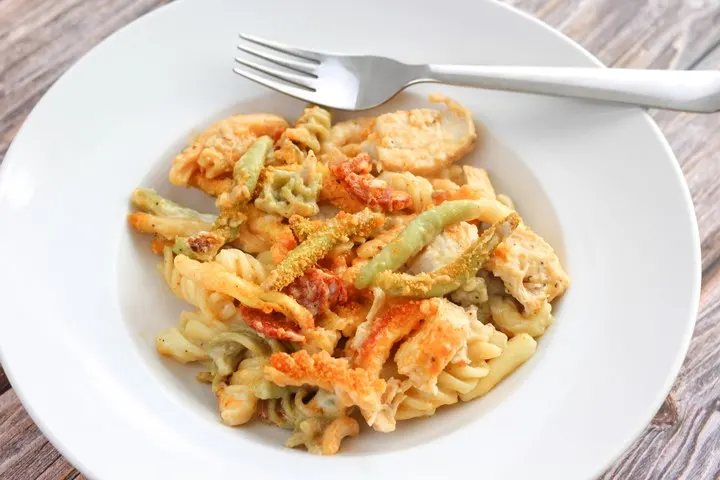 You can of course vary your recipe by using different types of cheese, chorizo or pasta.
I have a recipe for just a chorizo pasta bake which uses a mixture of Gruyère and cheddar cheese and some spinach, which is also good, but a bit different.
So you can also use shredded mozzarella or even Gouda if you prefer. Different cheeses will just give a different end result, so use what you like or have available.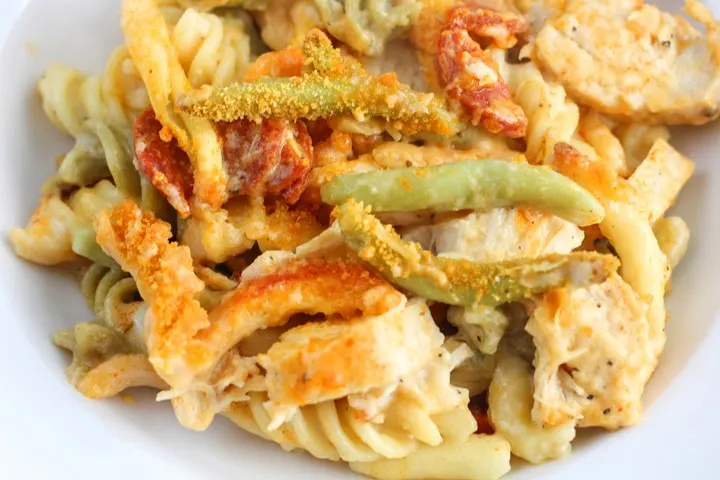 In these photos, I used a mix of different kinds of pasta that I had left over (250g Fusilli Pugliesi Tris and 250g Tricolore fusilli). But you can use whatever you have available. Penne, ziti, rigatoni, farfalle – I do not think it matters very much. The tri-colour just adds a bit more colour to the dish.
I used some spicy chorizo in this recipe and I cooked the chicken breast separately. But if you have some leftover chicken from a Sunday roast or a BBQ chicken, feel free to use that instead.
At the end of this post, you will find some links to other pasta recipes and pasta bakes that we like as a family.
Chicken chorizo pasta
I think the combination of chicken, chorizo, pasta together with the creamy sauce makes for a perfect combination of tastes, and this recipe is certainly a winner in our family. I shall be making this more often I expect. The girls loved it.
I hope you try and make this recipe for yourself. If you do, please let me know how you get on in the comments section below.
How to make chicken and chorizo pasta bake