Crispy Fried Chicken Tenders
This recipe shows you how to make some delicious crispy buttermilk chicken tenders.
In this recipe, the buttermilk is used as a marinade to tenderise the chicken overnight to make the most delicious tasty fried chicken.
Chicken tender recipe
There are many different ways to make fried chicken, but this is one of the best ways to prepare the meat so you get a delicious tender chicken breast. The chicken is marinated overnight in some buttermilk in a large sealable bag, which helps to make it more tender.
After marinating, the chicken is coated in a flour and spice/herb mixture to add some taste and a crispy outside layer to the chicken. Then it is fried in some hot vegetable oil in a pan or in a deep fryer.
I did try to make these in the air fryer, but the result was not as good as in the pan, I did not think.
My wife liked them, as there was obviously less fat involved and hence they were a bit healthier, but they did not crisp up so well without deep frying in oil.
We do not have a deep fryer, as we left ours behind when we moved. But it is probably better to use a deep fryer to cook these than using a frying pan, as it makes less mess and it is quicker.
You also do not need to turn the chicken, which you do have to in the pan, as you can fully immerse the strips in the oil.
Still, I did cook these in my Wok, and it worked fine, but it did spatter a bit of oil on the hob.
How long can you marinate chicken in buttermilk?
For this recipe, I recommend marinating overnight. It does not ask for any extra effort – you just need to remember to prepare it beforehand!
We ate these the following evening so effectively the chicken was marinated for about 22 hours. But 8-10 hours would also be fine – you could marinate in the fridge during the day and eat in the evening.
You could try marinating for a shorter period, but I do not think the effect will be so good.
If need be you could marinate for 2 to 3 days before you would have to cook the chicken. And remember to marinate in the fridge!
How to serve chicken fingers
These are great served up as finger food on game day together with a dip of some kind. Try a curry mayo dip or a honey mustard dill sauce – both go great with these chicken tenders.
A wasabi mayo dip is also a good mix to try out, if you have never tried it! Just mix some wasabi with some Hellmann's Real Mayonnaise.
Or serve them up as a full-blown meal with some fried potatoes for a good old chicken and chips!
I hope you enjoy these crispy buttermilk chicken tenders. We certainly did!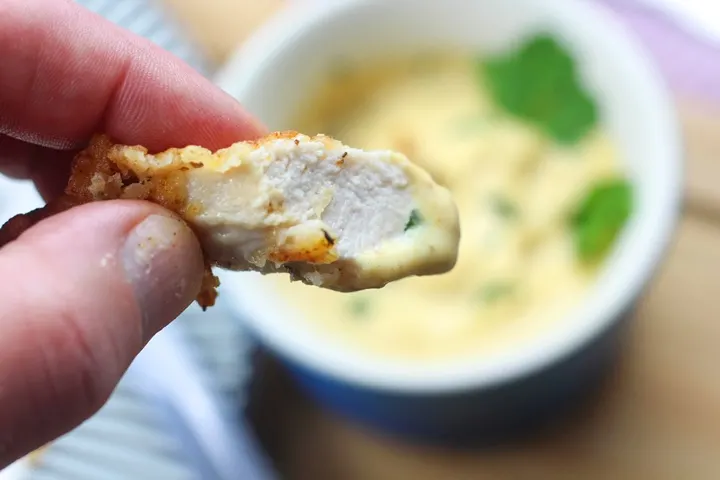 If you do try this recipe please let me know how you get on in the comments section below!
How to make buttermilk chicken tenders