Butter potatoes on the Stove
This easy butter potatoes on stove recipe is a simple way to produce a tasty potato side dish that you can serve with any meat or fish main course.
Boiling Potatoes
There are many side dishes you can make with potatoes, a number of which are listed at the end of this blog post. But this one is one of the easiest. The trick to this recipe is to stop boiling the potatoes before they disintegrate, so you cannot really leave them alone.
The boiling time does depend a little bit on the type of potatoes you use, and may even depend on your altitude, as altitude can lower the temperature at which water boils. Some potatoes disintegrate earlier than others I have found.
In these photos, I used some delicious Maris Piper potatoes, which were ready after exactly 10 minutes of boiling. We are pretty much at sea level, where water boils at 100C.
Butter with potatoes
Potatoes are a vegetable that are so much tastier when combined with butter, as are many things.
For example, we love eating baked potatoes smothered with salted Irish butter and mayonnaise and a sprinkling of black pepper. Delicious and something that is very much a part of Irish history and culture as the potato was one of the staple foods back in the day (and still very much is).
This recipe is basically a quick way to boil potatoes and serve them in butter to preserve the original combination taste of the cooked potato with butter. Cutting the potatoes smaller helps them to cook quicker.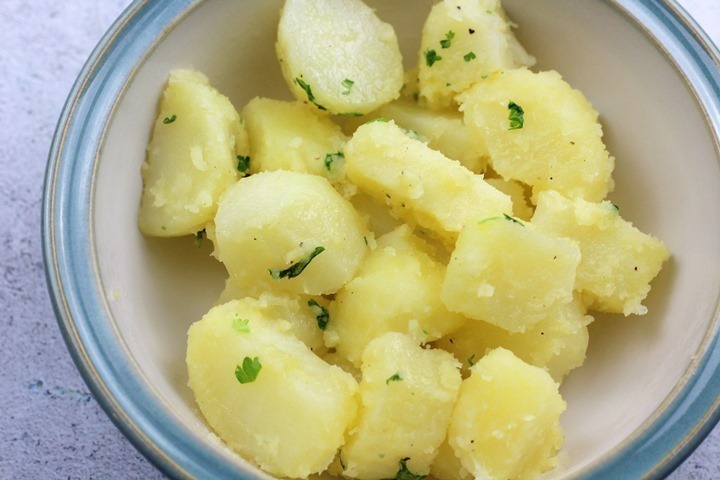 Feel free to add more or less salt and/or pepper to suit your own palate. I must admit I tend to leave that up to the diner themselves to decide if they wish to season their potatoes more, so I only add a sprinkle of black pepper.
Eat this side dish with anything meat or fish-based. In these photos, I serve them up with some chicken breasts and creamy mushroom sauce.
I hope you enjoy this simple recipe. If you do try it, please let me know how you get on in the comments section below!
How to make butter potatoes