Fried Potatoes and Onions
This recipe shows you how to make some delicious pan-fried potatoes and onions.
Almost everyone loves chips or French fries and these can come in many different shapes and forms.
This simple dish is a great addition to a full English breakfast or an Irish fry. Whereas normally a full fry-up would include buttered toast or fried bread, this recipe is a perfect alternative to hash browns to get your carbohydrates in the meal.
Chips at breakfast?
It is not really normal to serve chips or French fries with an English breakfast. And yet you can get away with serving potatoes in other forms by using this recipe or indeed hash browns. I think this is quite strange.
When I studied at University, literally our best meal of the week was on a Saturday evening. Every Saturday we played rugby in the afternoon and after the game, we needed to line our stomachs for the evening drinking session.
The canteen seemed to understand this and we would get a full English fry-up: sausages, beans, bacon, toast, fried eggs, tomatoes, mushrooms and chips! It was so good that even on away games we would rush to get back to our college in time for this fantastic treat!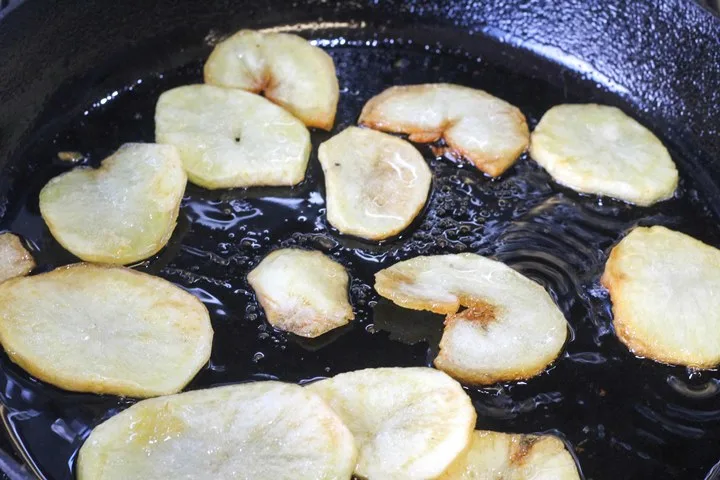 But my point is that in the evening it was OK to serve chips, and yet at breakfast – it is not really the done thing. But this fried potatoes and onions recipe is a good alternative and really goes great with the beans, sausage and bacon, at any time of the day!
Cooking the potato
The trick to making this recipe is to cook the potato, without it falling apart. You need to get a fine balance of par-boiling and frying, without the potato disintegrating.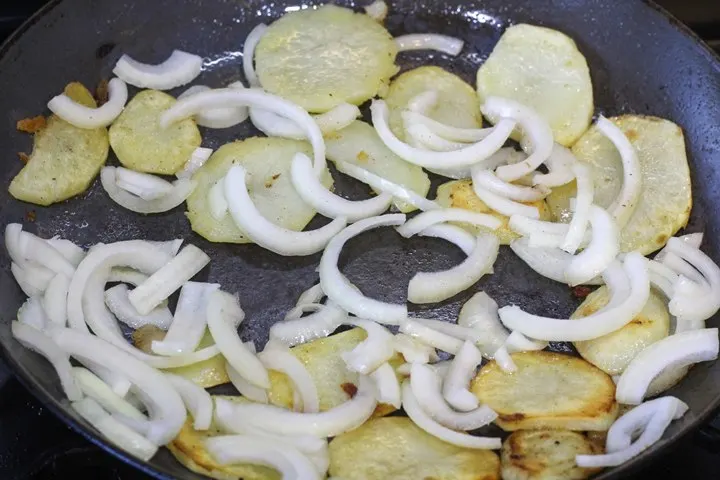 I have also tried to cook this without par-boiling the potato, but it is difficult to properly cook the slices without burning them, as they need to be in the pan for quite a while. Also if you par-boil them too long, the potatoes can fall apart and you cannot fry them.
I have found that the best way to get good results is to bring the potatoes to the boil in the water. Then remove from the heat completely and let the potatoes sit in the hot water for 5 to 10 minutes.
This cooks them sufficiently without destroying them, so you can then finish them off in the frying pan. And make sure they are well dried so they do not spit oil when you put them in the pan.
Another tip is to use beef dripping to fry the potatoes. This imparts a certain taste to the potato which makes it special. We do this as well when we make French Fries.
In these photos, I used some Maris Pipers, as they are nice and firm and do not crumble when you boil them.
I hope you get to try making this recipe. Be careful using boiling oil on the stove as it is potentially very dangerous. Let me know how you get on in the comments section below!
How to make Pan Fried Potatoes and Onions