Vegan Italian Pasta Salad
This vegan Italian salad recipe is for a cold pasta salad that is flavoured with olives, tomatoes, broccoli, and cucumber. It is dressed with a vegan Italian dressing of olive oil and balsamic vinegar.
This recipe is quick to make and can be kept in the fridge for several days if you wish to make it up front.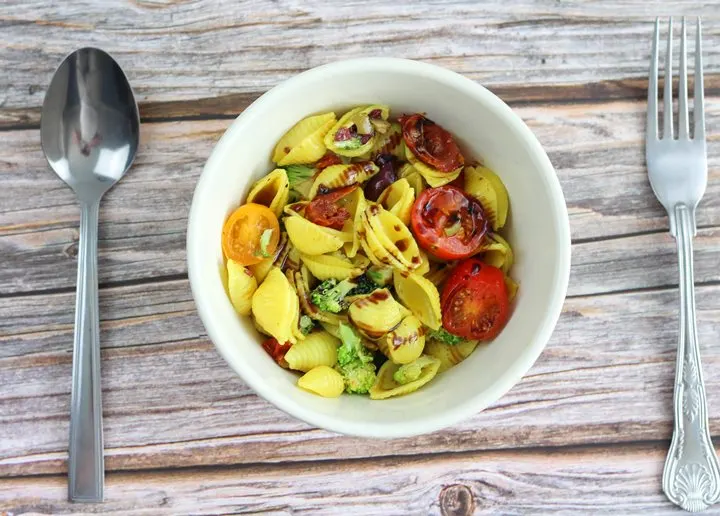 I was inspired to make this recipe after tasting some ready-made pasta salad from Dunnes stores, which had been made with orecchiette pasta. Super tasty and I partly tried to copy it here.
Which pasta type to use?
I have looked around for some orecchiette pasta locally but have not been able to source any, unfortunately. They are smallish pieces of pasta shaped like an ear, hence the name. But I think this cold vegan pasta salad works well with any shell-type pasta you can find.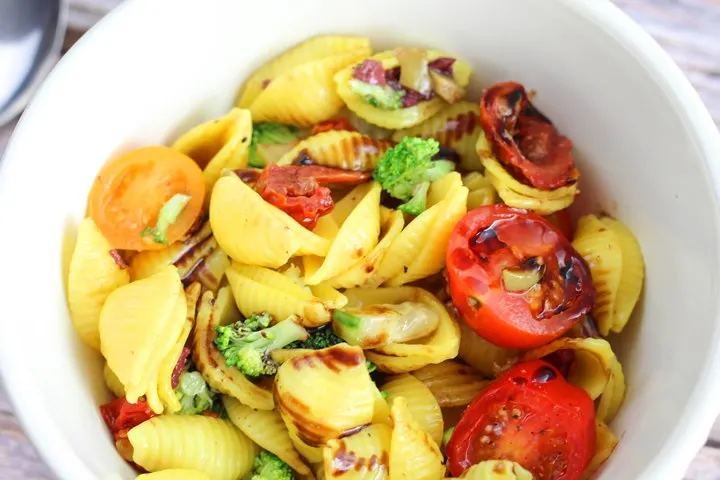 In these photos, I have used conchiglie pasta, which is actually shaped like a shell. But you could use orecchiette, chiocciole, cavatelli, or lumache pasta types if you wish.
The shell bowl shape is great for retaining the vegan Italian dressing of olive oil and balsamic vinegar glaze.
For the balsamic vinegar, I like to use a Crema with 'Aceto Balsamico di Moderna IGP' which is a thick and reduced balsamic vinegar glaze. It always adds something special to a salad I think.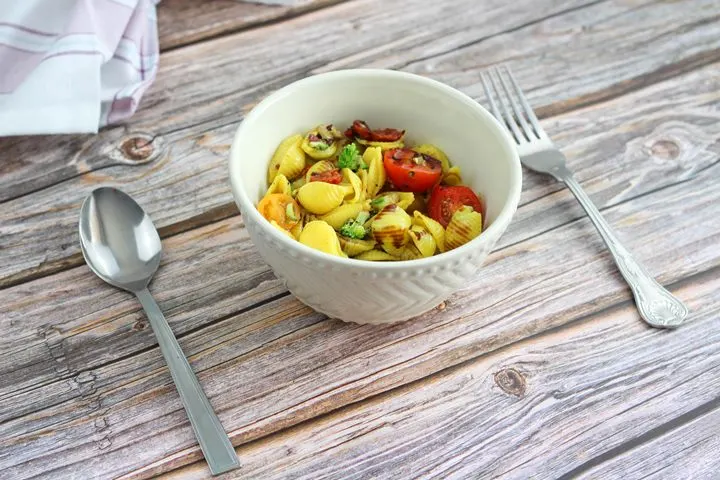 Why a vegan salad?
This easy vegan pasta salad does not have to be vegan – I am sure the salad I tried from Dunnes had small pieces of chicken in it.
But sometimes it is good to have a break from meat and when I made this, it was just the right time. But feel free to try this with some tuna or chicken pieces mixed in if you need your protein.
When the sun is shining this is a great meal to enjoy alfresco at any time of the day, lunch or dinner.
Or even as a snack between meals. You can keep it in the fridge for a few days and eat when you are hungry. Just mix it up again and toss it together before serving up.
Or you can serve it up as a side salad to the main course. It is up to you.
If you do try and make this recipe, please let me know how you get on in the comments section below!
How to prepare a Vegan Italian Salad