Caprese Salad With Spinach
This is a delicious and easy recipe for a Caprese Salad with spinach leaves.
The original Caprese salad dish is believed to originate on the Island of Capri, close to the bay of Naples in Italy, hence the name.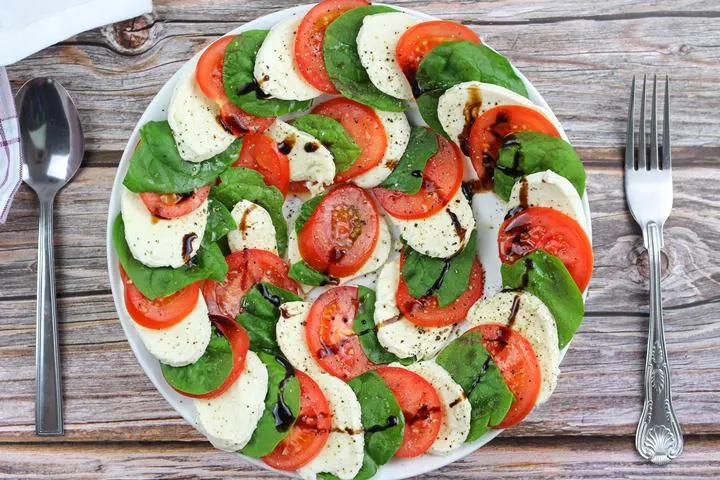 A traditional Caprese salad uses fresh basil instead of spinach leaves. But the visual effect of this salad using spinach is the same as the original, as this Caprese salad still has the same colours as the national Italian flag, just like a Margherita pizza – red, white and green!
Through its simplicity alone, this must be one of my favourite salad recipes!
Healthy Caprese Salad
Using spinach as opposed to basil does actually make this an even healthier salad. This is because spinach, yes, that vegetable that Popeye used to swallow from a can in copious amounts, is actually pretty healthy stuff, as you might expect.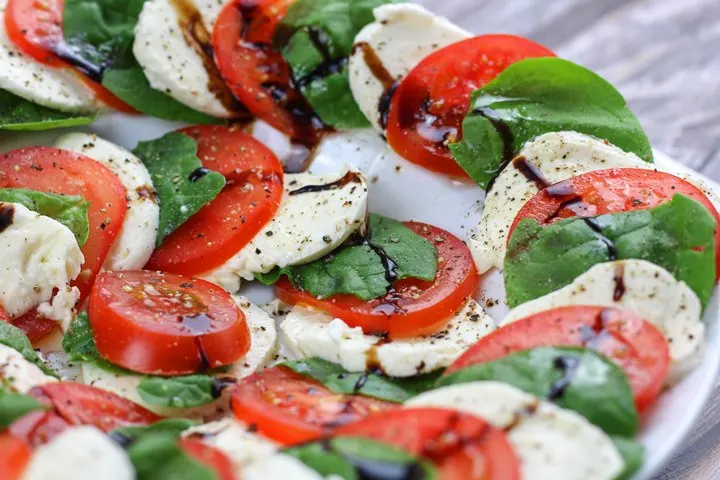 Compared to Basil, Spinach has more Vitamin K, C, A and E for equal weights. Spinach also contains plenty of minerals like iron and calcium with nutritional benefits.
One of the most notable health benefits of spinach is its high iron content, which makes it an excellent food for vegetarians who may struggle to get enough iron from their diets.
So all in all it is good stuff, and you can eat it raw. Just don't expect to grow any Popeye forearms with anchor tattoos! And make sure it has been properly washed before you eat it.
Insalata Caprese
This Insalata Caprese might be served as a side dish, an appetizer or even a main dish at any time of the day. All the original ingredients, fresh mozzarella cheese, tomatoes and basil are very common in Italian cooking, making this such a logical salad combination.
The Italian climate can be very hot during the summer days, depending on where you are, and this salad can be the perfect simple alfresco lunch, together with a nice glass of Chianti.
Another advantage is that this salad can be put together in less than 5 minutes.
Balsamic Dressing
I think a good balsamic vinegar dressing is very important to make a good salad. Here I used a Crema made with 'Aceto Balsamico di Moderna IGP'.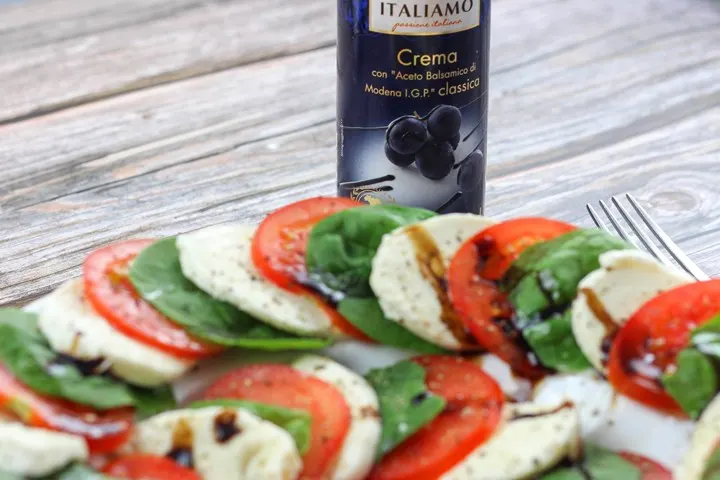 This is a thick and reduced balsamic vinegar glaze with a wonderful sweet and sour taste. It adds that special something to the salad.
Balsamic vinegar comes in many forms but I recommend using a reduced thick version as this tends to be sweeter and tastier.
If you are looking for another easy and quick spinach salad, why not try this simple spinach salad from Bity? Also a classic, tasty salad.
I hope you enjoy making this easy Caprese salad. If you do, please let me know how you get on in the comments section below!
How to make a Caprese Salad with Spinach