Steamed Cabbage and Carrots
This post shows you how to make a very simple side dish of steamed cabbage and carrots.
This recipe produces a warm coleslaw-like side dish, with a slightly sweet and sour flavour imparted from the apple cider vinegar and the sugar.
This is a great side dish for a meat and mash type of dish and provides some contrasting tastes to complement your meal. It is also good as a base for some Dutch-style Babi Panjang for example, where it is commonly served as a bed for the meat.
Cabbage and carrot recipe
Cabbage and carrot are often used together raw in coleslaws, which are great for serving at BBQ's. The advantage is that people can help themself to a serving. But they also work well together when cooked.
Steam cabbage and carrots in the microwave
Steaming is a great way to cook vegetables as the nutrients remain in the food better than if you boil the food.
I like to steam in the microwave, as I just find it is just a quicker and easier way to cook the food. The fact that the vegetables have been shredded already obviously reduces the cooking time and you can make this as a side dish or snack in less than 15 minutes.
Steaming on the hob will take a little longer, as you want the steam from the vinegar, sugar and water to properly permeate and cook the vegetables, so it has that sweet and sour tang.
If you are steaming in the microwave make sure you use BPA free materials. You will probably have your own preferred steaming method to suit your own utensils and kitchen, so use whichever one suits you best.
Steaming in the Instant Pot?
You may prefer to steam this in your Instant Pot for example, but that may not be handy if you are using that to cook the meat as I did here below, with this delicious braised steak and mashed potato dish.
I happen to have a wonderful Pampered Chef microwave rice cooker which has seen better days, but I still use it to steam vegetables as well as make rice. It has three parts, an outer bowl and an inner perforated bowl with a lid with holes, which allows the steam to partially escape during cooking.
And it automatically drains the food when it has finished its cycle and you remove the inner basket. It is also easy to clean.
And to be honest, it is probably quicker to use the microwave than it is to use the Instant Pot for this type of meal, but of course, that's up to you.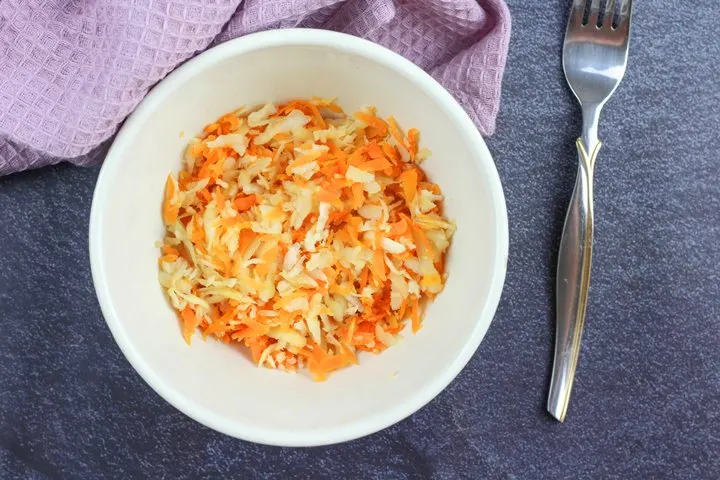 Good luck trying this easy side dish. If you do please let me know how you get on in the comments section below!
How to steam carrots and cabbage
Some other side dishes for you to try:
Try this with: