Homemade Chunky Chips
This easy recipe will show you how to make some healthy homemade chunky chips. They can be served as a side dish or as a snack and are healthier than fried potatoes like French Fries as they are not deep-fried in oil.
Potatoes cooked in this manner contain mostly carbohydrates, which are an important part of a healthy balanced diet, when eaten in the right quantities.
What are Chunky Chips?
Well, there are lots of different types of chips (or fries as Americans call them). In the UK and Ireland, chunky chips are thick-cut chips that are often served together with steak or other meals when you go out for a meal. They may be known as steak chips or potato wedges where you are from. We call them chunky chips.
We recently went to Athlone in Irelands for a few days and ate in the hotel restaurant there. Literally, everything on the menu came with a portion of thick-cut chips. And in my opinion they were not that good – too thick, square cut and full of oil.
They are much better when they are homemade, as you can determine how you cut them and how healthy you want to make them. Cutting in a wedge shape certainly improves these fries!
Chunky chips in the air fryer
We have only recently had an air fryer so obviously sooner or later we had to try and make some chips in it. We decided on making chunky chips first as we had some perfect New Season Wexford potatoes that I had bought from a van along the side of the road.
These potatoes were perfect for chips as they were nice and firm and did not disintegrate during par-boiling. They also had a sort of flaky outside skin which we left on for the extra nutrients, after giving them a clean. They also tasted fantastic.
But you can use any potato you like as long as they are firm under boiling and do not fall apart! Maris Pipers would be our next favourite potato to try.
To make these chunky chips we do parboil them, only for about 5 minutes, just so that the insides are nice and soft and properly cooked when the whole process is finished.
While in the air fryer make sure the chips have enough room between them so that they can crisp up on the outside. You may need to cook them in batches.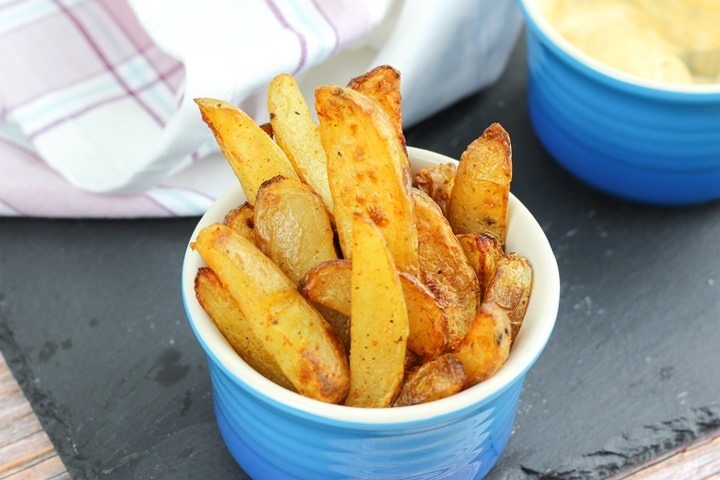 Keeping the skin on gives a great look to these chips and they really do taste marvelous. I hope you agree.
And keeping them away from the deep-fryer just makes them a lot healthier.
Serve them up on their own with a tasty dip or some mayo, or as a side dish with a nicely cooked steak.
Please let me know how you get on in the comments section below!
How to make homemade chunky chips