Recipe for Pork Belly Burnt Ends
There is nothing quite like the taste of barbequed or smoked pork belly. Although it is perhaps not the healthiest of meals, the taste of crispy rendered pork fat is truly delicious. This easy recipe will show you how to create some pork belly burnt ends at home in your oven or air fryer.
There is an optional part to this recipe to make a sticky gooey sauce to coat, or dip, the pork burnt ends if you prefer.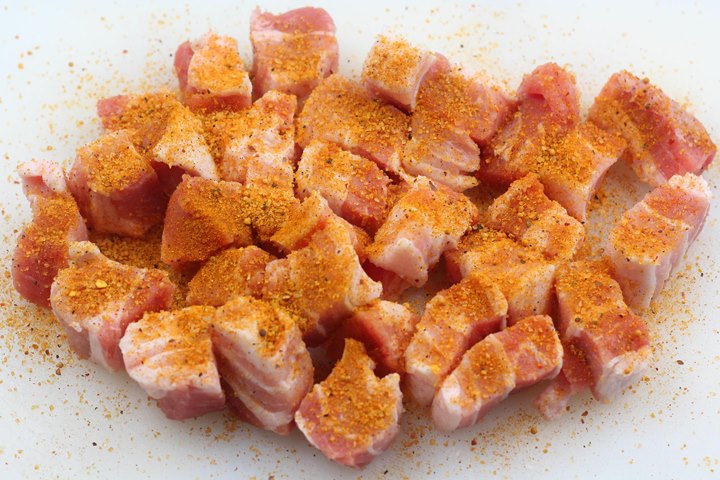 Speklapjes or Pork Belly
When we lived in the Netherlands, 'speklapjes' was something my kids loved to eat, either cooked in the pan or on the BBQ. This is where my reputation for burning food at BBQ's comes from, as the speklap fat would melt onto the coals and invariably ignite the BBQ!
This was until I discovered you have to cook them in foil containers to prevent this from happening.
Speklapjes are thinly cut pieces of pork belly, sometimes marinated and sometimes not. This recipe takes some basic speklapjes and turns them into some delicious pork belly burnt ends.
Oven, BBQ or Air fryer
Of course, you can always cook this in your BBQ if you prefer, but everyone's BBQ is different – temperatures and hence times vary, thus it is more difficult to specify them in a recipe.
Therefore this recipe is really aimed at cooking pork belly pieces in the oven or air fryer.
Burnt ends are normally from the brisket cut of beef. This recipe takes pork belly, from a pig, non-marinated, and creates some poor man burnt ends, as the pork belly is generally a cheaper cut.
Pork belly has a high-fat content making these a great keto snack as well (but beware, you should not be eating these every day, because of the high fat content!).
These are great as a snack on game day and can be served on their own, with a sweet sticky dipping sauce (in the recipe), or even coated in the same sticky sauce (a bit messy, but hey, this is why we have plates and cocktail sticks!). You could also serve as a pork belly appetizer if you wish.
I actually served these up as part of a main meal, some in the sauce and some not, for my family. They went down very well indeed with some roast potatoes and roasted asparagus!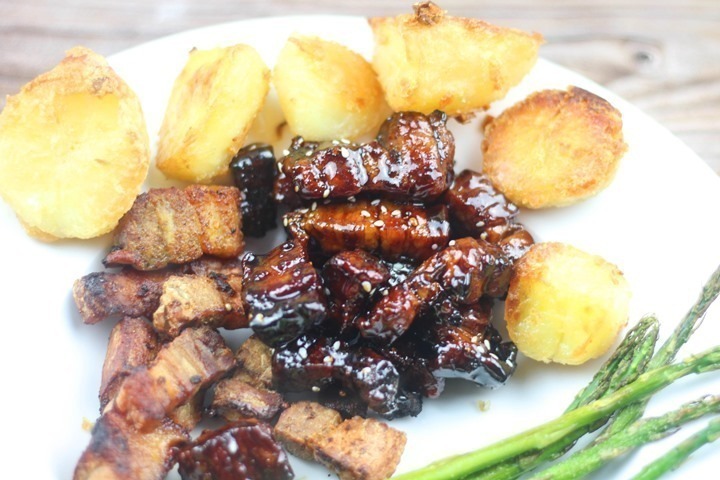 Since I have made these in the oven and air fryer, I believe the air fryer did a better job – it was quicker and the result was crispier than the ones from the oven.
I hope you enjoy trying to make these delicious pork belly treats. If you do, please let me know how you get on in the comments section below!
How to make burnt ends