Crispy Chicken Salad Recipe
This crispy chicken salad recipe shows you how to make a simple healthy green salad with some crispy chicken pieces and a honey mustard dressing.
You can serve the chicken up hot or cold and vary the salad contents as you wish.
This recipe is perfect for making upfront and serving cold when you want to eat. Great for an alfresco summer lunch for example.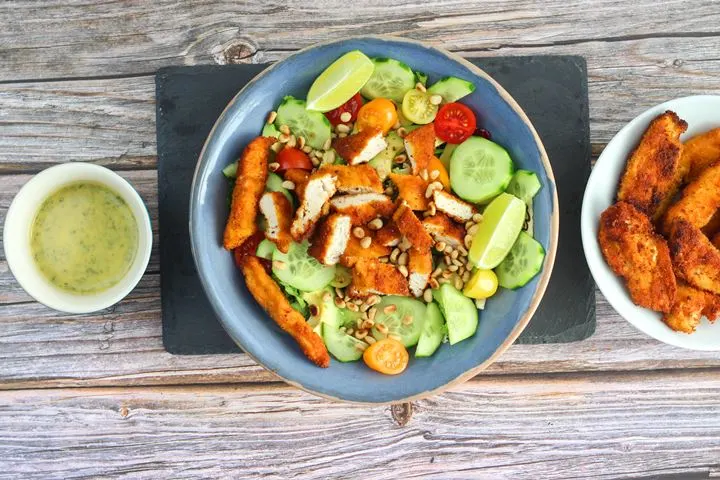 Delicious Salad
The healthy part of this meal is of course the salad part. I used some mixed salad lettuce leaves from Aldi which contained lollo rosso, radicchio, escarole and frisée, or curly endive. These all went to the bottom of the bowl and I covered them with the sweet mixed baby tomatoes, the cucumber and the pine nuts.
The combination works very well with the salad dressing I use.
The rest of the recipe is simply two of my other recipes combined.
My simple pan fried chicken breasts, with the chicken cut into goujons, produces some tasty crispy fried chicken tenders. These can be eaten hot or cold.
It is best to cook them in batches so they have room in the pan (or you can use a deep fryer if you have one).
Cooking in vegetable oil is not so healthy of course, but if you have an air fryer you can try making them in that as an alternative. I like to slice the crispy chicken strips before serving.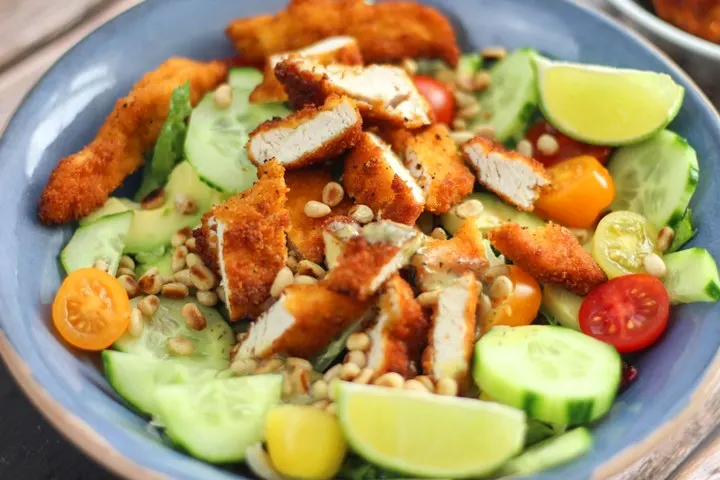 The dressing I used in the photos is from my simple recipe for a dill honey mustard sauce, which is a perfect salad dressing and super easy to make. It also tastes great with the chicken pieces. It is just like the SÅS SENAP & DILL sauce that you can buy for salmon at Ikea.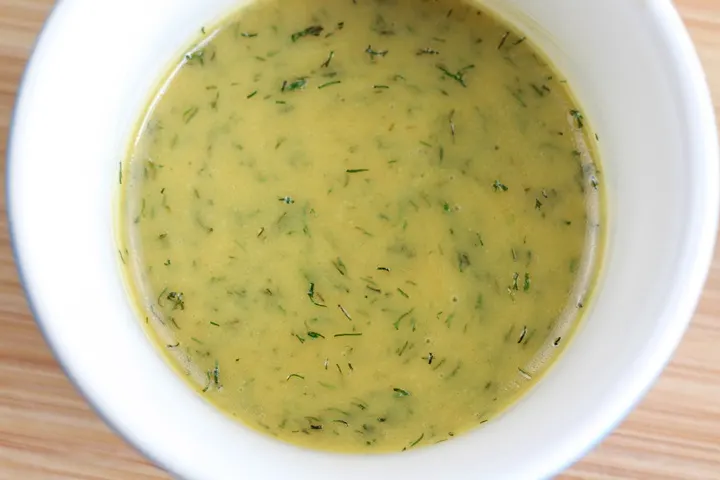 But if you are wanting another sauce to dip your chicken in, my curry dipping sauce is a favourite with my girls. It is great with chicken!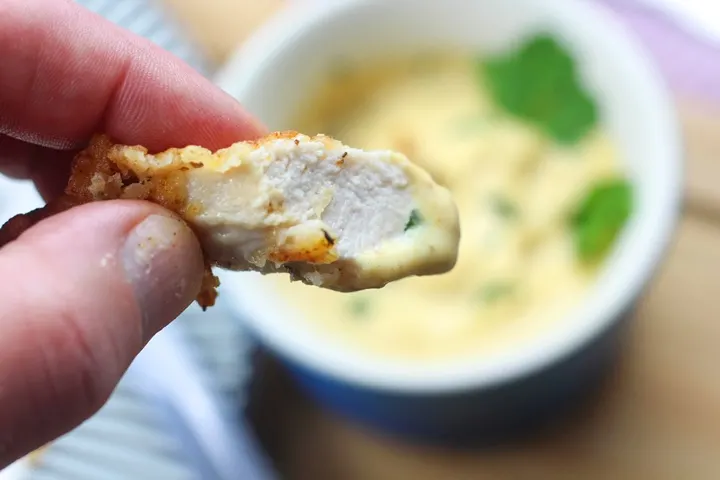 Crunchy chicken salad
I think the crispy chicken on the top of this salad makes it a winner.
And of course, you can always vary the green part of your salad to include your own special salad ingredients.
Maybe you like to add some grated carrot, sweet corn or olives? It's up to you. I hope this inspires you to make your own favourite crunchy chicken salad.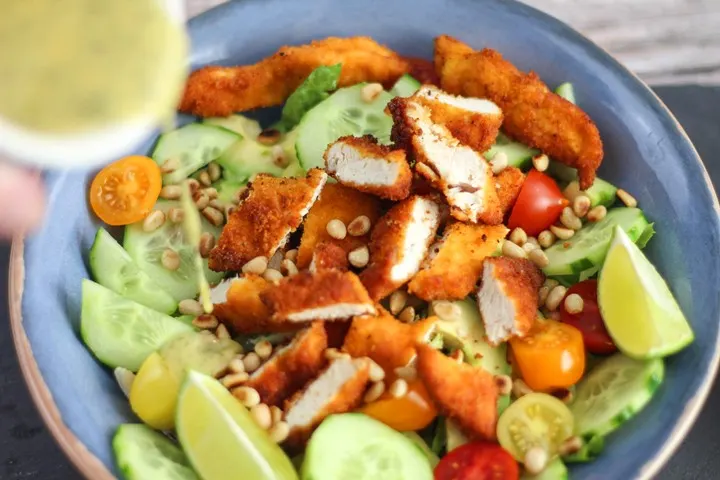 Variety is the spice of life as they say.
If you do decide to try this recipe then please let me know how it worked out, and how you improved it, in the comments section below.
Enjoy!
How to make a crispy chicken salad