Ukrainian Beet Salad
This is a very quick and simple recipe for a Ukrainian Beet salad with egg. This recipe is another one that we have borrowed from one of our Ukrainian refugees. You can eat this as a snack or as an accompaniment to any meal.
Beets are commonly used in Ukrainian cooking, especially in their well-known Ukrainian Borscht dish, of which we have another recipe on this site.
This recipe is very simple and quick to make and is great for a quick lunch, snack, starter or as an accompaniment.
Beetroot and Egg Salad, combines vibrant beetroots and protein-rich eggs to create a colorful and nutritious dish. In this blog post, we will explore the flavours, health benefits, and a simple recipe that will surely make your taste buds dance.
A marvelous blend of flavours: This Beetroot and Egg Salad is a harmonious combination of earthy sweetness from beetroots and the creamy texture of hard-boiled eggs.
The flavors intertwine beautifully, creating a unique balance that will awaken your palate. The creamy mayonnaise further enhances the overall taste, making this salad an absolute delight.
Health Benefits of a Beet and Egg Salad
Beetroots are packed with antioxidants, such as betalains, which help reduce inflammation and protect against chronic diseases.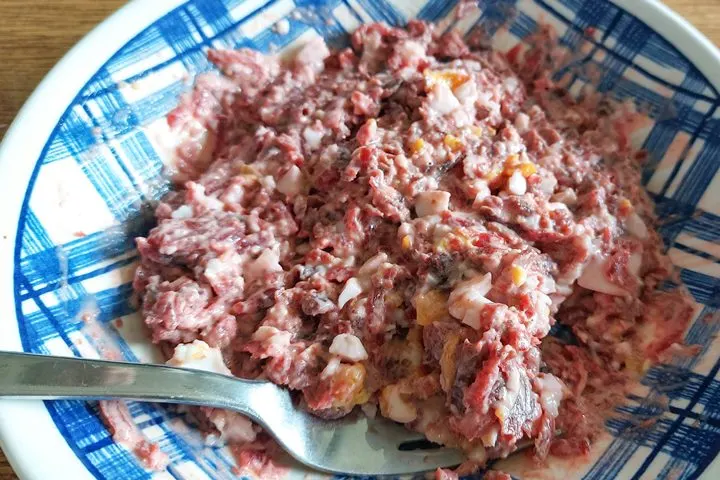 Both beetroots and eggs are known to support heart health. Beetroots contain dietary nitrates that may help lower blood pressure. Eggs provide essential nutrients like omega-3 fatty acids and choline, which promote cardiovascular well-being.
Beetroot is an excellent source of essential vitamins and minerals, including vitamin C, potassium, and folate. Eggs, on the other hand, are rich in protein, vitamin B12, and vitamin D, among other nutrients.
So make the most of the summer and enjoy this dish outside in the sun as a simple healthy lunch. Or eat it as a side dish at your BBQ. Beets are great. We should eat more of them!
I hope you enjoyed trying this recipe. If you did, please let me know how you got on in the comments section below!
How to make a Ukrainian Beet and Egg Salad