Fruit Cocktail Salad
This fresh fruit cocktail salad recipe is so simple to make. This is a tasty and healthy dessert, salad or even appetizer. This recipe is super for serving up after a dinner party. It is light, provides some sweetness and is super healthy.
Adding fresh fruit obviously makes this far more exciting than a pure canned fruit cocktail salad. But you are of course free to add whatever fruit you like.

Having said that, I do use some canned fruit in this recipe – the peaches and pineapple are from a can. They provide some nice light sweet syrup or juice for the fruit to soak in while it is waiting to be eaten 😃.
This prevents some fruits such as apples from turning brown. Keeping it in the fridge in an airtight container also helps to preserve the fruit for longer.
Is canned fruit healthy?
With canned fruit, some vitamin C may be lost during the canning process, but it is fairly minimal. The only real problems with canned fruits can be when light or heavy syrup is used to preserve the fruit, which can add to the sugar levels and calories.
So if you are going to make this recipe, look for canned fruit that has been canned in fruit juice, as this is more likely to be less calorific and contain less sugar.
My Mum used to make this fruit salad recipe, or something similar, during the summer months. It can give a nice cooling effect as well to counteract the summer sun.
In the UK we call this meal a fruit salad and it is normally served up as dessert. But you may want to serve it as a side salad or even a fruit cocktail appetizer, in the right circumstances.
What fruits to put in a fruit salad?
The great thing about this easy dish is that you can almost add any type of fruit you fancy. I did buy a mango to add to it as well, but it was not quite ripe enough to eat so I did not include it.
I did not add any bananas as I was worried they would discolour while in the fridge. But I suppose you could always add them just before serving if you wish to.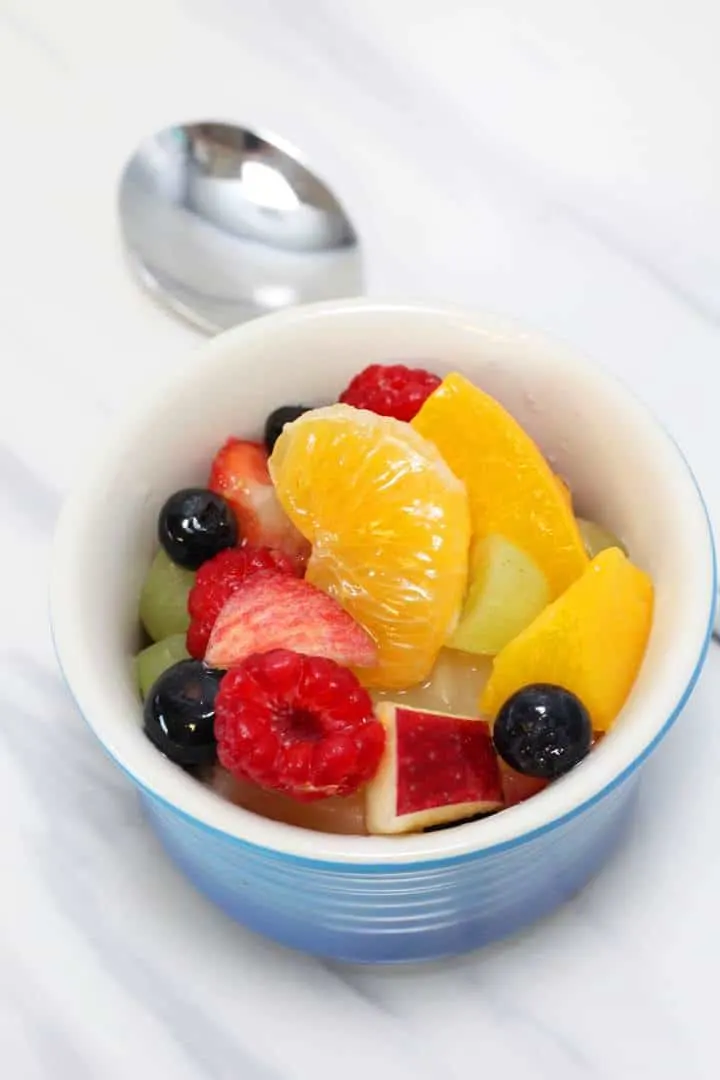 My Mum used to often use lychees and kiwi fruit in her fruit salads. But you could easily add other berries and fruits like blackberries for example.
In this recipe, I noticed the slightly sour taste of the raspberries contrasted nicely with the sweet-tasting peaches, pineapple and mandarin oranges.
Is fruit cocktail healthy?
It is as healthy as you make it. Plenty of vitamin C and sweet natural sugars make this a joy to consume.
All in all, this is a great British dessert that is not as stodgy and unhealthy as many other British puddings are. There are a few of these listed at the end of the recipe 😃.
Some people like to add cream or custard to this dish, but personally, it is not something I like to do. I like to keep this one dairy free.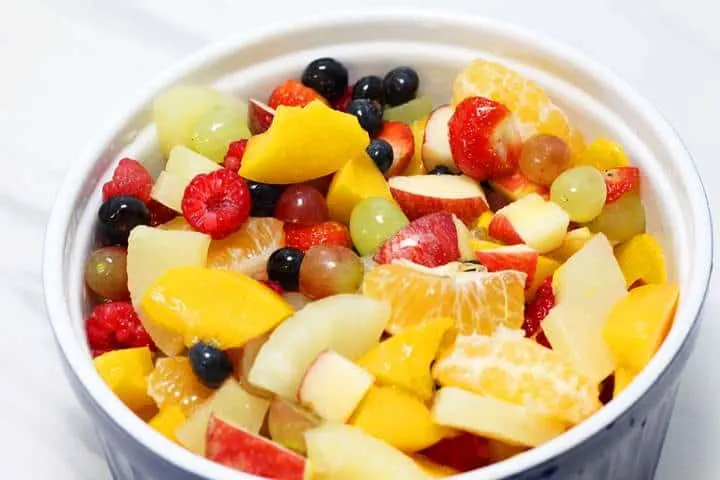 This is also a great dessert to take with you on picnics or on road trips, as long as you can keep it cool. Just package it properly in an air tight container and remember to bring a spoon 😃
I hope you enjoy making this delicious easy dessert. Let me know what you used in yours in the comments section below!
How to prepare fruit cocktail salad
Some other British puddings:
And some other fruit dessert ideas: