Chicken in a Creamy Mustard Garlic and Mushroom Sauce
This easy quick recipe will give you some chicken breasts in a creamy mustard garlic sauce. This meal is quick and easy to make and tastes divine. The creamy sauce provides so much flavour as to make it restaurant-level food.
Chicken is a versatile protein that you can cook in various ways. So you could also call this a keto creamy garlic chicken dish if you prefer. In my opinion, this is a much more rewarding and tastier version if you compare it to my other chicken and rice casserole recipe.
In this article, we will guide you through the step-by-step process of creating this tender, juicy chicken smothered in a rich mustard, garlic and mushroom sauce.
A luxurious sauce for your chicken breast
Greetings, food enthusiasts! Today, we embark on a culinary journey that celebrates the harmonious marriage of flavours in this classic British dish: Chicken in Creamy Garlic Mustard Sauce.
Tender chicken breasts bathed in a luxuriously rich sauce that tantalizes the taste buds. The robust essence of garlic and the subtle kick of Dijon mustard. And the exotic addition of mushrooms adds to the complexity of the taste. This dish epitomizes the art of simplicity, transforming ordinary ingredients into an extraordinary culinary experience.
In this comforting creation, each bite tells a story of balance and refinement. The succulent chicken, cooked to perfection, effortlessly mingles with the velvety embrace of the creamy sauce. The garlic, sautéed to golden perfection, lends a comforting aroma. And the mustard adds a sophisticated depth, elevating the dish to a gourmet delight.
Garlic Mustard Sauce
This Chicken in Creamy Garlic Mustard Sauce is more than just a recipe; it's an experience—a reminder that in the midst of our busy lives, there's solace to be found in the simplicity of a well-cooked dish.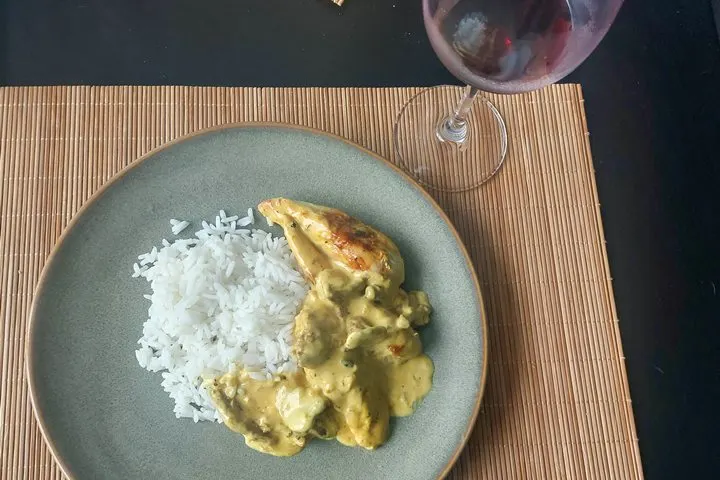 So, next time you find yourself in need of a simple culinary delight, turn to this classic British favourite. It proves that extraordinary meals need not be complicated; sometimes, all it takes is a few simple ingredients, a touch of love, and the willingness to savour the moment.
Here's to the beauty of uncomplicated indulgence. This chicken recipe is a delicious and impressive dish that can be easily prepared at home.
Try this recipe today and elevate your cooking skills by experimenting with other ingredients. I first used this using Cachaça instead of white wine for example, which was also excellent! You could also use English Mustard instead of Dijon to provide an even bigger kick.
I hope you enjoy trying this dish. If you do, please let me know how you get on in the comments section below!
How To Make Garlic Mustard Sauce Recipe