Leftover Mashed Potato Patties
This simple recipe shows you how to make some very tasty leftover mashed potato patties, using any vegetable leftovers you may have from your Sunday lunch.
These patties can also be made from any leftovers from Christmas dinner or Thanksgiving dinner as well, of course.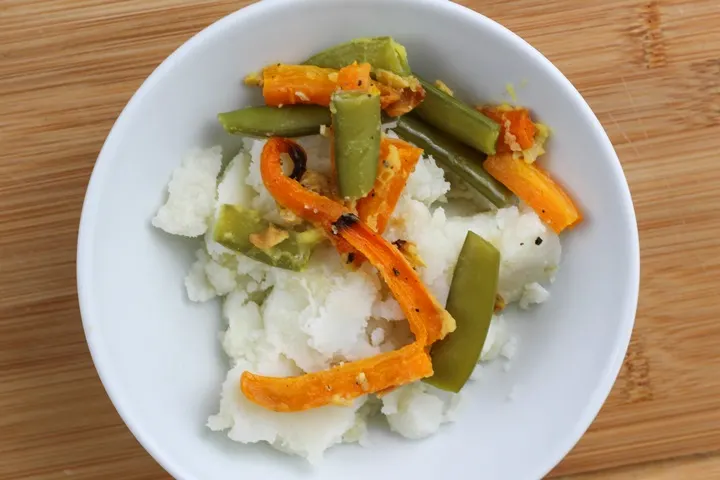 Mashed Potato or Roasties?
You may not always have mashed potato leftovers from your Sunday lunch. I actually seldom cook mashed potato with a roast, as I prefer to make my crispy roast potatoes.
However, the patties in these pictures were made after I had accidentally overcooked some potatoes that I was par-boiling to make some roasties for our roast chicken dinner.
I am not sure exactly what had happened as the potatoes had only been boiling for about 10 minutes, but they had disintegrated very quickly – probably because of the type of potatoes that I had never used before.
I managed to save the majority before they fell to pieces and rescued them in time to turn them into some crispy roasties.
But some of them had effectively turned into mash without me even having to mash them. I saved them for later and then used them to make this dish.
If I had had roast potatoes leftover, (very unlikely in our house I should add 😊 ), I could have used them instead of course.
Roast potatoes will mash as well. Basically, you can make this easy recipe anytime you have some cooked potatoes leftover – boiled, mashed, roasted it does not really matter.
Just store them in the fridge and use them to make these potato cakes the next day.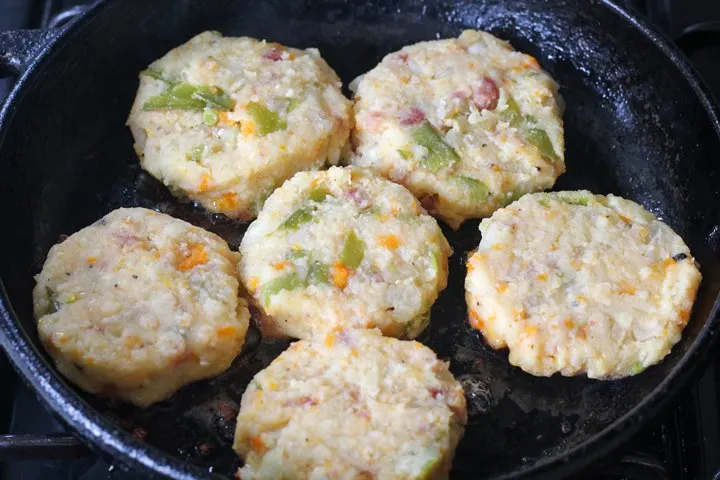 Which vegetables can I recook in these potato cakes?
Well in these cakes I have used carrot, sugar snaps, potatoes, onion, cheese, egg and some bacon. But if you had broccoli, cauliflower, beans, parsnip, cabbage or any other vegetable leftover, you could incorporate them as well.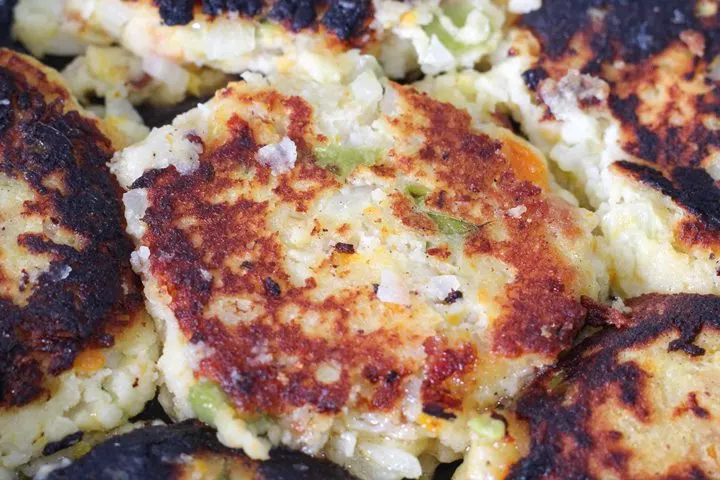 The advantage of this recipe for leftover mashed potato patties is that if the vegetable is soft it will mash and mix with the potato.
And if not then it will just stand out and add colour to the dish. If the vegetable is quite hard you may need to chop it smaller before mixing it with the other ingredients.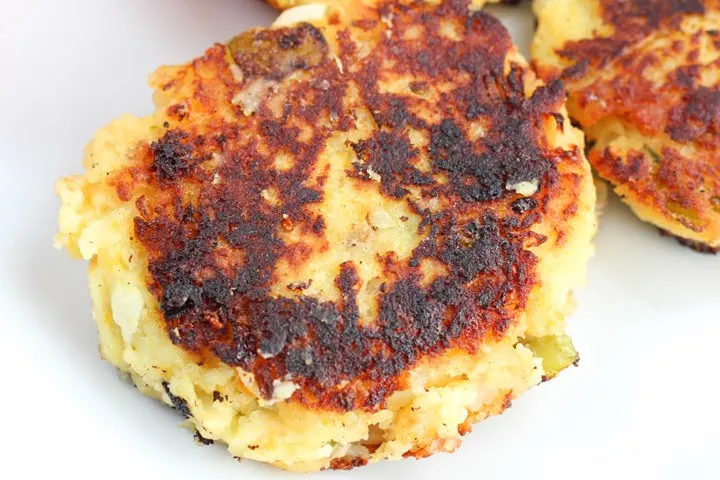 Using up leftovers
Using leftovers can be a great way to save time, money, and reduce food waste. Instead of throwing away excess food, leftover ingredients can be used to create new and delicious meals.
This is especially useful for busy individuals who may not have time to cook every day, as leftover ingredients can be quickly and easily turned into a new dish with minimal effort.
Additionally, using leftovers can be a cost-effective way to stretch your food budget, as you can use what you already have on hand instead of buying new ingredients.
This recipe is a good way of preventing any food wastage caused by over-estimating, and is also a good way to get healthy vegetables into the kids, as they will love these.
As an alternative you could try making fish cakes or bubble and squeak cakes with the leftovers, depending on what you have.
Here I have served them up with some cold chicken from the roast chicken dinner the day before: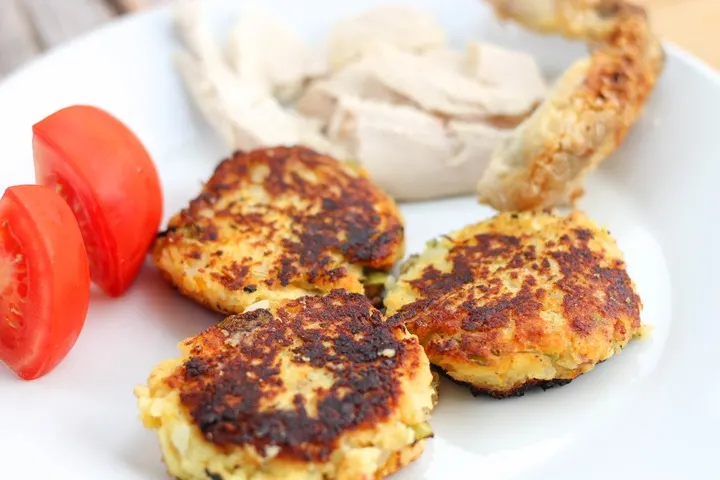 I hope you enjoy making these leftover potato cakes. Please let me know how you get on in the comments section below!
How to make mashed potato leftover cakes
Some other potato cake recipes made with mashed potatoes: