Slow Cooked Lamb Shanks in Gravy
This recipe for slow-cooked lamb shanks will give you some delicious tender lamb shanks in red wine gravy which will satisfy the entire family.
This recipe is for two persons, but just add more shanks to suit the number of people eating. How many lamb shanks per person? I tend to use one lamb shank per person.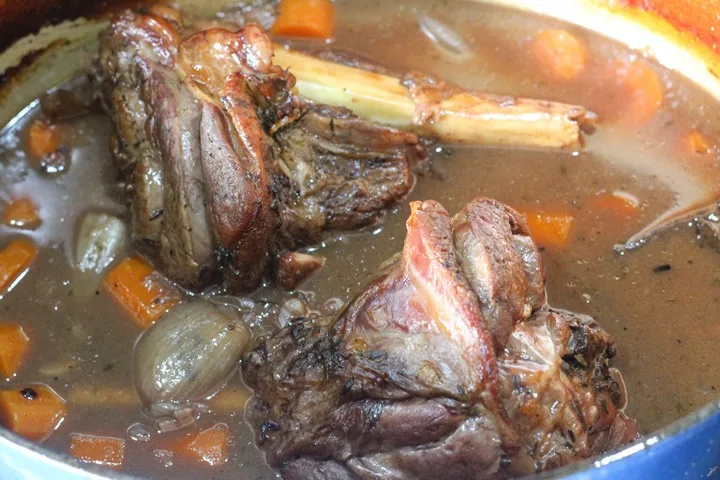 The method of slow cooking is an alternative to pressure cooking in an Instant Pot, which takes about half the time of this slow cook method. There is an Instant Pot recipe for lamb shanks below in the links.
Slow cooker lamb shanks in gravy
This recipe cooks lamb shanks in the oven in a casserole dish. I always use one of my trusty Le Creuset cast iron enameled casserole pans for this dish. These pans are perhaps a bit pricey, but they really last a lifetime and are well worth it.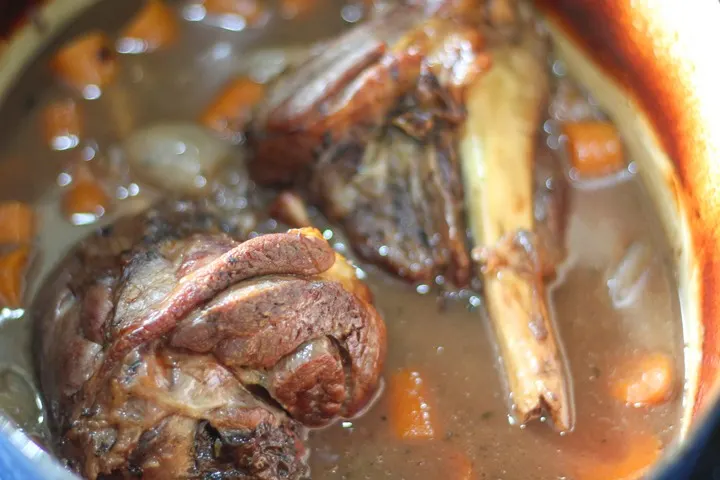 But of course, you can also cook lamb shanks in a slow cooker using this recipe if you prefer. The gravy should thicken during the cooking process if you add a bit of flour at the start, as in the recipe.
If you wish to thicken the gravy more when you are finished you can always mix a bit of cornflour with water and add by hand at the end.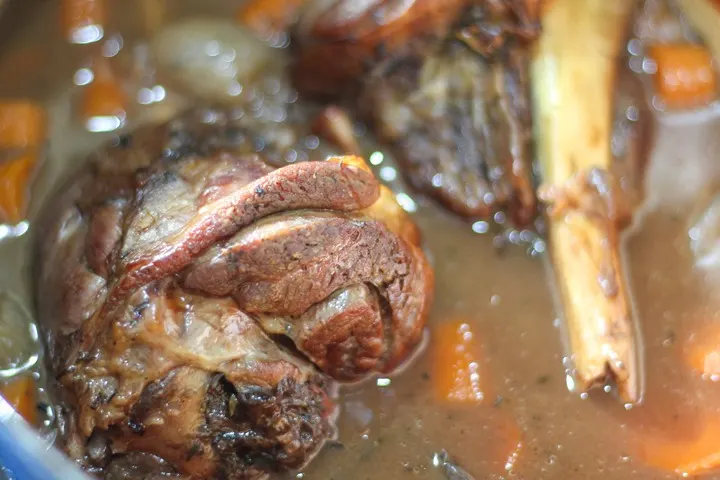 Braised lamb shanks
The process of slow-cooking meat in liquid in a closed vessel is known as braising. It is important that the pan you use to braise these lamb shanks has a good lid and is properly sealed, to retain the goodness from the liquid in the meat. Hence Le Creuset – these pans really are the best!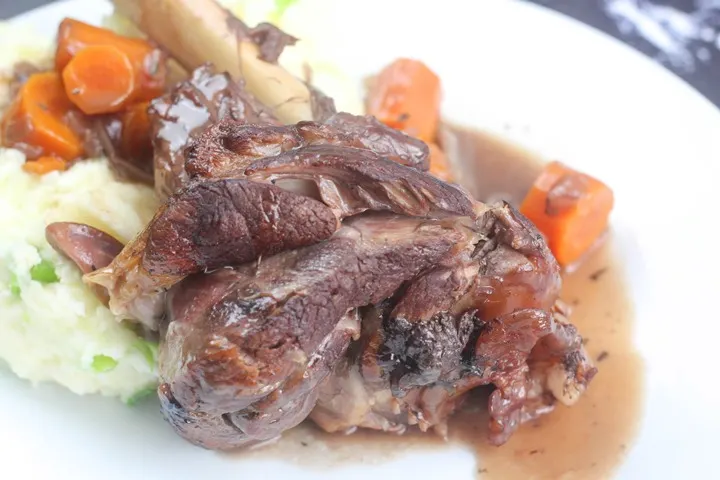 The result is a lamb shank where the meat literally falls off the bone. You will find that the meat is extremely tender. But you will need to separate the lean meat carefully from the sinews and connective tissue that make up the shank.
Lamb shanks are cut from the leg of a lamb just above the knee. So they have less meat and more sinews that a leg of lamb for example.
But the long process of braising makes this an easy task as the tender meat will automatically separate itself from the less edible parts. (My dog found these bits delicious btw, especially the bone!!)
The combination with a creamy mash and carrots is absolutely delicious. And the red wine gravy that results from the braising is perfect with the mash.
I hope you enjoy trying this recipe. If you do, please let me know how you get on in the comment section below!
How to make slow-cooked lamb shanks in red wine gravy