Vegan travel snacks
When you are planning a road trip or any sort of travel there are always a lot of things to think about. And if you are vegan or vegetarian it does tend to make things more difficult, as you never really know what the gas stations will stock along the way and what will be available.
So, before you go it may be better to prepare a travel snacks bag with your vegan road trip snacks. Then you do not have to worry about it along the way, when you have to read all the packaging to check if it is dairy-free or not. Let's face it, snacks vegans can eat, are not always readily available.
This post will hopefully give you some ideas about what vegan travel food you can prepare upfront or vegetarian road trip food to buy in order to prepare you for a trip.
So read on to find ideas to add to your road trip food list.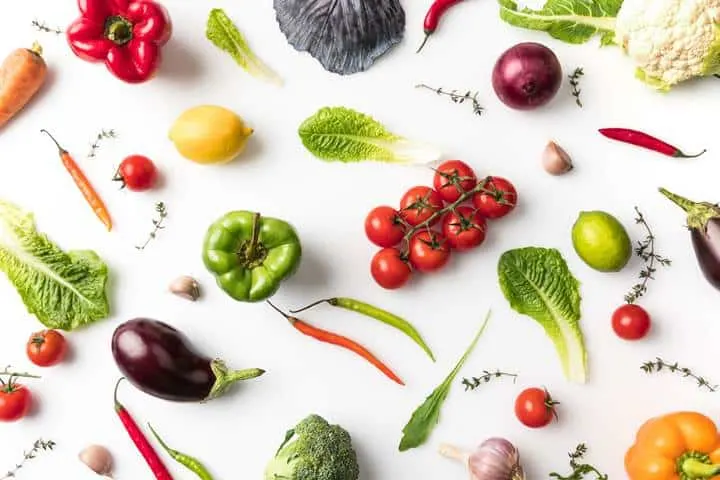 I will now go through some ideas for you to consider if you are needing some inspiration for vegan road trip food.
What are the best vegan and vegetarian road trip snacks?
So, what makes a great travelling snack or what are the best vegan road trip meals or vegetarian road trip meals?
From my experience, the best food snacks to eat on a road trip to nourish your family and keep you alert as a driver are the ones you can conveniently prepare at home but that keep fresh on the road.
Think about stuff you can bake at home, prep, wash and cut that are ready to eat at any time.
Non-perishable snacks are a great choice obviously but they don't need to be store bought, you can make your own variation of the vegan road trip food ideas I share below to suit gluten-free style, low carb etc.
We recommend you have some sort of cooler box or cooler bag to keep your food cool on your travels.
So let's go for the list with many healthy vegan snack recipes and vegetarian snacks that are easy to transport in your car.
Vegan Sandwiches for Road trips
What could be easier than making some healthy homemade road trip snacks for your trip? Some tasty vegan sandwiches for your road trip maybe?
Well if you are vegan there are a number of things you need to think about.
Firstly you need some bread which has been made without using any dairy products like milk, butter or eggs. We use a multigrain bread from Aldi that is suitable and very tasty.
Secondly, you need to make sure if you are using margarine that it does not contain any animal products like lactose or whey. Most manufacturers will now have vegan suitable margarine products.
Thirdly, of course, you need to consider the sandwich filling. Here some ideas which are a few of our favourites:
Marmite and crisp sandwich
This crispy sandwich with marmite is a delicious vegan option to take on a road trip. Add the crisps just before eating the sandwich.
Peanut butter and jelly (PBJ) sandwich
The iconic peanut butter and jelly sandwich is a great vegan road trip sandwich due to the long shelf life of the fillings.
These vegan wraps are a great vegetarian sandwich for road trips. Prep them upfront and eat them cold.
I am sure you will have plenty of your own vegan recipes you can use as well for your sandwich fillings.
Prepare Fresh Vegetables For Your Road Trip
Pre-prepped vegetables are another good way to have some easy vegan snacks on the go for your trip. By pre-slicing and peeling carrots, cucumbers, celery and tomatoes you can have some healthy vegan food to munch on during your journey.
Keep them in an airtight box to keep them fresh. These are some of our favourite vegan snacks for road trips and we keep a box like this in our fridge at home now as it is so easy to just grab a healthy vegetarian bite.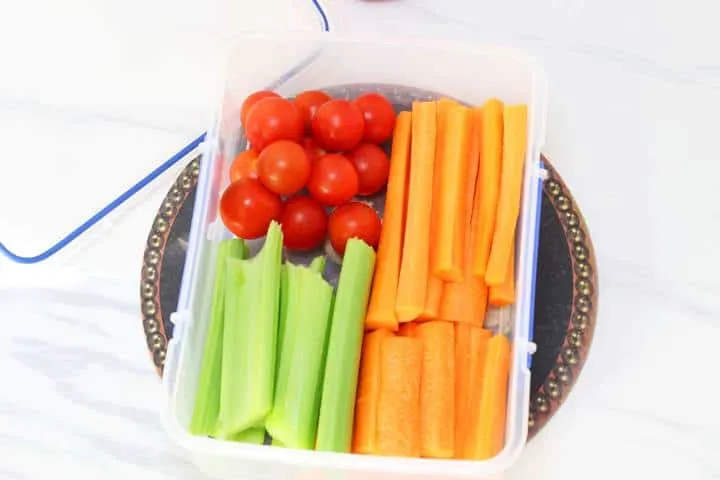 Fresh fruit to eat on your Vegan road trip
Fresh fruit is another easy way to sort out some vegan travel snacks. Mainly easy to transport and ready when you need it. Also, they are great vegan snacks for kids.
They can also be transported well in airtight boxes if you think about grapes and berries, as examples. Make sure to wash them before you pack them.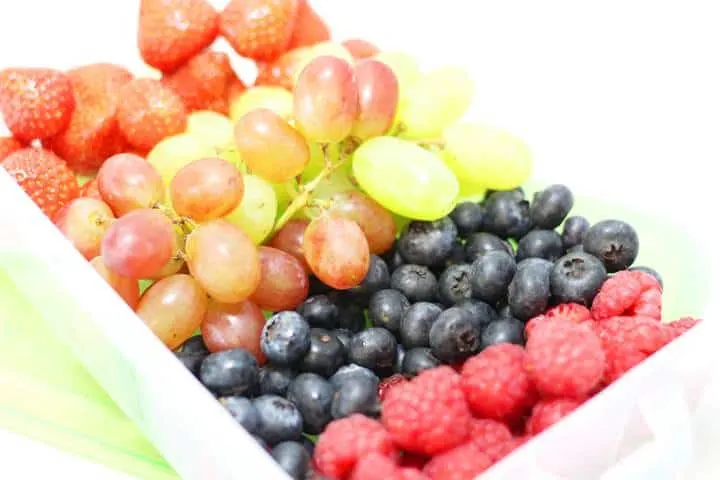 Simply wash and arrange a container with fresh fruits, check out some great containers here.
Bananas and apples you can always just eat as is. Oranges and kiwi fruit you can peel when you want to eat them.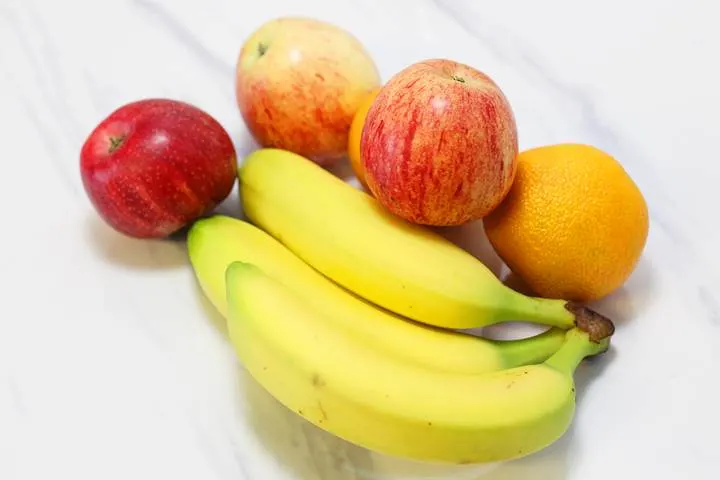 You can also think about prepping a fruit cocktail and keeping it in small containers to eat when you feel like it. A great sweet treat!
These are quick make-ahead meals for road trip.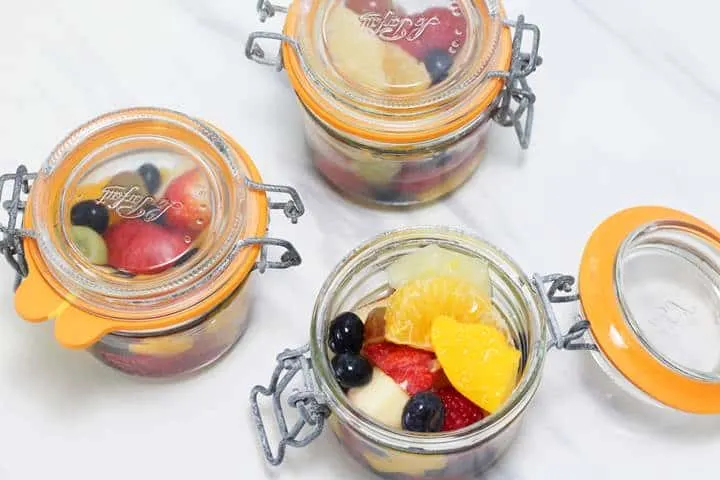 Dried fruit – the perfect road trip snacks
Dried fruits are also healthy vegan snacks that you can buy in your favorite grocery store. Think about food like dates or apricots.
Lovely to nibble on and they have a good shelf life.
Healthy vegan snacks to buy for your road trip
There are lots of types of vegan travel food you can consider purchasing before going on your road trip. Think about food like:
Mixed nuts, cashews or peanuts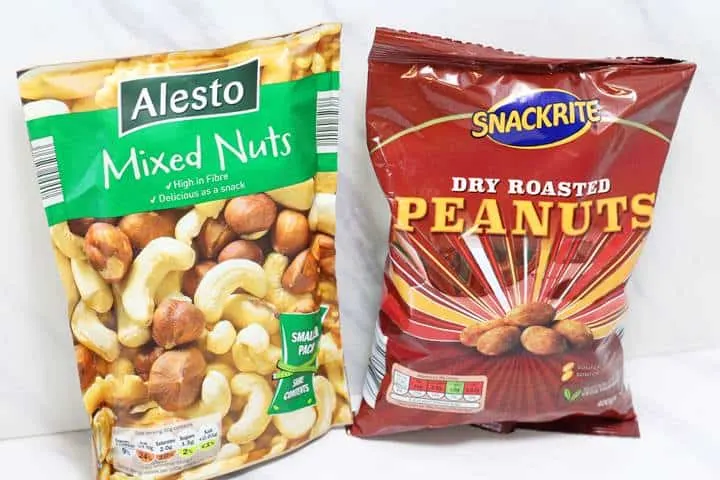 Did you know that the Original Ritz cracker is Vegan? Be careful though because not all crackers are.
RITZ CRACKERS ORIGINAL
Crisps (the right tasting ones of course)
OK I know these are known as potato chips in the USA, but let's not confuse things further. Make sure you choose the proper taste or they may not be Vegan !!
Deep River Snacks Kettle Chips

BodyMe Organic Vegan Protein Bar

Energy bars or energy bites are of course super easy and good to travel with as they will not perish as easily as some of the other food.
Check the labelling when you buy them to make sure you are getting the nutrients you want.
Hot Vegan Food on the Go
If you have a well-insulated flask you can, of course, take some healthy hot vegetable soup with you if you are going to need to be warmed up.
Taking some hot meals and keeping them warm for a long time may be more of a problem though and I wouldn't recommend it.
I once brought half a salmon back from Scotland to Holland in a hot/cool box which had inadvertently been set to heat on the way back, cooking the salmon on the way. Pity – we had to eat it as soon as we got home!
Thermos Stainless King Vacuum Insulated Bottle

Soups can be excellent plant-based meals for your road trips.
With the proper thermos flask you could easily keep a mushroom soup or a tomato soup hot for several hours!
Some soups though will include cream but if you are looking for a vegan alternative just leave it out to make a vegan version!
Drinks for your Vegan road trip
You will also want to take some drinks with you along the way to prevent dehydration. We have some great metal vacuum insulated water bottles that we take with us which keep our water or fruit juice cold.
Vmini Water Bottle

Alternatively, you might want to take a flask of hot tea or coffee, depending on your preference.
Especially if you are travelling in the winter to somewhere cold.
Healthy Smoothies for on your travels
Smoothies are a great way to take in some fruit and veggies on the way. Just be aware that you need to keep them cool to keep them fresh and that they will not last that long.
Give them a good shake before you consume them as the different constituents are likely to separate.
You can, of course, buy ready-made smoothies, or alternatively, you could make up some healthy smoothies beforehand and take them with you instead.
Give them a good shake before drinking and make sure you keep them cool!
Make sure you forget the yoghurt if you are making a vegan smoothie!
Vegan Travel Food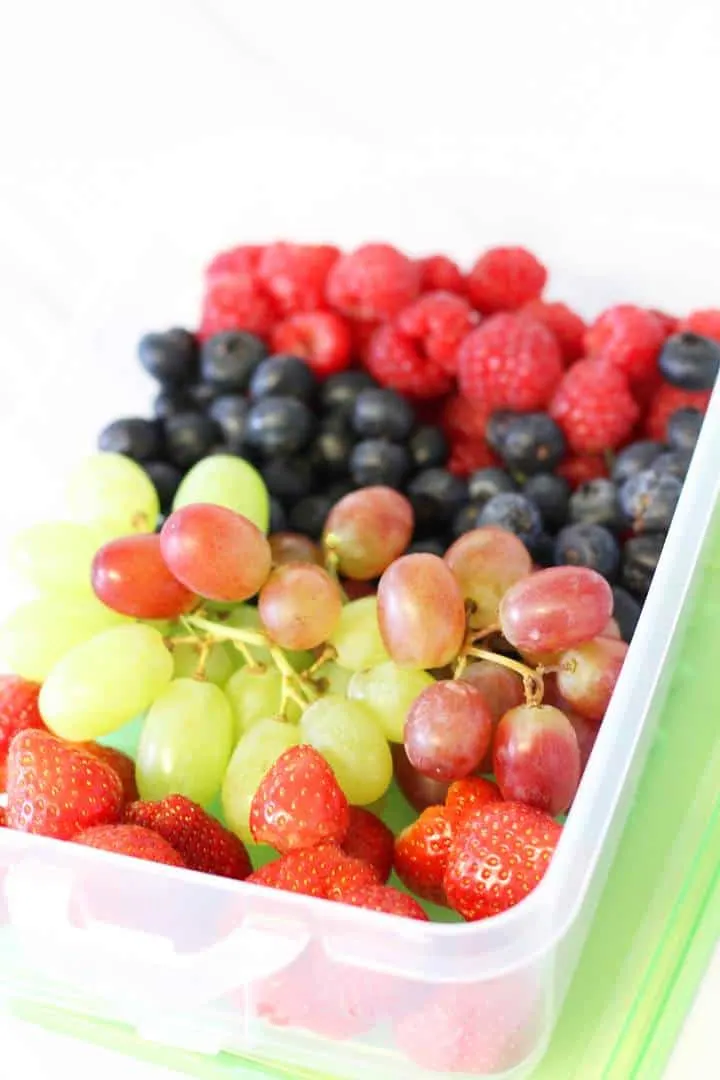 So I hope this post gives you some ideas about what you can take on a plant-based road trip. What are the best vegan road trip snacks?
The best Vegan snacks are the ones that are easy and tasty and everyone has their own preferences.
Vegan road trip food can be simple to prepare upfront and it will so hugely improve your travel experience when you know you have healthy food to hand.
Whether the food is vegan food to go or just field trip snack ideas, the foods mentioned above can sustain you through your journey.
Tell me; what is the best road trip snack and beverage in your opinion? Let me know in the contact section below.
---
More road trip food posts:
Some relevant tags for this page:
[best vegan snacks to buy, vegan filling snacks, vegan on the go, snacks for vegans to buy, vegan snack ideas, list of healthy vegan snacks, best road trip snacks, vegan kids snacks, quick and easy vegan snacks, vegan snacks you can buy, quick healthy vegan snacks, vegan roadtrip snacks, vegetarian sandwiches for road trips, vegan vegetable snacks, vegan meals and snacks, vegan snacks for travel, vegan healthy snacks on the go, vegan food for road trip, healthy vegan snack recipes, healthy vegan road trip snacks, best vegan travel snacks, road trip vegan food, vegan travel food ideas, healthy road trip snacks vegan, road to vegan, vegan car snacks, buy vegan snacks, nice vegan snacks, easy vegan travel meals, best vegan road trip food, snacks that are vegan, vegan roadtrip food, vegan snacks recipes, vegan travel meals, vegan meals for road trip, road trip vegetarian food, vegan food for road trips, vegan snacks to buy at grocery store, filling vegan snacks, what snacks are vegan, list of vegan snacks, vegetarian snacks for road trips, best vegan snacks for road trips, vegetarian snack ideas, delicious vegan snacks, healthy filling vegan snacks, what do vegans eat for snacks, non perishable road trip food, vegan road snacks, vegan snacks ideas, vegan snacks to go, vegan snack]
Vegan road trip meal prep