What are some great Kitchen gift ideas?
As a keen cook, gifts I have received for use in the kitchen, are always something I have greatly appreciated. Over the years I have been given some extremely useful gifts, many of which are still being used in Gav's Kitchen. All over the world, eating is one of the main things we all have in common, so the need to cook and prepare food is ubiquitous. This post will give you some great useful kitchen gift ideas for friends or family who like to spend time in the kitchen.
This post is specifically aimed at trying to give you some ideas for some unique and useful kitchen gifts that will improve their cooking experience. The best gifts for cooks are the ones that improve their experience in the kitchen.
These gift ideas will vary in price and some will suit the rich and others the thrifty. But they will all be useful or fun for aspiring or even skilled cooks. I sincerely hope you can find something that will suit what you are looking for.
[The items shown in this post most likely contain affiliate links to companies I partner with, meaning I may receive some compensation if you decide to buy something after clicking on a link. Amazon links may bring you to your local Amazon store and hence pricing may vary].
Best Christmas or Wedding gifts for couples
If you are trying to find affordable presents for a Wedding, for example, there are loads of great kitchen gifts for couples you can give.
Quality Damascus Steel Knives
We received a lovely set of kitchen knives at our wedding which we still use on a daily basis. These Regalia knives have a wonderful collection of high-quality Damascus steel knives for every activity in the kitchen. A super useful kitchen gift for anyone who loves to be in the kitchen preparing food. The best chef gift you could give.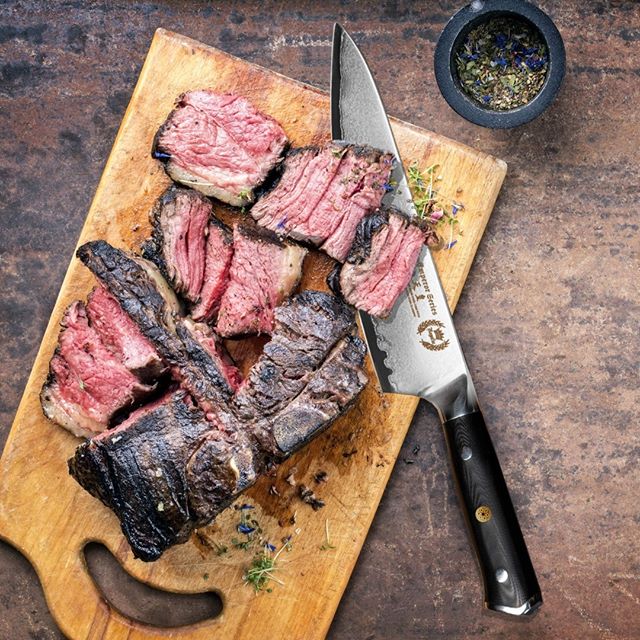 Affordable Knife Sets
Alternatively, Chef's Vision has a great selection of affordable colourful themed knife sets, which are also great as a gift. Their collection themes are Landscape , Wildlife , or Cosmos Knife Sets.
Casserole dishes
For a young couple, a good set of pans, or even just a single good quality one, is also a great present to give.
I have a full set of Le Creuset cast iron pans that I received from different people as wedding presents. These must be one of the best kitchen gifts.
There is one of these that I use more often than any of the others, which is the oval Dutch oven, which I use for casseroles and slow cooking. These enamelled cast iron pans are pretty indestructible, will last a lifetime and make a great present that will become a family heirloom!
Le Creuset, Enameled Cast Iron Oval Dutch Oven, 6.75 qt.
Cooking Pans
For a couple starting life together, a good set of stainless steel pans is also a great kitchen gift set. Make sure you buy some with handles that remain cool enough to touch, and with some good lids! I prefer to use stainless steel as it is easy to clean with a scourer, and there is never a problem with anti-stick layers peeling.
9-Piece Stainless Steel Cookware Set
Cast Iron Skillet
My favourite frying pan is now a cast-iron skillet, which I bought locally. Maybe one of these is a good and affordable idea for a kitchen gift for friends? The advantage of these particular ones from Uno Casa is that they have some silicon handle covers, which are necessary as the handles can get quite hot on these things!

Cast Iron Skillet Set – $40.00
from: Uno Casa
They also have some cool, very affordable, camping Dutch ovens – great if you are out there in the open-air cooking on the fireplace, like they used to.

Camping Dutch Oven – $60.00

from: Uno Casa
Or maybe one of their bundle deals?
Ceramic Cookware
Ceramic cookware can also be a great gift to give or receive. It is super healthy to use, and is also great if you are looking to make one-pot meals that go from stove-top to oven, for example. Xtrema make some great products that you can give as a gift to someone. Check them out by clicking on the photo below.
Fondu Set
A fondu set is also a great present to give. I prefer using an electric one as it is easy to control the heat and there are no nasty paraffin smells (also a lot safer!). Great if you want to make a cheese or meat fondu.
Cuisinart Electric Fondue Maker"
Cooking Aprons
Mr. & Mrs. cooking aprons are a great affordable gift for some newly weds.
Zulay (2-Pack) Funny Aprons For Couples
Best Christmas gifts for Parents
Christmas is often spent with family. A great way to gift something for Christmas, or Thanksgiving, for that matter, to your parents is to offer to make a food contribution to the Christmas meal, for example. It just makes the preparation easier for everyone involved so everyone can enjoy the occasion.
Maybe you can make something unusual yourself for the Christmas meal like some honey roasted parsnips, or you can provide some of the main items like a Turkey, a cut of beef or a cooked ham?
How about trying some Holiday Gifts from Snake River Farms? They have a wonderful collection of Hams, Roasts and accessories. Click on one of the pictures below to see what they can do for you!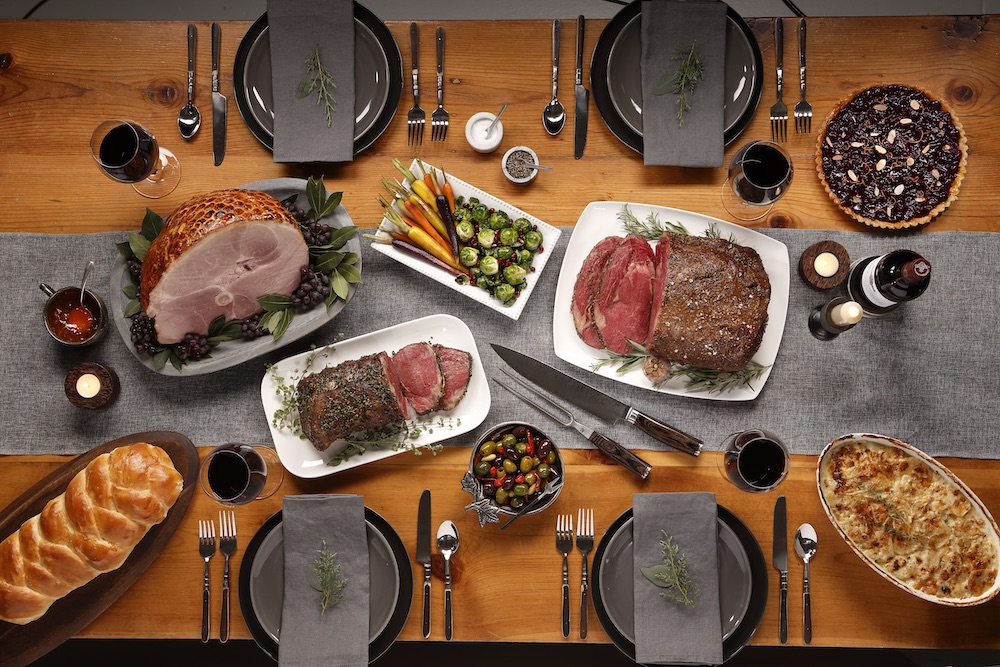 Or maybe Mum and Dad are getting a bit older and frailer and are not enjoying the shopping part of getting food on the table. Why not gift them a box of fresh locally sourced food to save them travelling to the store?
Affordable kitchen gift ideas
If your budget is limited, then here are some cheaper kitchen gift ideas that may meet your budget.
Meat Thermometer
A thermometer is a useful tool for measuring the temperature of food and estimating when it is ready.
Instant Read Meat Thermometer
Brazilian skewers
BBQ'ing is not one of my strenghts. I have a rather bad reputation for burning stuff!! But using these skewers was a great solution for me. You buy a nice cut of picanha (filet) or contra-filet steak and skewer it on one of these. Even if you scorch the outside, the inside still stays good! Even better if you have a rotisserie to turn your meat!
Set of 4 Brazilian Skewers
Stainless Sheet Pans
Baking or roasting in the oven also needs some good sheet pans or baking trays. I recently bought some of these stainless steel trays which are fantastic. Firstly they are made of stainless steel, so there is no toxic risk which you may have from using aluminium pans. Also, they are super easy to clean and never rust. Make sure you get them in the right size to fit your oven!
Baking Sheet, Set of 2
Stainless Mixing Bowls
I think you can never have enough mixing bowls! So having some that fit into each other and do not take up much space is a massive plus. Like these ones:
Stainless Steel Mixing Bowls (Set of 6) Stainless Steel Set
Culinary Torch
A culinary torch is also something that can be a useful gift in the kitchen for making creme brulee, searing a steak, melting cheese, lighting your steak Diane sauce, or even your camping fire.
Culinary Torch Refillable
Bamboo Chopping Boards
I have recently bought one of these bamboo chopping boards, and I swear by them. They are great to chop on, easy to keep clean and tougher than wooden boards I have had. They do not mark so easily. A great present for someone in the kitchen.
Organic Bamboo Cutting Board
Steak Knives
A set of steak knives is always handy. Especially a nice looking one like this one:
Steak Knife Set
Gifts for kids that like to cook
Some kids love to cook. Cooking gifts for kids can be a great way to inspire kids into the kitchen and get them to learn. At the end of the day, most of us need to learn to cook at some point when we leave the family home or go to live alone.
How about starting the little ones off with a vintage play kitchen like this one?
Vintage Kitchen in Blue
Or maybe some accessories for them to play with?
Kids Basic Cooking and Baking Set
Give them some cooking practice by helping them make their own pizzas at home. Always a success in our house!
Another good gift for kids could be one of these Soadstreams for making some fizzy pop.
SodaStream
We had one when I was a kid and they were great for making cheap fizzy soda drinks. It also makes it easier to limit the amount of sugar the kids are consuming by controlling the mixers.
Gifts for men that like to cook
For some weird reason, it seems to be a pretty macho thing for men to do the grilling or smoking at home. I do not know how this has happened over the years but I suspect it is because it is just a good excuse to light a fire and drink a large glass of wine while the BBQ is warming up.
BBQ gift
I must admit I still use an old fashioned Weber charcoal BBQ at home, which is fine, but it does not do what some of the modern gas powered BBQ's can achieve. I would love someone to gift me one of these babies 😃.
Weber Spirit II Liquid Propane Grill
BBQ Thermometer
These days the technology has advanced so you can leave your meat in the smoker and monitor it from afar. A nice gift for someone who likes to BBQ and does not want to pay too much attention to it while it is smoking away.
Wireless Bluetooth Meat Thermometer
Pizza oven gift
What could be better than making your own pizzas with a pizza oven that works? These Ooni ovens are great and get to 500C in only 15 minutes. Cook your pizza in just one minute! A great gift to enable family and friend get-togethers, and make them memorable. Ooni even have multi-fuel options so you can use wood, charcoal or gas to heat your oven. 13″ or 16″ pizzas! I want one!!
THE UK 👇 THE USA 👇
THE EU 👇
Rotisserie accessory
Another great present is a rotisserie-style grill that will help you cook some shoarma or kebab meat, or to do a real Brazilian BBQ. Make sure you get one that fits your gift recipient's grill!
Rotisserie Ring Kit for Weber
Sous Vide Cooker
A sous vide cooker might also be the perfect solution for someone who is wanting to improve their cooking skills and bump it up a notch.
Sous Vide Precision Cooker Pro 1200 Watts
Gift a Beer making kit
And of course, if you are gifting a guy that likes to cook, then he may also like making his own beer, as I do. The present-day kits are so much better than the ones that were available 40 years ago. I have found that my home-made IPA is better than anything you can find in the pubs around me.
Why not gift a beer or winemaking set from Brooklyn Brew Shop?
Gift some craft beers
On the other hand, if you think the person would prefer just to drink the beer rather than make it, then perhaps you could give a nice selection of craft beers instead. The Craft Beer Club provides such varied craft beer gifts from different US breweries.
FREE SHIPPING ALWAYS + Up To 3 Bonus Gifts Now At Craft Beer Club – Shop Now!
Gift some delicious wines
Your gift recipient may also be a wine drinker. In that case, why not send some Wine Club Gift Certificates from the The California Wine Club? Or better still, send someone a delicious collection of Napa Valley wines directly. These people can give you some handcrafted wines from small family wineries all around Wine Country. A great gift for any wine drinker, at any time of the year or occasion.
Kitchen gifts for Mom
If Mom is always in the kitchen cooking for you it may be more difficult to think of something to make her life easier. But maybe some of these items could be just what she always wanted without even knowing it!
The art of tea
Afternoon Tea or even just a cup of tea is often an important part of the day in many cultures. Why not gift a delicious mix of hand-blended organic teas or botanical tea to Mum?
The Art of Tea can provide you with some great gifts for all occasions.
Or maybe a Matcha tea kit would be the perfect gift?

Spoon holder
I am always looking for a place to put my wooden spoon near the stove top and this is obviously the solution – only for Grans though it would seem!
Spoon Rest for Kitchen Counter
Cookbook stand
A cookbook stand is also a great gift to give to someone. I have one in my kitchen which has seen much use over the years!
Granny's Recipe Cookbook Holder
Good luck finding the gift you are looking for!
Kitchen Gift Ideas
You may find some other ideas on these pages if you could not find it here: