Basic starter kitchen needs list
Welcome to my basic starter kitchen needs list! This checklist post covers a list of kitchen items that are just essential in any new kitchen. I list some of them here with some suggestions.
This is not an exhaustive starter kitchen list, but will help you get the basic kitchen needs together if you are just starting up.
Alternatively, you can consider this post to be a list of gifts for cooking enthusiasts. Or a list of potential gifts for chefs or aspiring chefs.
So if you have friends with a new house or new kitchen, you may be able to find them a nice suitable gift here from this cooking equipment.
It is not by any means a best starter kitchen set post, but really designed to give you some ideas about what tools you may need in your new kitchen.
Any recommendations I may make are based on my experience with that brand, or because I like the look of the product and the reviews.
I have some experience with different brands, and hence am perhaps biased to some more than others.
At the end of the day, every kitchen is different and your list of kitchen necessities will vary depending on the menu's you will be preparing. So every kitchen necessities list will be different.
Pots & Pans
Pots and pans are of course essential in any kitchen. If you have read my recipe posts, you will know that I am a great fan of Le Creuset equipment, so we have to mention that stuff first!
Although this may not be the first thing on your basic starter kitchen needs list, it may well be the longest lasting.
Casserole / Dutch Oven
Le Creuset Enameled Cast-Iron Dutch Oven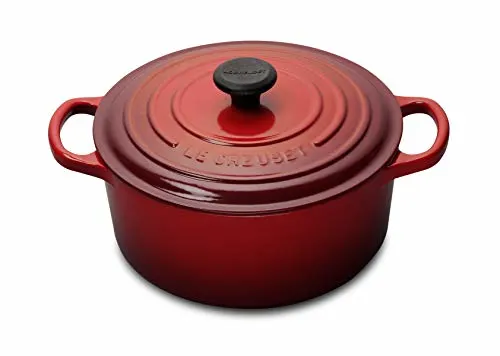 This product is just superior for stews, casseroles and anything you want to cook on the hob or in the oven. Why it is called a Dutch oven is a question mark to me, as it is French, but I suppose that is probably how the first Dutch settlers in the USA used to cook their food.
Although these products may be expensive, you will certainly get your money's worth. I have a pan very similar to this one that I use every week (I have a whole set in fact). I have had it for 25 years and it is as good as new.
The advantage of these things, apart from being pretty much indestructible, is that the lids fit very well and retains all the delicious tastes in the pan when cooking. They are heavy, but because of that, they retain the heat well.
Pans
Cuisinart Pro Stainless Steel Cookware Set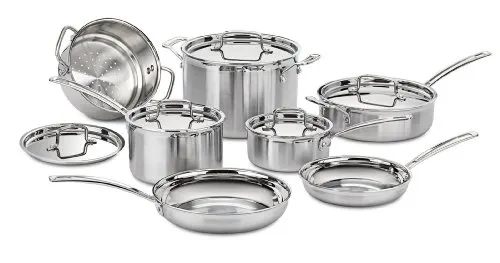 A good set of pans are basic kitchen items. I honestly cannot remember where I got my saucepans from, but it was a long time ago and they are great.
I have a different selection of pans in the kitchen.
All my saucepans are riveted stainless steel – I have three different sizes, and I find they are super. If you are cooking something that sticks to them, you just soak them for a bit and clean them off with soapy water and a brush – easy.
My frying pans (skillets) are mostly teflon coated, but I am not convinced that is the best. I have had problems with teflon layers just coming off with an IKEA pan (and consequently some appalling customer service from Ikea, refusing to replace it).
In the end, I took a sander to the teflon layer on the pan myself, and it seems now to work better without!
Also when the Teflon layer gets damaged (which it will in time) it will lose its non-stick properties.
Riveting the handles seems to be better than screwed on handles – my screwed on handles repeatedly need tightening up. I think therefore that a good set of stainless steel pans is the best bet.
Make sure they are suitable for your hob, and especially that they have a good flat bottom (especially for frying eggs!). Also, you need to make sure that the lids are a good fit, and that the handles stay cool.
This set above even includes an 8-quart stockpot.
Stockpot
30 Quart Stainless Steel Stockpot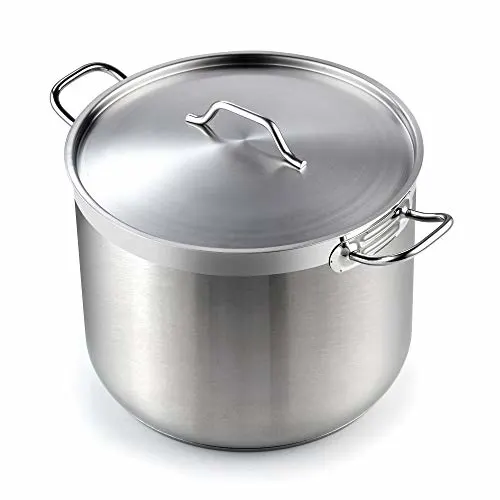 You may need this piece of kit if you are going to be cooking for large numbers. We use it at birthday parties, when we need to produce a large amount of chilli con carne for our guests.
But it does have all sorts of other uses, such as making stock (as you would imagine 🙂 ), boiling hams at Xmas (yes, a big one really will not fit in a normal pot), and making marmalade and jam.
Quite a useful thing to have around.
Skillet
Medium Cast Iron Frying Pan With Lid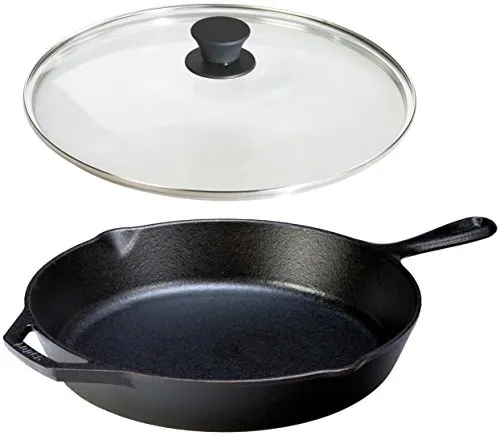 A good cast iron skillet is also essential to have around the kitchen. They can be used on the hob, in the oven or even on the BBQ. I have recently bought one locally and I must say I use if for most frying or sauteeing jobs on the hob now. My old frying pans have been relegated.
It is great for frying eggs and anything really. The fantastic thing is that they retain the heat and as long as you look after them well they will last you a lifetime. The disadvantage is that they are quite heavy (not good for pancakes if you want to flip them). Also, the handle can get quite hot if it is part of the pan, as mine is.
Make sure they are properly 'seasoned' before first use. It is nice to have one with a lid.
Grill Pan
Lodge Iron Grill Pan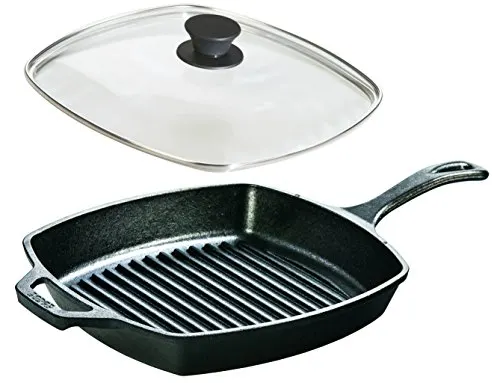 A grill pan is also a handy addition to the kitchen pan collection. These are great for searing steaks and vegetables. This example is a 'Lodge' brand cast iron one, (a good American producer), but you may prefer to have one with fat pour spouts on the side.
Baking sheets
Stainless Steel Baking Sheet and Rack Set

So when you start baking, or in fact cooking anything in the oven, you are going to need some of these. Great for biscuits, fudge, flapjacks – you name it! Nothing worse than your delicious baked treat sticking to the pan!
You can buy non-stick sheets with a teflon coating or aluminium sheets, but I prefer to use stainless steel.
The reason is that aluminium sheet pans can react with acidic food and all my teflon coated pans have lost part of the coating at some stage, and then begin to rust. At least with stainless steel pans, you can scrub them with a stainless steel scourer to get them clean without damaging them.
Make sure you get the right sizes that will fit with other pans in your oven (for example, you may wish to cook carrots in a pyrex dish whilst you have a roast chicken in the oven, and they may need to be on the same level).
Pizza dish / Pizza pans
If you want to make your own pizza, (which you will after looking at our dough recipe), you will need a pizza dish (or two).
Pack of 2 Pizza Pans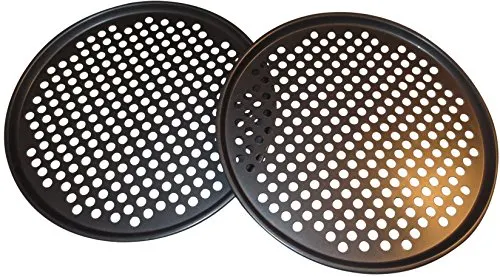 This nice set gives you two, so you can cook two pizzas at once (one is never enough for us! – we have bought a second one now!)
Knives
One of the most important items in the starter kitchen list are your knives. I find they become very personal items after a while. I still have an old chef's knife that I used for years which must be more than 35 years old. I cannot bear to get rid of it, even though it has been superseded by better knives in the kitchen.
The important things about choosing a knife is that it fits well into your hand, it is the right size for your needs, it is properly balanced and it is super sharp.
The better grade of steel will retain its keenness better. Also, you need different knives for different functions. See below some of the alternatives.
Knife block set
You may find a simple set of knives the easiest and perhaps cheapest option.
Knife Block Set 14 Piece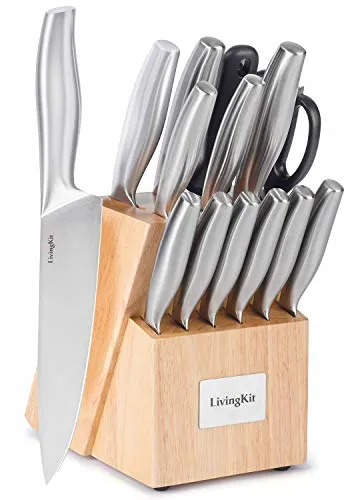 Or you may wish to purchase specifically designed knives individually. There is so much choice out there and as I said earlier, a knife choice and preference is very personal. Check out some of the beautiful knives below.
Knife Sets
These lovely patterned knife sets from Chef's Vision are a great starter set, and also make a great gift, with a choice of theme: Cosmos, Wildlife or Landscape. Add some colour to your kitchen!
Free Shipping Worldwide! Get 10% off orders $75+ with code VISION10
Chef's knife
Alternatively, these knives below from Regalia knives are all made with best quality high carbon Damascus steel at an affordable price. They even include a lifetime free re-sharpening service. Each knife is a work of art. What a great gift to give an aspiring chef as well!

Regalia™ Emperor Series 8'' Chef Knife- AUS10V Japanese High Carbon 67 Layers Damascus Steel – $109.95

from: Regalia Knives
Paring knife
For the smaller work you also have this little beauty.

Regalia Knives™ Emperor Series 3.5 inch Paring Knife: Japanese AUS10V 67 Layers Damascus Steel – $45.95

from: Regalia Knives
Bread knife
Even if you buy your bread sliced, you will still need a bread knife at some point – when you are cutting the French bread for your cheese fondu, or for cutting your Irish Wheaten. This is another beauty.

Regalia™ Emperor Series 10" Bread Knife- AUS10V Japanese High Carbon 67 Layers Damascus Steel – $97.95

from: Regalia Knives
Utility Knife
You may also find use for a general utlity knife like this one. This serated knife is a useful knife for cutting through steaks, sausage, bread or fruits.
ZELITE INFINITY Serrated Utility Knife 5.5″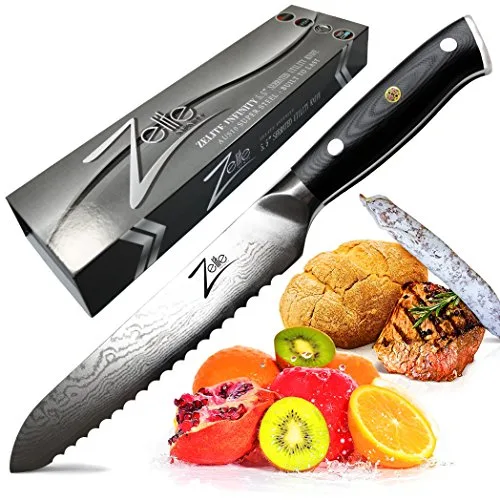 Sharpener
When you have your expensive kitchen knives you need to keep them sharp. I used to sharpen my older knives on a grinder in my workshop, which I know is not really the way to do it. So I have recently bought one of these whetstones to do the job properly.
Whetstone Knife Sharpening Stone
Of course, if you buy a knife from Regalia knives you can just get them to sharpen your knife for you.
Cutting boards
To accompany your knives you need a cutting board (at least one). We have about 4 or 5 that we use regularly, as two may be in the dishwasher as we prepare the next meal. What you choose is also personal.
I like to use a wooden cutting board, but my wife worries about juices from the meat contaminating it. So these days I use plastic, which is indeed easier to clean and can go in the dishwasher.
Also in time the wooden boards all tend to warp, I find. They also do not go in the dishwasher very well. Get something that does – it makes life easier.
Cutting Board Set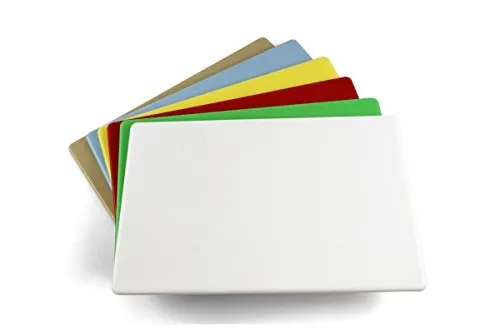 General kitchen accessories
Having covered the pots, pans and knives, now it's time to look at all the other starter kitchen essentials you will need. I will start with a kitchen utensils list.
Utensils
Wooden Spoons
There are so many things you do need in your starter kitchen. And in a minimalist kitchen, you really have to go back to the basics.
Apart from the knife and pan, there is not much more important than the wooden spoon. This is the main thing you use for stirring when mixing, stirring soups and stews or in fact anything.
Why wood? Because it will not melt when you leave it in the pan and it will not damage your pans.
Cooking Utensils Set
Spatula
Spatulas are essential when you are frying stuff. Here I also like using a wooden spatula so as not to damage the pan.
But these days they also have some rather nice slotted plastic spatulas that are great for frying an egg as you can easily get underneath the egg. Also, some of the more modern ones do not melt so easily if you leave them in the pan by mistake.
Spatula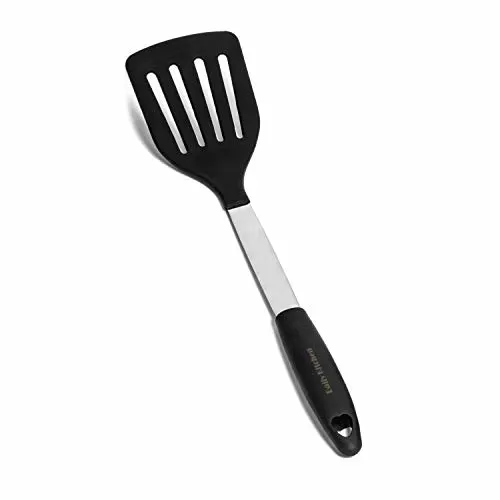 Tongs
Tongs are also very useful in the kitchen. When you live in Ireland and are partial to a bit of toasted soda bread (that tends to get stuck in the toaster) then these bamboo tongs come in very useful (and make a great gift btw):
Toaster Tongs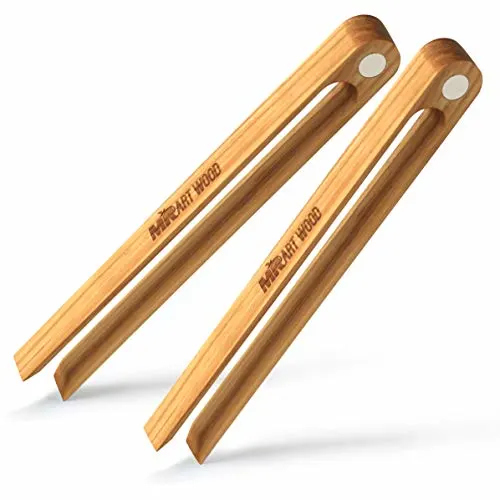 Silicone tongs are also useful for turning sausages or fish fingers in the pan.
Kitchen Tongs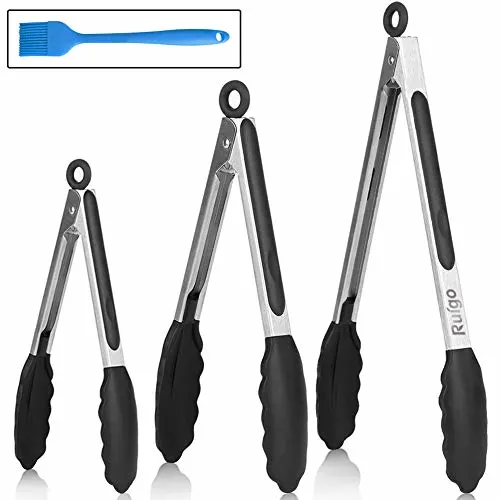 Ladles
When you have been making all this lovely food you are going to need something to dish it all up with. This will do the trick.
Zulay Soup Ladle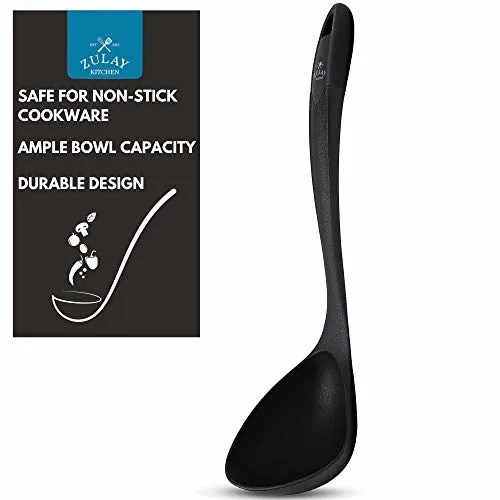 Peeler
A good peeler is essential in the kitchen. I use this for potatoes, cucumbers, carrots, courgettes, sweet potato….the list goes on.
We like using these types that you can move up and down to peel in both directions. This one also has a scoop to remove blemishes in potatoes in one go, so you do not need to have the old fashioned peeler to hand.
OXO Peeler
Garlic press
If you are like us you cannot live without garlic. Our cupboard ALWAYS has garlic in it, as it goes into most our my recipes! So a kitchen without a garlic crusher is not a kitchen. There are many of different ones out there, just pick one that is easy to use and clean.
Garlic Press
Whisk
When you are making a white sauce or thickening up some cream a whisk is a vital piece of equipment. This OXO brand whisk has good reviews because of its sturdy design.
OXO Balloon Whisk

Can opener
Now, of course, you could always just pick a simple old fashioned tin opener. But these days they have everything – check out this electric can opener. Probably very useful if you have arthritis or other manual dexterity issues.
Smooth Touch Can Opener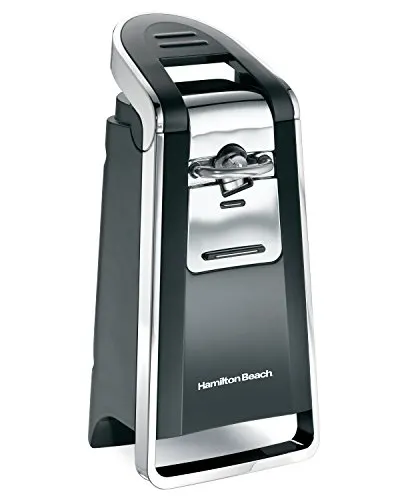 Potato Masher
A potato masher is another essential! It takes a long time to do it with a fork. We use one like this one which, with the right movement, really gets rid of all the lumps. With this you can end up making the best mash!
Kuhn Rikon Potato Masher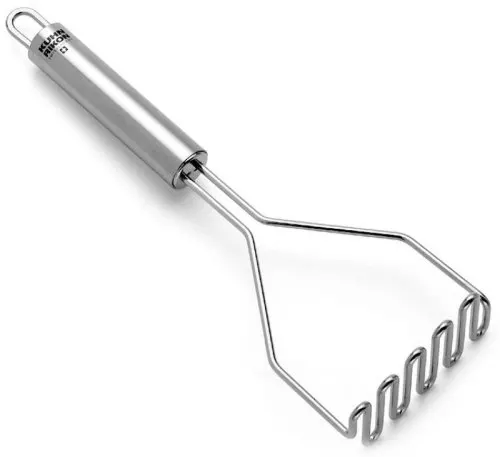 Scissors
Scissors are also an important item in any kitchen: for opening packaging, chopping poultry, chopping herbs etc. This pair have a bit of extra functionality such as a bottle opener, fish de-scaler, nut-cracker and even a special pair of scissors for chopping herbs with.
Kitchen Shears and Herb Scissors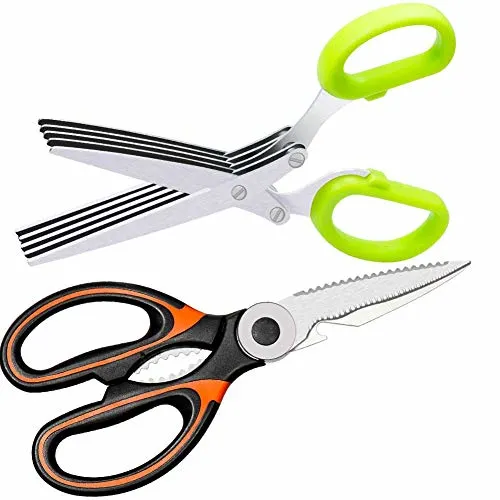 Grater
When you need grated cheese you are going to need a grater! This one will grate small and large and will even slice and zest. It also can go in the dishwasher.
Stainless Steel Box Grater
Heat resistant pads
Depending on your kitchen you may need to have some heat resistant pads to protect your working surfaces or your table top. What you choose will depend on your taste and what you need to protect, but these may be suitable?
Non Skid Kitchen Counter Protection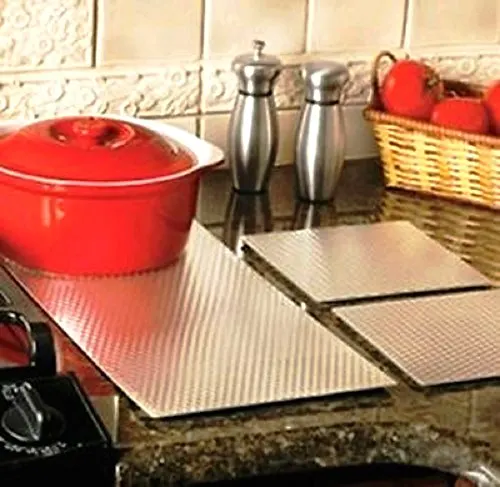 Colander
When you are pouring out your pasta or potatoes, you may want to have one of these in the kitchen. Ours definitely gets used a few times a week.
Stainless Steel Colander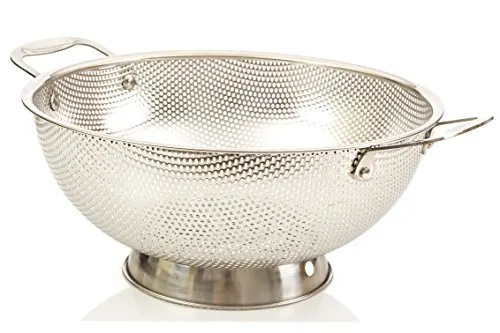 Sieve
As an addition to the colander, it is also handy to have a sieve (or more) in the kitchen. Especially for draining the finer vegetables.
Stainless Steel Sieve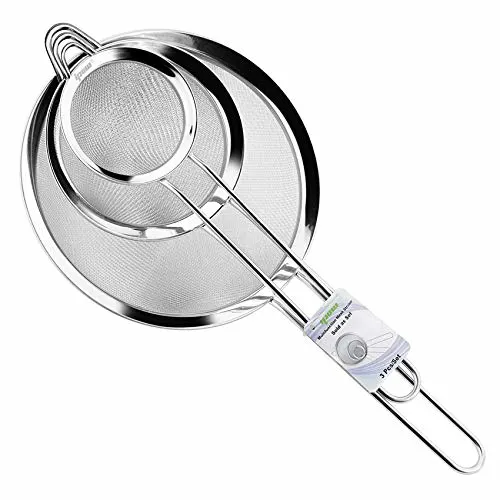 Juicer
When you need some fresh citrus juice for your caipirinhas, salads or fish, you may want to have one of these in the kitchen. You can, of course, buy lemon juice ready squeezed, but there is nothing better than the real thing freshly squeezed. There are plenty of alternatives – this is one of the simple ones.
Lemon Squeezer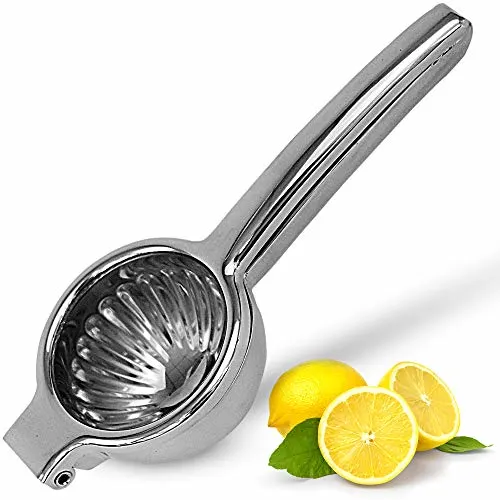 Oven gloves
You will need some good oven mitts or oven gloves to remove pans from the oven. I like the ones that give you quick access so you can slip them on quickly when something needs to be taken out.
Silicone works well, as some of the old linen type gloves tend to get damaged and can let the heat in. Believe me, you do not want to be dropping a full Le Creuset on your toes!
Silicone Oven Mitts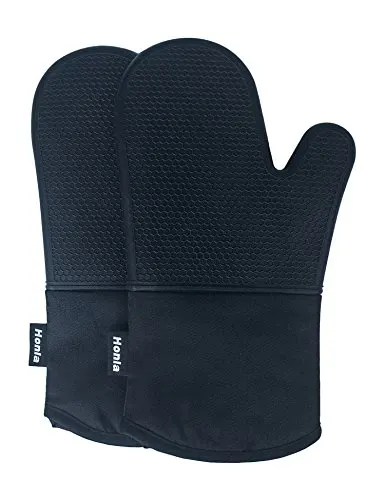 Weighing/measuring equipment
Of course, when producing food it is important to get your quantities right. For this, you need to have kitchen equipment to measure as accurately as the recipe requires.
Sometimes this is less important than the passion that goes into the cooking, but sometimes it is essential to get the right consistency or taste to the food.
Mixing Bowls
First of all you need something to mix the ingredients in. I have some old plastic Tupperware bowls at home that I use for this purpose. I like the look of these ones – simple and inexpensive:
Mixing Bowls – 3 piece set
Measuring jug
A good measuring jug is essential. I have a few. Two Pyrex ones and one plastic one. One of the Pyrex ones is so old that the markings are almost illegible now, which is why I bought a second. They are not expensive.
Make sure you get one that is easy to ready off the markings. A very useful item for many recipes where you need to estimate fluid amounts.
Pyrex Measuring Cup
Kitchen Scales
Some good kitchen scales are essential. Old fashioned kitchen scales are nice if you have the space, but a bit cumbersome.
These days there are great electronic scales that do the job great. Make sure you get some where you can still read the display when the mixing bowls are on top.
Also, it is important to be able to reset the weight to zero when you place a bowl on top so you can measure what you put in.
These ones can measure in ounces or grams:
Digital Kitchen Scale
Thermometer
A good thermometer is important when cooking some dishes in order not to overcook or undercook the meat. This one can measure in Farenheid or Celcius, and has an internal magnet so you can stick it to the fridge! Cool eh?
Meat Thermometer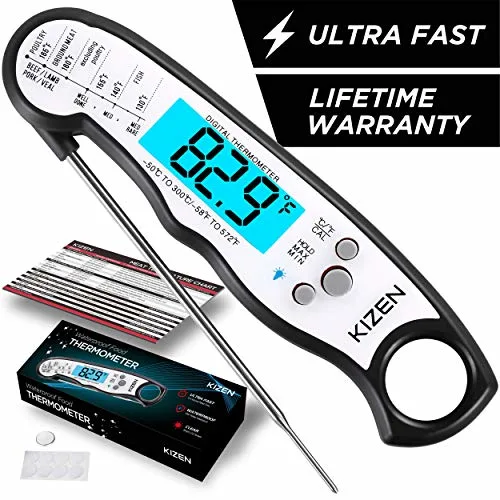 Measuring cups and spoons
Personally, I am not really a fan of using these things to measure amounts. I would rather use the scales or a rough estimate of a cup and teaspoons and tablespoons.
However, I understand that many people prefer to use these, especially for baking I suppose where the amounts are more critical. So here are some that would look nice hanging in the kitchen:
Simply Gourmet Measuring Cups and Measuring Spoons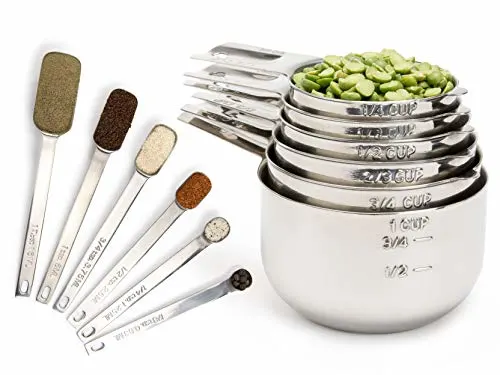 If you are wondering about the differences in weights and other measures, this post may be useful to you:
Anyhow guys and gals, that is the end of my basic starter kitchen needs list. I hope you found these kitchen tools and equipment recommendations useful. I may add to this list as we go on and when I realise I have forgotten some essential items.
In the meantime let me wish you luck building and procuring your cooking essentials, and above all-
HAPPY COOKING!
Once you have the basic kitchen utensils and equipment you may wish to expand with:
or check out this list of basic food ingredients you may need in your starter kitchen: