Toffee Apples
This easy recipe shows you how to make some tasty toffee apples and some honeycomb, or seafoam candy, with any leftovers.
In the British Isles toffee apples, or candy apples, are a common treat for the kids during the Autumn after the apples have been harvested.
You will often find them at country fairs, shows, Halloween parties and bonfire night, as kids love them.
Which Apples to use for Toffee Apples?
Obviously, you need to use a tasty eating apple, but I personally think the sweet ones are better.
Here I used some Royal Gala as they have a nice red colour, and look good after you have coated them. This means you do not need to add any food colouring to the sugar.
But you could also use Golden Delicious or Pink Lady apples if you prefer.
Really, just use what you can easily get locally. If you do choose something a bit more tart then the candy coating will sweeten the taste anyway.
Toffee coating – warning!
You will find that the coating on these toffee apples is very brittle like glass! It is very hard and will certainly pose a challenge to your teeth to get through it.
And apples need good teeth to bite into, as you will know if you have ever played apple bobbing!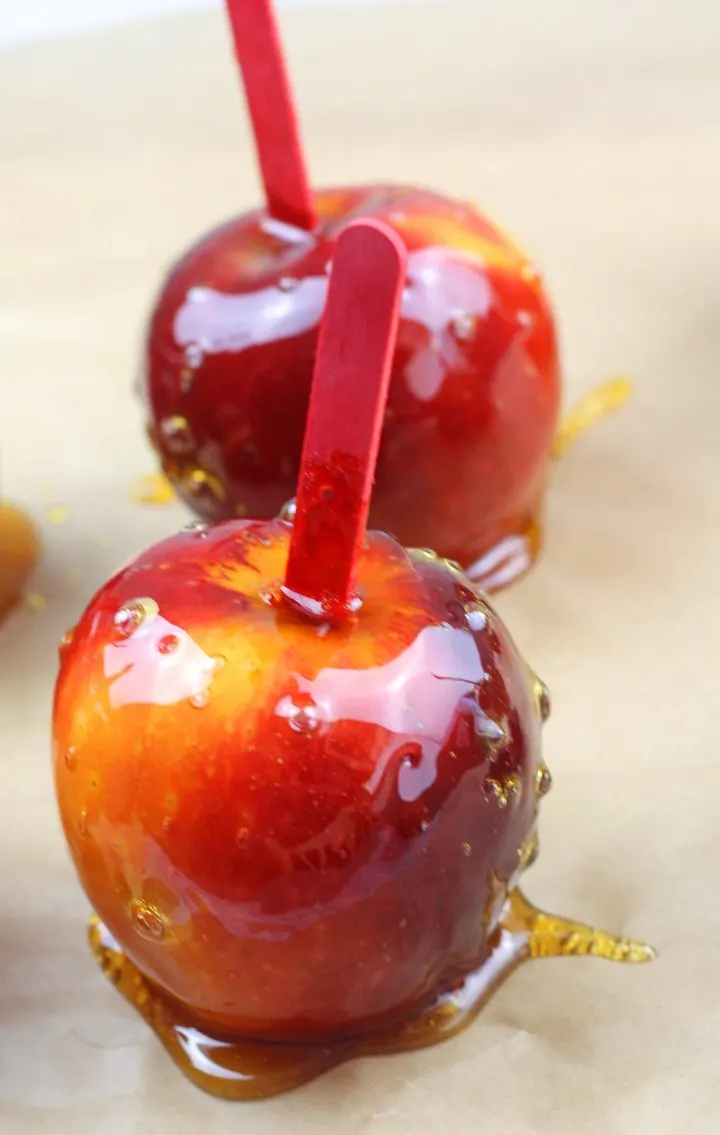 But then that has always been part of the fun of eating toffee apples (as long as you do not end up cutting yourself)! This toffee is very hard and brittle and it is easier to eat if the covering is not too thick.
But certainly, test the result first, before you give them to your kids! I do not hold any responsibility for any broken teeth or other damage caused by making or eating these toffee apples!! You have been warned! 😃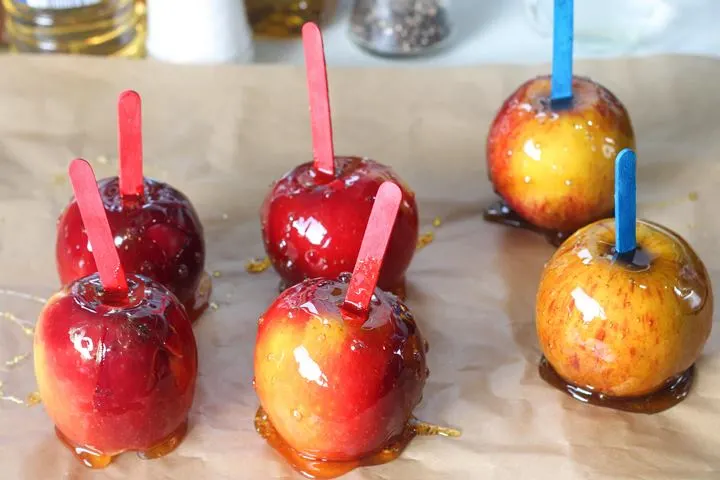 You have to be very careful whilst making these toffee apples as the boiling sugar reaches high temperatures and can cause nasty burns if you touch it by mistake.
So please be careful with your pan, especially when you are dipping the apples. Best NOT to let the kids do that themselves!
Honeycomb
The great byproduct of this recipe is that you can make honeycomb candy, or seafoam candy, with any coating mixture you may have leftover.
Just add a teaspoon of baking soda and heat until it starts to foam, then immediately pour it out onto some baking parchment. Do not wait too long or it will burn.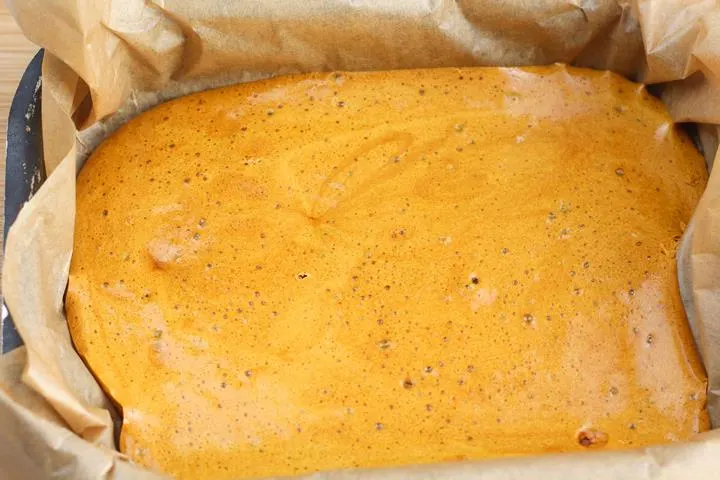 So this is a honeycomb candy recipe as well. If you like Crunchie's, as I do, then this is how you make the middle part.
We found that you need to eat this quite quickly as it starts to 'melt' after a day or so, even if kept in an airtight container, but it is ideal for Halloween. Make sure those kids go home with sticky hands and some teeth-rotting candy!
I hope you get to try this recipe for toffee apples and honeycomb. If you do, please let me know how it went in the comments section below!
How to make Honeycomb Candy