Couscous with Vegetables
This easy recipe for spiced couscous with vegetables is quick and easy to prepare, and can be served as a side dish accompaniment or as a full meal.
You can make this meal as vegetarian or vegan as you wish. If you make a vegetarian couscous then just use vegetable stock instead of chicken stock.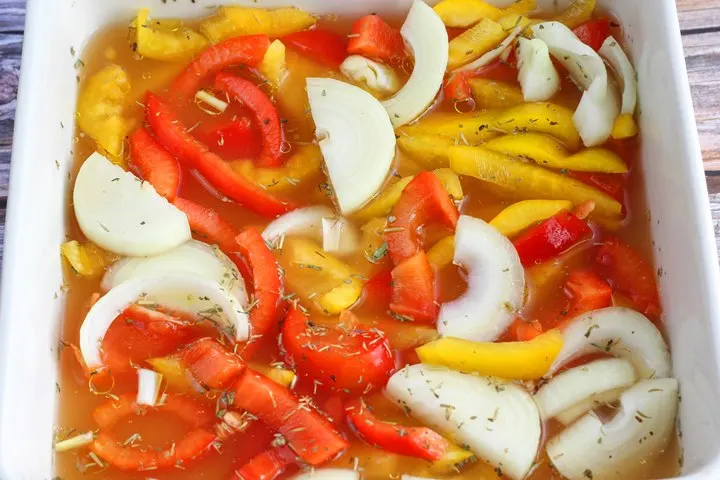 The recipe is super flexible as you can use any type of vegetable that you prefer.
In these photos, I used some bell peppers and onion, but you can just use anything you fancy.
Similarly, if you wish to add more sweet things to your couscous, like currents or sultanas, feel free.
What is couscous?
Couscous is a staple food in North African and Middle Eastern cuisine, made from tiny granules of durum wheat semolina. It is a staple food in many countries such as Morocco and Tunisia.
To make couscous, semolina is moistened with water until it forms small pellets. These pellets are then sieved and dried, and the process is repeated until the grains are the desired size.
Couscous can be cooked in a variety of ways, with the most common method being to steam it in a special couscoussier, a traditional North African pot with a steamer basket on top.
The couscous is typically flavoured with spices and served as a side dish or mixed with vegetables, meat, or seafood to make a hearty main course. Couscous is a versatile and easy-to-prepare ingredient that is enjoyed around the world for its nutty flavour and fluffy texture. It is often eaten together with stews.
Even in France it is widely eaten and is a very popular dish.
I was in fact inspired to write this couscous recipe after eating this very dish in France in Haute Savoie in 2022, with some delicious roast lamb.
I used spices that I had readily available to flavour this couscous. But if you were in Morocco you would probably have your couscous spiced with ras el hanout spices. Unfortunately, I was unable to procure ras el hanout in my local Aldi.
I have never really eaten much couscous in the past. What I had been served had always been quite bland. But adding a mix of spices to your couscous flavours it to whatever you want. For me this is a game-changer. We shall certainly be eating more of it now we know how to prepare it.
What to eat with couscous and vegetables
You can use this dish as a simple accompaniment to lamb, beef, fish or seafood. Or try it as a vegetarian meal on its own, if you so wish.
When I first ate this it was together with some wonderful succulent roast lamb. It had been cooked to perfection and made this dish extraordinary.
In these photos, I served it up with some leftover chicken curry that I had from the day before. The combination went very well. Normally I eat pilau rice with the curry, but the couscous combination went surprisingly well and soaked up the curry sauce perfectly.
I hope you enjoy making this recipe. If you do, please let me know how you get on in the comments section below!
How to make spicy couscous with vegetables