Brandied Chicken Liver Pâté
This is a recipe for brandied chicken liver pâté. It is so much easier to make than you may think and is absolutely delicious.
Chicken liver pate is a classic French dish that you can enjoy as an appetizer or even a main course. It is a very versatile dish that you can serve on its own or as part of a larger meal.
Chicken liver pate is a smooth, creamy, and rich spread that is perfect for serving as an appetizer or as a snack.
The origins of Pâté
Pâté is a French word that translates to "paste,". It is a meat spread that has been enjoyed for centuries throughout Europe. The origins of pâté can be traced back to ancient Rome, where it was typically made from a mixture of meat, wine, and spices.
During the Middle Ages, pâté was a popular food among the aristocracy in France. It was often made with the liver of geese or ducks, and became known as foie gras. Pâté was considered a delicacy and was often served at banquets and feasts.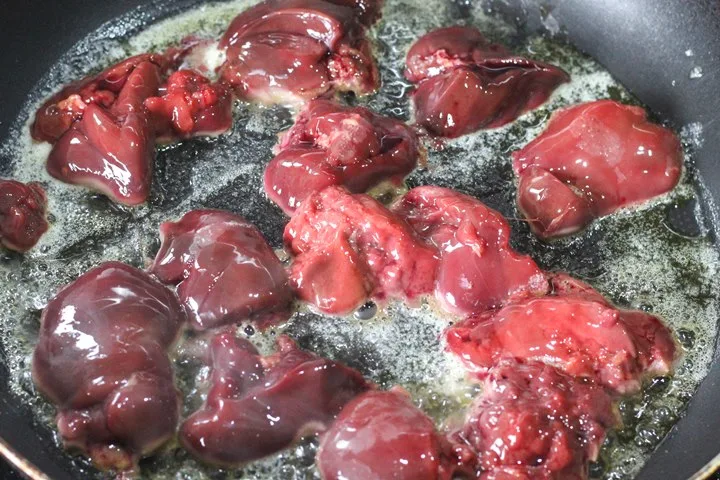 In the 19th century, pâté became more widely available and was popularized as a food that could be enjoyed by all classes. Pâté was often made with cheaper cuts of meat, such as chicken or pork liver, and was flavoured with a variety of ingredients, including herbs, spices, and alcohol.
Today, pâté remains a popular food in France and throughout Europe, with many variations and flavour combinations available. The most famous of all is the fois gras, made with fattened duck or goose livers. While the origins of pâté can be traced back centuries, it remains a beloved food enjoyed by many around the world.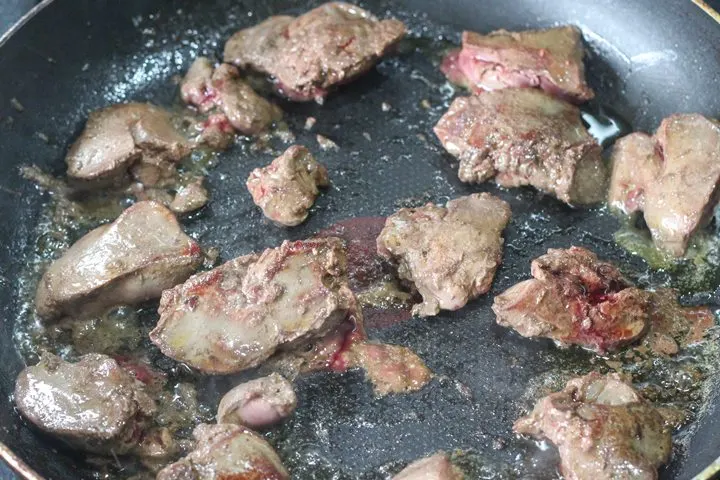 Chicken liver pate with brandy
This pâté is made by sautéing chicken livers with garlic and butter, then pureeing the mixture until it is smooth and creamy. It is sealed with a layer of clarified butter to prevent it from oxidizing, so you can keep it in the fridge for longer.
There are different ways to make this dish. Some people use Madeira, others use wine, but in this recipe, I use Cognac or Brandy to make a Brandy Chicken Liver Pâté.
You can serve this simple recipe at a party or enjoy it as a starter. It is a rich and flavorful spread that you can make in advance and store in the refrigerator for several days.
Chicken liver pate is also a great way to use up leftover chicken livers from a roast chicken or other poultry dish. You can also make a good pate with Duck livers if available.
Organic Liver Pâté
If possible try and source your liver from organic farms. Organic chicken liver is a nutritious and delicious food that is packed with a range of vitamins and minerals.
Chicken liver is a great source of high-quality protein, iron, vitamin A, and vitamin B12. Organic chicken liver is sourced from chickens that are raised on certified organic farms, which means that they are fed organic feed and are not given any antibiotics or growth hormones.
One of the benefits of consuming organic chicken liver is that it is low in fat and calories. This makes it a great food for people who are trying to lose weight or maintain a healthy weight. It is also a good source of choline, which is essential for brain function and can help improve memory and cognitive function.
Calories in Chicken Liver Pâté
The number of calories in chicken liver pate can vary a lot depending on the recipe and serving size. In this recipe, a 45g serving contains approximately 160-180 calories, assuming you do not eat the butter on the top.
It is important to keep in mind that pate is typically high in fat and cholesterol, because of the butter. So it should be consumed in moderation as part of a balanced diet. But OK, now and again we all deserve a treat!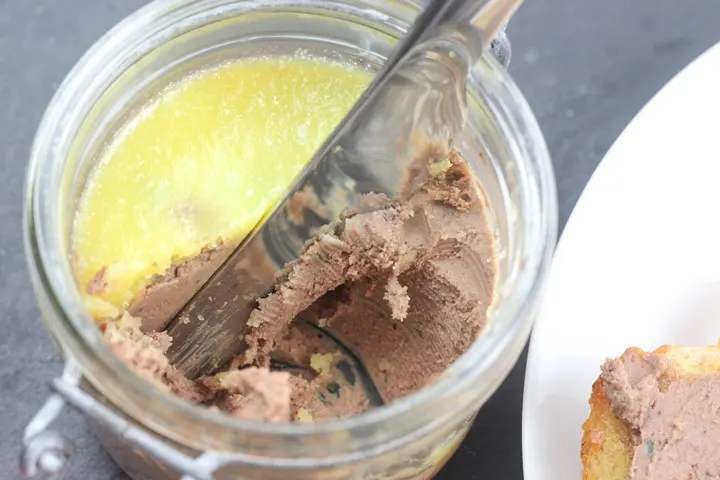 If you want a simple and delicious appetizer or snack, try making brandied chicken liver pate. It is very easy to make. And its rich and creamy texture and savoury flavour will be sure to impress your guests.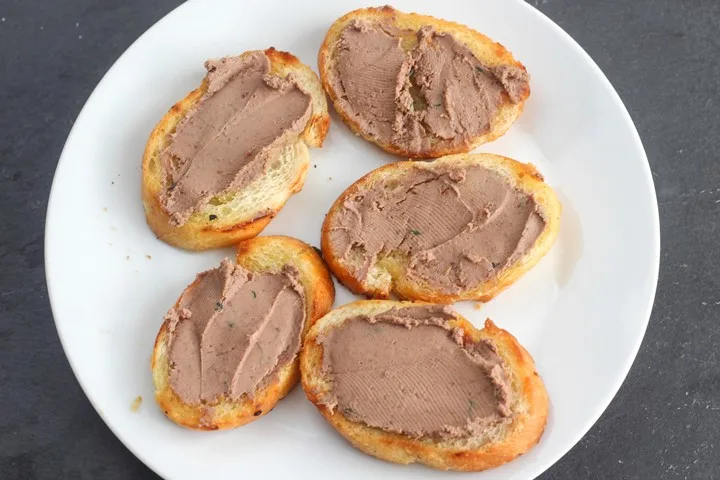 If you try this recipe please let me know how you get on in the comments section below!
How to make Brandied Chicken Liver Pâté